All-Inclusive Rome Getaway: Your Ultimate Stress-Free Vacation
Dreaming of a stress-free vacation where every detail is taken care of, allowing you to fully immerse yourself in the wonders of Rome? Look no further than all inclusive vacation packages to Rome, Italy. A city that exudes history, culture, and romance at every turn, Rome is an ideal destination for an unforgettable escape. With a perfectly curated itinerary spanning 5 days in Rome, you can explore iconic landmarks, indulge in delectable cuisine, and discover the hidden gems of this enchanting city. Join us as we embark on the ultimate stress-free Roman adventure!
Day 1: Arrival in the Eternal City
Arrival and Check-in
Upon your arrival in Rome, you will be warmly welcomed and transferred to your luxurious hotel in the heart of the city. Check-in and take a moment to unwind before your Roman adventure begins. With an all-inclusive vacation package, you can rest assured that your accommodation will be of the highest standard, offering comfort and convenience throughout your stay.
Evening: Welcome Dinner
As the sun sets over Rome, head to a delightful trattoria for a traditional Italian welcome dinner. Savour the flavours of authentic Roman cuisine, accompanied by a glass of exquisite Italian wine. This welcome dinner is the perfect introduction to the culinary delights that await you in the Eternal City.
Day 2: Unravelling Ancient Rome
Morning: Colosseum and Roman Forum
Your second day in Rome starts with a guided tour of the iconic Colosseum, an awe-inspiring amphitheatre that once hosted grand spectacles and gladiatorial contests. Skip-the-line access, included in your all-inclusive package, allows you to maximise your time exploring this ancient wonder. Afterward, head to the nearby Roman Forum, where you'll walk in the footsteps of ancient Romans, witnessing the remnants of temples and basilicas that once stood as the heart of the Roman Empire.
Afternoon: Palatine Hill and Circus Maximus
As part of your guided tour, venture to the Palatine Hill, one of Rome's seven hills, and enjoy stunning views of the city below. Uncover the opulent palaces and lush gardens that once belonged to Roman emperors. Next, visit the Circus Maximus, an ancient chariot racing stadium, and imagine the excitement of the crowds as charioteers competed for victory.
Day 3: Spiritual and Artistic Treasures
Morning: Vatican City and St. Peter's Basilica
Today, you'll explore the spiritual and artistic wonders of Vatican City. An experienced guide will lead you through the Vatican Museums, home to an unparalleled collection of art amassed by the Popes over the centuries. Stand in awe before Michelangelo's masterpiece, the ceiling of the Sistine Chapel, and appreciate the intricate details in the Raphael Rooms. Your visit will culminate with a tour of St. Peter's Basilica, a magnificent Renaissance masterpiece and the largest church in the world.
Afternoon: Castel Sant'Angelo and Piazza Navona
After lunch, head to Castel Sant'Angelo, a fortress that served as a mausoleum, castle, and papal residence throughout its history. Enjoy a leisurely walk along the Tiber River and cross the Sant'Angelo Bridge for breathtaking views of the city. As the day winds down, visit the elegant Piazza Navona, known for its stunning fountains and vibrant atmosphere. Relax in one of the cosy cafes, sipping an espresso as you soak in the beauty of this Baroque square.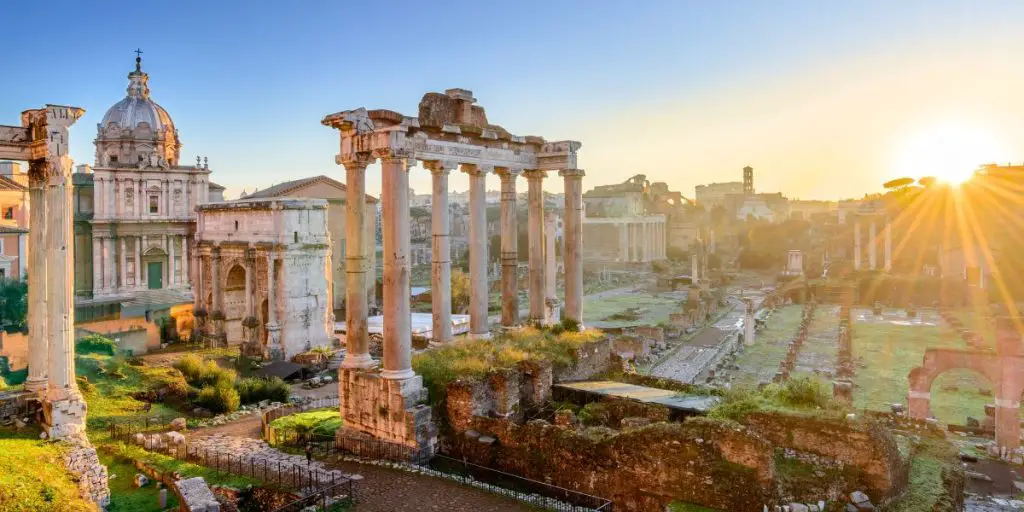 Day 4: Art and Gardens
Morning: Borghese Gallery and Gardens
Delve into Rome's artistic heritage with a visit to the Borghese Gallery, home to an exceptional collection of sculptures and paintings. Admire masterpieces by Bernini, Caravaggio, and Raphael, among others. Afterward, take a leisurely stroll through the enchanting Borghese Gardens, a verdant oasis in the heart of the city. Here, you can relish moments of tranquillity amidst nature's embrace.
Afternoon: Pantheon and Trevi Fountain
As the afternoon sun casts a golden glow over Rome, make your way to the Pantheon, an ancient Roman temple known for its awe-inspiring dome and the oculus at its center. The Pantheon remains one of the best-preserved ancient Roman buildings, a testament to the ingenuity of its architects. Continue your exploration to the Trevi Fountain, where you can toss a coin over your shoulder and make a wish, ensuring your return to Rome in the future.
Day 5: Farewell to Rome
Morning: Leisure Time and Souvenir Shopping
On your final day in Rome, take some time to revisit your favourite spots or explore any hidden corners you may have missed. You can also indulge in some souvenir shopping, bringing home a piece of Rome to cherish the memories of your unforgettable vacation. Whether it's authentic Italian leather goods, handmade crafts, or a bottle of local wine, you'll find the perfect memento to remind you of your Roman getaway.
Departure
As your 5-day Roman adventure draws to a close, you'll be transferred to the airport for your departure. Bid arrivederci to Rome, knowing that you've experienced the best of the Eternal City, stress-free and indulging in every moment of this unforgettable escape.
Conclusion
An all-inclusive vacation package to Rome, Italy, offers a stress-free and immersive experience in this enchanting city. From exploring ancient wonders like the Colosseum and Roman Forum to delving into the spiritual and artistic treasures of Vatican City, your itinerary ensures you don't miss any of Rome's iconic landmarks. With the best accommodations, guided tours, and culinary experiences included, you can focus on savouring every moment of your 5-day Roman getaway. So, pack your bags, and prepare for an unforgettable journey through the history, culture, and beauty that make Rome an eternal gem waiting to be discovered.