Skydive Algarve Experience
Skydive Experience in Algarve Portugal
What does Skydiving feel like? Certainly, as a kid, you all dreamt of being a plane or a bird, anything that flew, didn't you? Well, we have always wondered how it would be, the sensation of flying and see things from above, like an eagle. As we are truly adventurous, and Skydiving is an activity for those who are not scared to die from an heart attack, we decided that it would be the perfect match for us. Willing to increase the adrenaline dose we chose Skydive Algarve, located in the coastal town of Alvor, Southern Portugal. With a highly experienced team of skydiving professionals, we put our hearts at proof by experiencing the European biggest freefall experience (4000+ meters). Crazy? Indeed, but, It was one of the best experiences of our lives. The feelings and sensations involved are beyond words, nevertheless, we will try to explain them here.
Signing in on adventure
We arrived at Skydive Algarve early in the morning, so we could check in, fill in all the forms and that's when our heart starts to racing. "Insurance?", " In case of death…"? Ohh..This may look scary, the moment you realize you are risking your life,  but no! Relax! This is just for your own safety!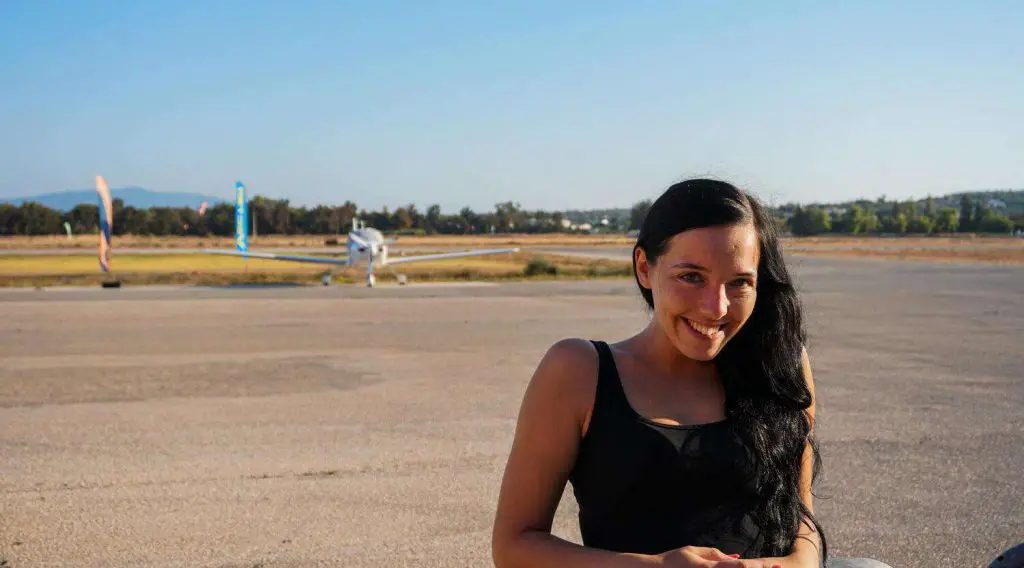 Meeting our Tandem Skydiving Instructor
We came out of the reception and finally meet Maud and Junior, our instructors. These incredible human beings did not only explain to us the basic principles and procedures of a tandem jump but also crack a few jokes so we could enjoy the moment without panicking. They gave us a 5 minutes Skydiving training: "Cross arms, head back, knees bent, jump. One tap on the shoulder to open your arms. Second to bring arms to the chest as the parachute opens. Knees bent for landing. Questions? " In that moment one question crossed our Virgin Skydiving minds. " How long have you been doing this?" And shortly after that, we felt safe – 14 years of experience made us feel invincible.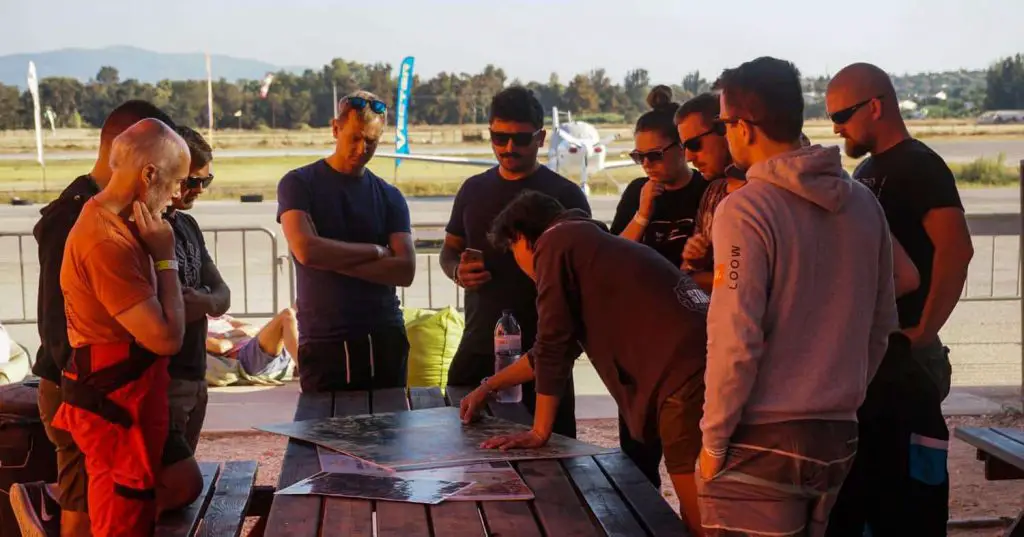 Waiting for our moment
After all those explanations it was time put all the gear on and wait in the drop zone. At this time, you'll watch people moving around, getting ready and a couple of planes taking off and landing before you go. While watching them, you'll think that they're falling really slow, until you go up.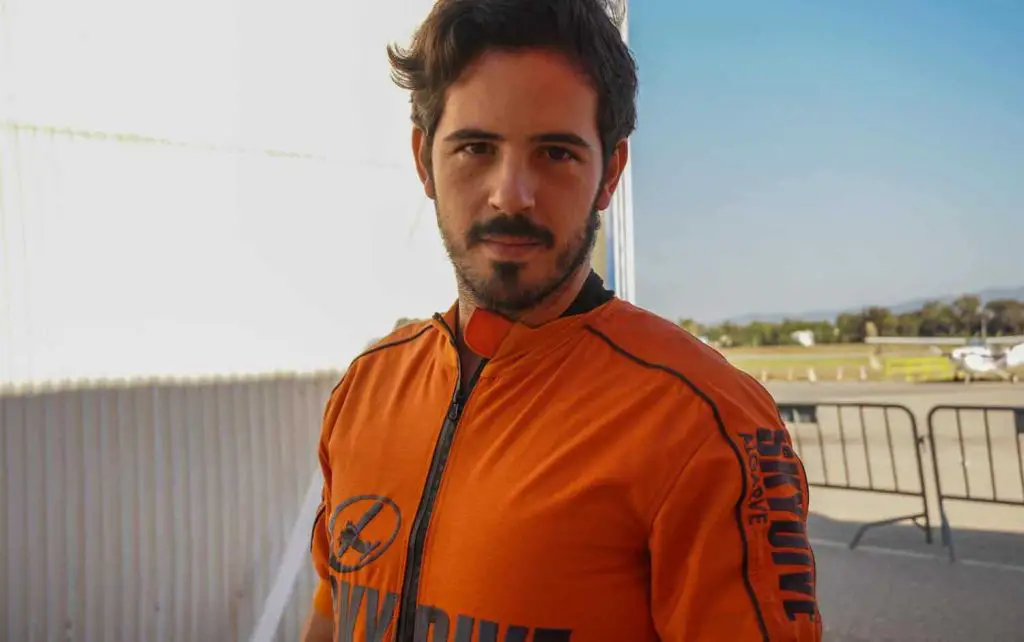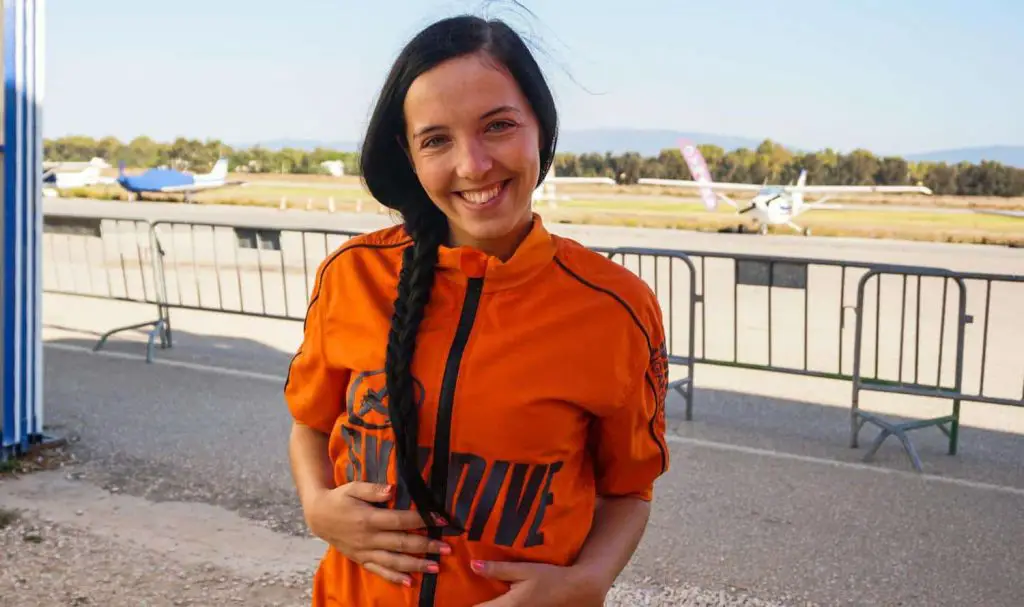 Going up
Our instructors made sure that our skydiving equipment was properly secure. We started to go towards the plane and this is the point you realize that you're genuinely going to jump out of a plane 4000 meters in the air and hope that the parachute works. The plane started to go up and around 10 minutes later we looked out of the window and thought " this must be high enough, better get ready to jump" but no! Our instructors proudly said: "We're not even a quarter of the way yet". Few minutes later, the plane started to slow down and level out. The instructors started the final process of checking on the equipment and their altimeter, and everything that needs to be checked.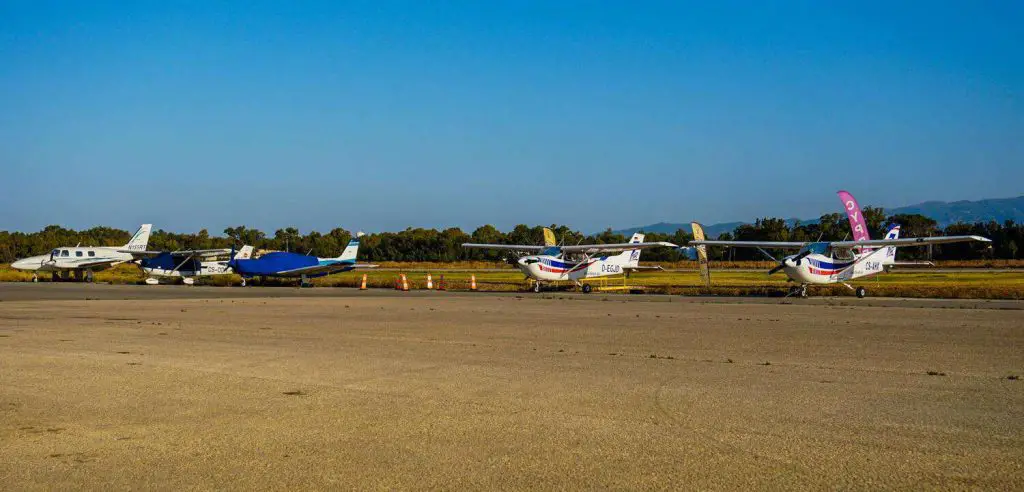 It's getting closer!
This will be high, and no words can describe how incredible the view is from up there! If you're not going first, you'll see the other people going to the edge of the door and disappear outside. Choosing to be the first or the last, your instructor will tell you to get on your knees and slide over to the door. We did so, and when we get to the edge, we were filled with adrenaline like nothing we've experienced before. Euphory is a good word to describe this moment. These few seconds are possibly the most amazing seconds you will have experienced so far in life, the seconds where you lean forward and leap out of the plane. It feels like forever, and at the same time, a brief moment.
Sixty-seconds freefall
The first few seconds seemed to be a blur due to the sensory overload. But once we achieved terminal velocity, it was incredible. There was no such thing as falling sensation, that kind we experience in a rollercoaster. It was almost as if we were floating on a cushion of air.
Opening the parachute
At this point, you may feel a bit dizzy or feel your ears pop. This is normal and won't last. Enjoy the view, there is such an amazing view to be enjoyed. Now you'll come into the landing sliding forwards into some grass.  What follows now? A state of disbelief and shock. You won't know what's just happened until you sit down!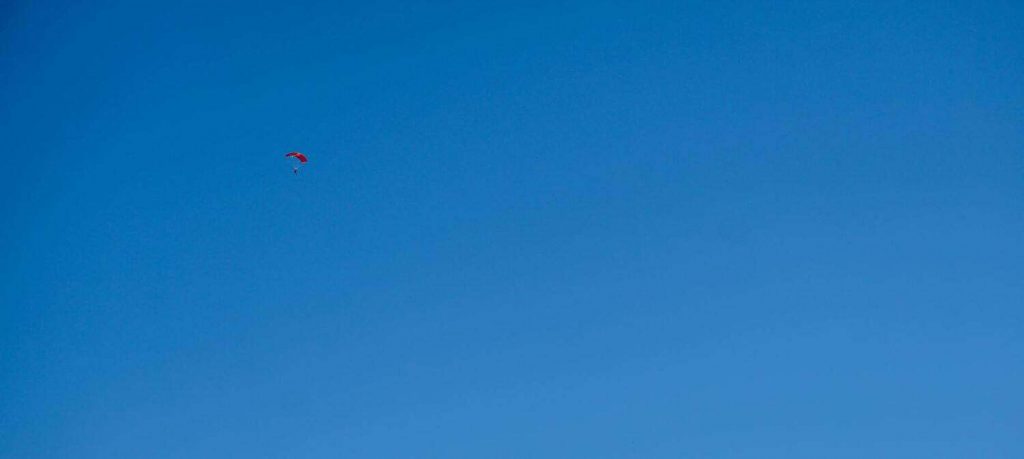 Tandem certification
After the tandem jump, we're feeling on top of the world. We received the jump freefall certificate and we can't wait to do it again!
Skydive Algarve provided us with one of the most amazing experiences of our life and we would highly recommend them to anyone looking for a unique and life changing experience with some of most breath-taking views in the world.
Skydive Algarve