Best Music Festivals in the world
25 Music Festival you need to attend once in your life
We bring you the best music festivals in the world. There's nothing in the world like a music festival. Seeing your favorite musicians surrounded by thousands of other true fans makes for an environment that can't be replicated anywhere else—it's euphoric. As fans, we save up our money, we wait all year, and when the day, weekend, or week comes: we go all out. Painted cars, painted faces, crazy outfits, and crazier shenanigans.
For some people, festivals are the closest thing to a utopia. A place where people can go and leave the world behind them, to relax, to have fun and to enjoy some really good live music and an unique vibe. Not to sound to gung-ho about this, but festivals really have the power to change your life for a few days. It's not like listening to music on your iPod, it's not like going to a concert one night or hearing a song played at a club. It's an escape, where you get up and listen to the music, and go to bed with the sounds of the last set still ringing in your ears.
All year round, all around the world, there are thousands of music festivals taking place. With all the posters, YouTube ads, and hype, it can be a little overwhelming and hard to make a decision of what actually worth your money and will make a one in a lifetime experience. To cut through the confusion I picked 25 fantastic festivals that you should attend at least once in your life.
From the most mainstream music festival with the biggest headliners to the most unique and ecofriendly festival worldwide with not a single famous artist we covered them all to select the best and most unique festivals you can ever attend.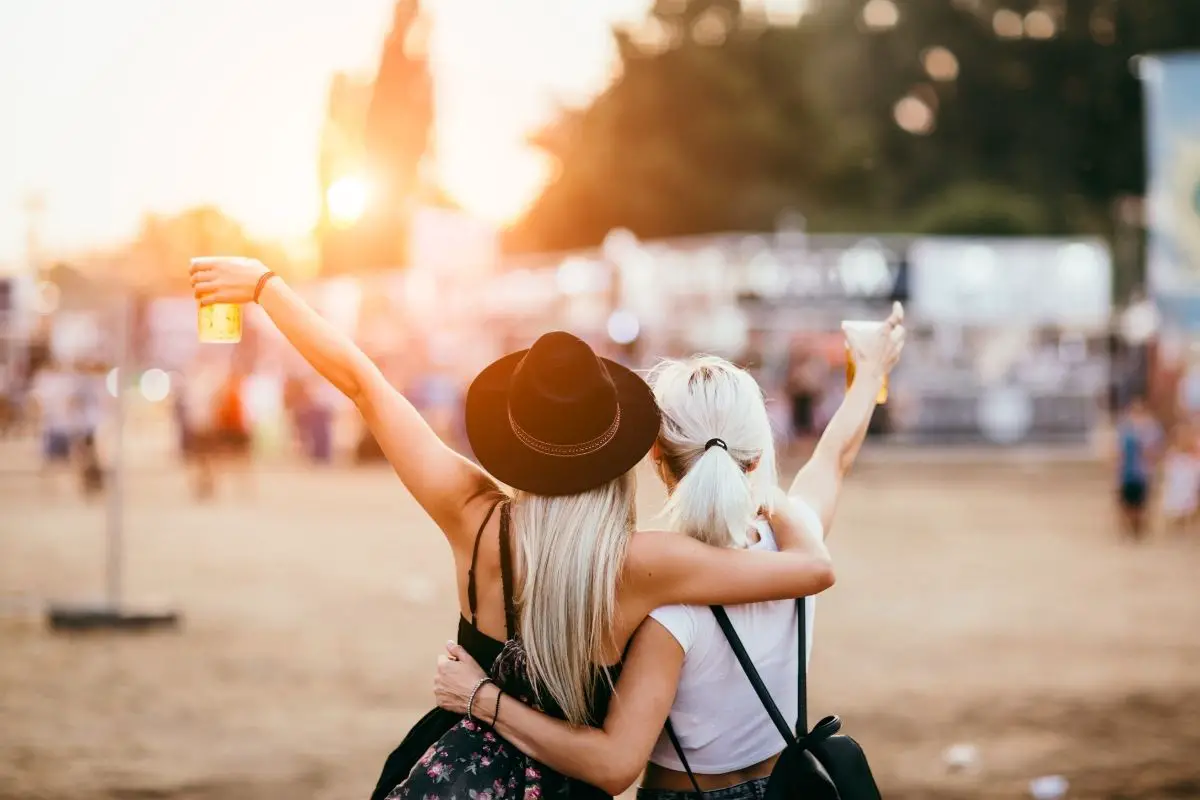 NEOPOP
Where: Viana do Castelo, Portugal
Why go: Experience Neopop Festival's electrifying fusion of innovative electronic music, captivating art installations, and enriching cultural activities, all set against the backdrop of picturesque Viana do Castelo, for a truly unforgettable and immersive celebration.
Site: https://neopopfestival.com/en
Neopop Festival has established itself as one of the most amazing festivals in the global electronic music scene. With its roots in Viana do Castelo, Portugal, the annual event has become synonymous with an unforgettable experience that attracts thousands of music lovers from all over the world. Offering a unique blend of cutting-edge music, vibrant art installations, and diverse cultural activities, Neopop creates an unparalleled atmosphere that invites festival-goers to immerse themselves in a world of creativity, connection, and celebration.
A Fusion of Styles and Sounds The heart and soul of Neopop Festival lie in its extraordinary musical lineup, which showcases a wide variety of electronic music genres, including techno, house, trance, and ambient, among others. Renowned international artists and DJs, as well as emerging local talents, grace the stages of Neopop, treating the audience to an eclectic array of sounds and styles. This fusion of different musical influences creates a dynamic and energetic atmosphere that keeps festival-goers dancing from dusk till dawn.
Neopop Festival truly stands out as an amazing festival that offers an immersive and unforgettable experience for its attendees. Combining a diverse lineup of electronic music acts with visually stunning art installations, engaging cultural activities, and a strong focus on sustainability and community, Neopop has carved a unique niche in the festival landscape. For those who seek to be inspired, connected, and entertained, Neopop Festival is a must-visit destination.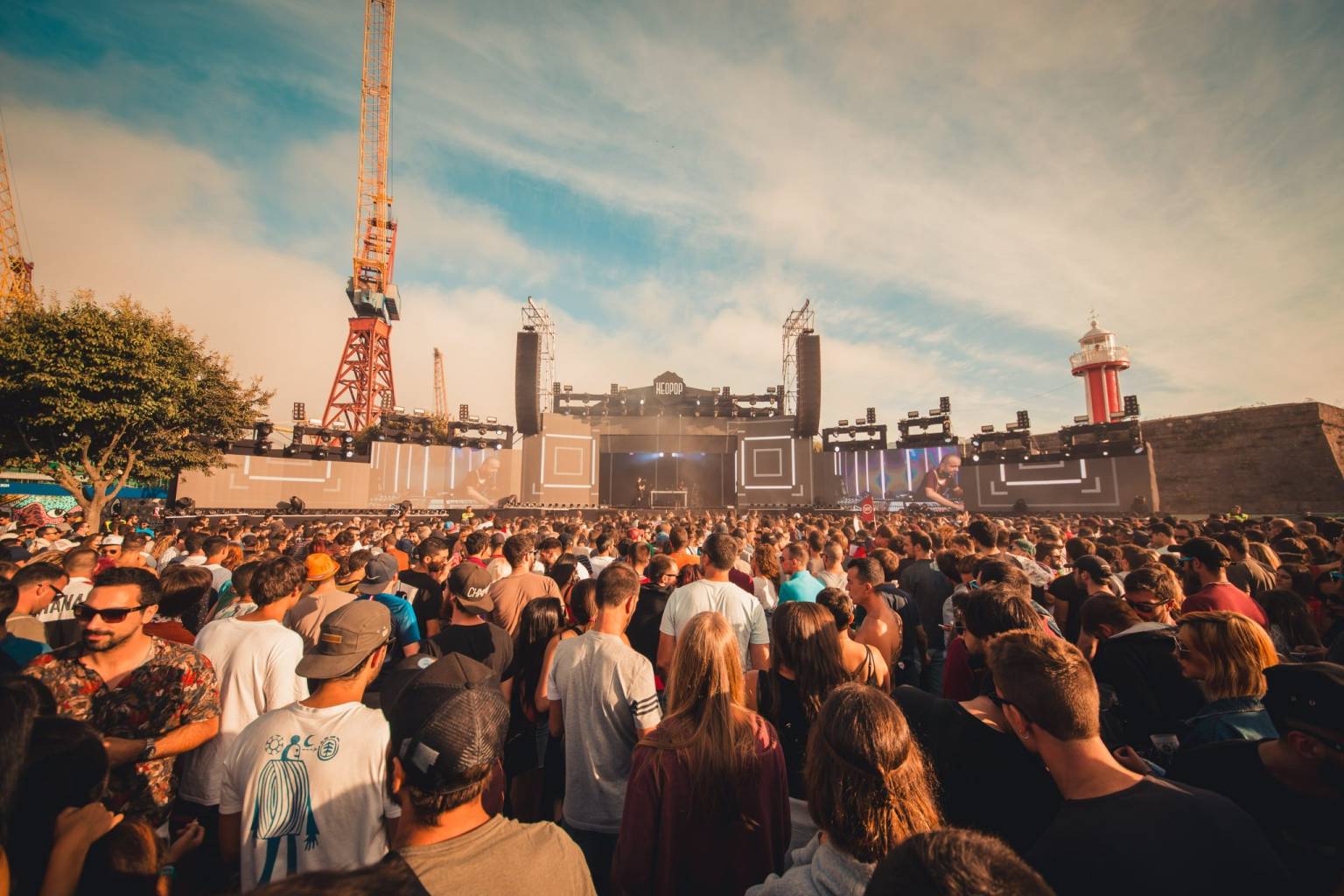 Boom Festival
Where: Idanha-a-Nova Lake, Portugal
Why Go: Boom is not only a festival, it is a state of mind focusing in the integration of a sustainability ethos with arts and culture.
Site:  http://www.boomfestival.org/
Boom International Trance Psychedelic Music Festival is a biennial week-long festival held near the Ponsul River in Portugal. The festival is one of a kind and features music, paint, sculpture, art, yoga, theater, and cinema. It does not rely on any commercial sponsor and attracts over 30,000 people from all over the world.
Although no world-famous artist ever makes it to this festival, over a hundred independent artists perform each year.
In 2004, Boom began a series of environmentally self-sustainable projects, which includes: toilets that don't use chemical products, the treatment of residual waters using biotechnology, utilization of wind and solar energy, recycling and the free supply of cleaning kits to all participants. In 2011, Boom won, for the second year in a row, the title of YOUROPE Green 'N' Clean Festival of the Year in the Festival Awards Europe. As a result, the UN invited the organizing team to use the popularity of music as a means for raising public environmental awareness in a program called United Nations Music & Environmental Initiative.
Tomorrowland
Where: Boom, Belgium
When:  2 weekends during the month of July
Why: The incredible diversity of DJs in the lineup and the amazing stage decoration.
Site:  http://www.tomorrowland.com/
Tickets tend to be sold out in few minutes so there must be something special about the festival to make thousands of people from all over the world to want to get a ticket for this amazing festival.
It's become one of the most sought after festivals in the world after setting up in the small village of Boom (yes an EDM festival in a town called Boom) less than half hour drive from Antwerp.
It advertises itself as an international destination and the whole festival is played out as a fairy tale, the main stage is even designed as a set of storybooks. It brings the biggest names in dance music in every year and is unparalleled when it comes to the lineup.
In 2013 the organisers of the festival announced that they would begin organizing an American spin-off of Tomorrowland, known as TomorrowWorld. The festival is held at the Bouckaert Farm around 50km southwest of Atlanta. The lineup is pretty similar to the one in Belgium so if you can't make it to the original one this is a good chance to feel the power of the Tomorrowland dream!
Kazantip
Where: Popovka, Crimean peninsula, Ukraine (has happened in other locations)
When:  Every year in July and August
Why: The republic mentality and the happy and freedom connected to the festival
Site:  www.befooz.com
kaZantip Republic (or simply Z) is the name of the biggest, longest, craziest, liveliest, and most unusual techno, trance, and house music event in the world. It lasts for 5-6 weeks of summer in the Ukraine, and over 150,000 "paradiZers" attend each year.
It is known as the "Woodstock of the East." The lineup of artists performing each year is released just before the festival, but some who have performed in the past include Paul Van Dyk, Armin Van Buuren, Ferry Corsten, Carl Cox, and Above & Beyond.
In the last few years the festival had some issues being relocated to different countries including a paradise Island in Cambodia but that event ended up being canceled on the last minute due to local police corruption.
The future of this festival is currently unpredictable but if the organizers can manage to bring it on track this is for sure a most attend once in your life. Not only for the good Techno music played but mostly for the friendship and spirit of freedom of the festival.
Burning Man
Where:   Black Rock Desert in northern Nevada, United States
When: Last week of August (until  American Labor Day holiday)
Why: Crazy hippie fire party. Legendary. On bucket lists everywhere.
Site: www.burningman.com
This crazy hippie naked fire festival is the truth. Located in the searing hot Black Rock Desert in Nevada, Burning Man is absolutely legendary. Famous for its counterculture mentality, nudity, and bonfires, Burning Man can be found on bucket lists everywhere.
It takes its name from the ritual burning of a large wooden effigy, which is set alight on Saturday evening. The event is described as an experiment in community, art, radical self-expression, and radical self-reliance.
The Burning Man event is heavily dependent on a large number of volunteers so if you don't have enough money to pay for the ticket this may be a good idea to get your spot in one of the wildest festivals in the world.
Although many may not think of Burning Man as a music festival, it's very influenced by the art. Last year a couple of big names (Diplo and Paul Oakenfold) made the trek out to play, along with a whole bunch of other DJs and electronic artists. In short, besides coffee and red bull, music is what keeps the spectacle going. Everyone needs to go at least sometime in your life.
Sziget
Where: Budapest, Hungary
When: Middle August
Why: A massive festival in an Island in the middle of the city of Budapest with lots of alternative stages for all kind of music lovers and for a great price for a full week of festival
Site:  http://szigetfestival.com/
They don't call it the Island of Freedom for nothing. Held on Obudai Sziget, a massive island on the Danube, Sziget Festival basically turns into an independent country for the week of the fest. If you don't want to leave you don't have to—there's camping, showers, and a grocery store. It started as a way to revitalize the rock scene in Hungary after the communist era and has since grown to be one of the most popular events in Europe, with over 50% of the attendees coming from outside Hungary.
With all the growth they've been able to keep the music quality intact, staying true to the rock roots (Queens of the Stone Age, Imagine Dragons, Placebo) while also branching out to almost every other genre (Stromae, Bonobo, La Roux). Sziget Festival is notable in that it contains acts from many different genres. 2006 saw, among others, a blues stage, a jazz tent, a world music stage, alongside the main stage with more typical popular rock acts.
Tickets for Sziget are under 300 euros for 7 days and a camping pass, quite a bargain compared to many festivals out there. If you're really feeling cheap though you can try to do what few have done (successfully) before: cross the river by swimming or raft.
Coachela
Where:  Indio, California
When:  2nd and 3rd weekend of April
Why: The ridiculously stacked lineup, the beautiful setting and almost guaranteed good weather.
Site: www.coachella.com
Coachella is probably the most hyped Festival in the United States. Most people attending this festival claim it's a paradise and it seems to be true if you are into good music, fashion and hipster stuff.
Even though it can be a little bit of a pretentious fashion show sometimes it's still one of the best festivals around. Time and time and again it has brought the best music, reunions, and surprise performances to the table.
The event features many genres of music, including rock, indie, HipHop, and electronic dance music, as well as art installations and sculptures. Across the grounds, several stages continuously host live music.
There has been a 2Pac hologram that headlined, R Kelly coming out with Phoenix and several massive surprises every year. The weather is absolutely beautiful in Indio and the venue is a massive grassy field dotted with palm trees and even a ferris wheel. It makes for a hell of an Instagram especially when the sun is going down.
Coachella is one of the largest, most famous, and most profitable music festivals in the United States.
If you love festivals don't let the glitz intimidate you: go put on a cool outfit, see a celebrity or two, and most importantly enjoy the music.
Sonar
Where:  Barcelona , Spain
When:  Middle June
Why: Happening in the sunny and beautiful city of Barcelona. Shows start at 12 pm and don't stop until the sunrise
Site:  http://sonar.es
Located in Barcelona, Spain, Sonar festival is an electronic paradise in paradise itself. Situated minutes away from the Mediterranean Sea, Sonar Festival is held in Fira Montjuic, a state of the art conference and exhibition center that is transformed into a playground for electronic and art fans alike.
Not only does Sonar Festival boast a superb musical lineup (Massive Attack, Richie Hawtin, Bonobo, Kaytranada, even Lykke Li), they also showcase multimedia art exhibitions from the likes of Juan Antonio Lleo and Bill Vorn. The coolest part of Sonar festival though is how it's scheduled. There are two parts, Sonar by Day, when the exhibitions take place and some big names perform, and then Sonar by Night, where festival goers party until daylight inside massive halls with some of the best in the game.
In contrast to many summer festivals, Sonar does not take place in a field, with people camping. It is a city festival, so accommodation must be found in and around Barcelona.
Secret Solstice Festival, Iceland
Where:  Reykjavik, Iceland
When:  June
Why: There is no night!
Site:  www.secretsolstice.is
It's the festival that doesn't sleep, literally. In its inaugural year, Secret Solstice Fest wasn't your average festival, not even close. For the three days during the Summer Solstice in Reykjavik, the Secret Solstice was held where the sun didnt't set for the entirety of the festival. That's right, for 72 hours there was no night.
Due to Iceland's close proximity to the Arctic Circle seasonal changes tend to be a little dramatic. And promoters have found a way to exploit it. For around 150 euros you can catch the likes of Massive Attack, Woodkid, Wu Tang and Skream at what is one of the most unique festival environments in the world. This is something you're going to want to brag about, and it gives you a chance to attend what could become a famous festival in its first years.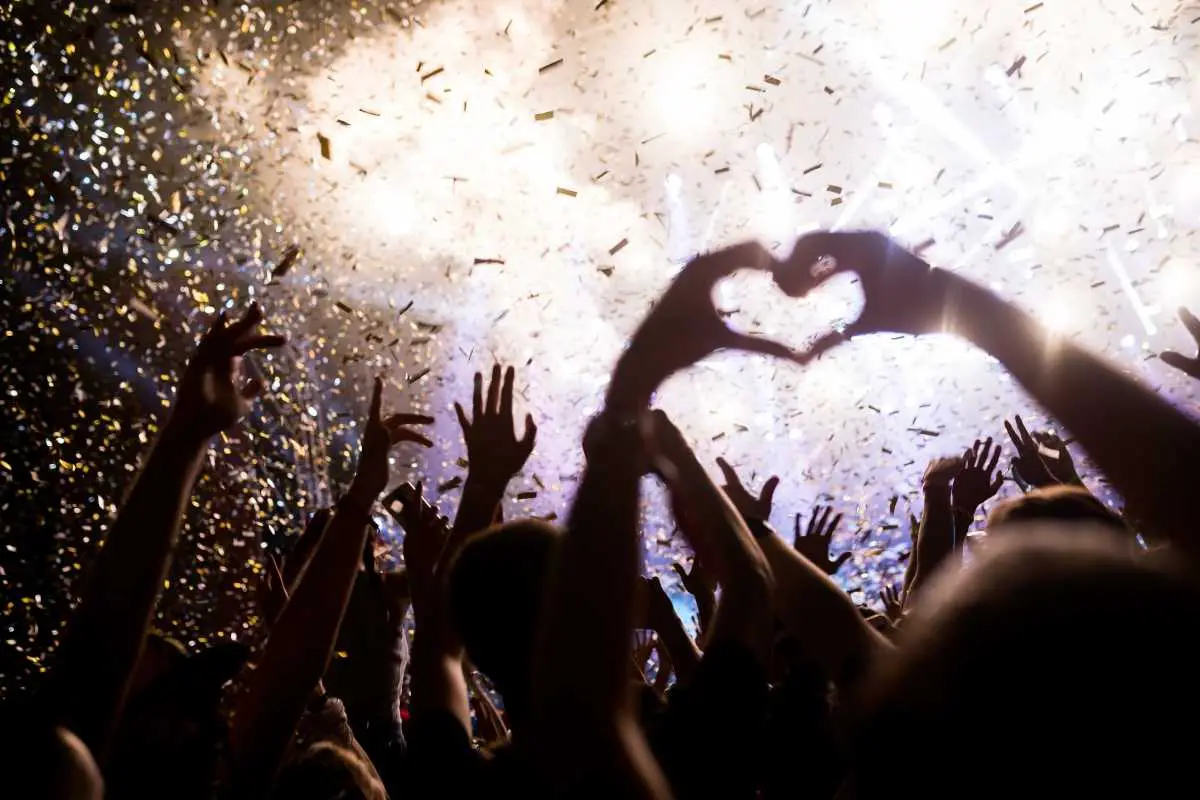 Glastonbury, Somerset (England)
Where:   Pilton, Somerset, England
When: End of June
Why: It's epic, it's legendary, and it's been around since the '70s
Site: http://www.glastonburyfestivals.co.uk/
This may be the most famous festival on the list. The story of Glastonbury all started in the 1970's. In it's first year around  1,500 hundred people attended the festival at Worthy Farm for 1 pound each. That pound got you entrance to the festival and free milk from the farm. Today it has staked its place among the greatest festivals in the world with a number of memorable moments over the years.  In addition to contemporary music, the festival hosts dance, comedy, theatre, circus, cabaret, and other arts.
Paul McCartney had the whole crowd singing Hey Jude in 2004 and Stevie Wonder personally sang Happy Birthday to the festival in 2010. There are hundreds of great bands playing on the smaller stages, but the main stage is really the most special place. The legendary Pyramid stage has been around since the beginning and can captivate up to 100,000 singing, screaming, sweaty, flag waving fans.
Glastonbury is the largest Greenfield festival in the world, and is now attended by over 170,000 people every year. The majority of the staff are volunteers, helping the festival to raise millions of euros for good causes.
Full Moon Party
Where:  Koh Phangan , Thailand
When:  Every full moon (monthly)
Why: It's celebrated in an amazing island with some good live fire performers and lots of glowing paint.
Koh Phangan is a very special place, there are few places in this world where you can live out your desert island dreams of palm trees and white sand beaches, and still have a blinding night out at a rocking party every month. With the global notoriety that the Full Moon Party has gained as being one of the biggest and best beach bashes in the world, the islands gets a huge share of hedonists gracing the shores every full moon. Each year the scene has been growing with the ever-increasing number of party faithful that return, bringing their mates and spreading the vibe.
Haad Rin is home to the Full Moon Party and also houses about 3-5000 rather mad people; it is the island's nightlife capital and has Koh Phangan's biggest concentration of beach clubs that collectively put on the ultimate travellers get together. The Full Moon Party takes place every month throughout the year. Its attractions include fire skipping ropes, alcohol "buckets", and drugs. There is a very wide spectrum of music ranging from trance, to drum and bass, to reggae. There are over 12 major sound systems running the length of Had Rin beach, catering for around 10000 party goers in low season, 20,000 in high season and  over 30,000 at New Year. Within this transient crowd of party animals some highly talented DJ's pass through, banging out their wares to the raging lunar explorers that have landed on planet party.
Exit Festival
Where:  Novi Sad, Serbia
When:  July
Why: Located inside a fort from the 1700s and winner of the best Major European Festival
Site:  http://www.exitfest.org/en
This festival is a must. Even if you are not close to the region, this one should be on your list. Exit festival has some definite musical star power (e.g. Disclosure) but there are other things that helped boost it to winning the the Best Major Festival award at the European Festival Awards for two years in a row.
For one the festival takes place in the ancient Petrovaradin Fortress overlooking the Danube River, it's a special venue, one of the most unique in the world. One can easily find themselves walking the ramparts overlooking the river with some grub while hearing music blasting from the main stage. What's also cool about this festival is how it started. It was originally a student protest against the government for peace and democracy. The festival holds true to that by having a hot topic political theme each year ranging from sex trafficking to immigration.
It's time to book a flight to Serbia, embrace a new culture, and get a chance to stomp around the fort listening to music before the place crumbles apart.
Lollapalooza
Where:  Chicago, United States of America
When:  August
Why: It takes place in the middle of Chi-Town and it has some of the biggest around. Over 300000 attenders from last year can't be wrong.
Site:  http://www.lollapalooza.com/
Based in downtown Chicago this huge festival is on its way  to take over the world, adding Israel and Buenos Aires as locations for the festivities. Unless you live in those places though, your best bet is to catch the festival in Chicago's Grant Park. Surrounded by the city, the view is really cool after dark: a great time to hit one of the three main stages hosting the biggest names in music.
Some of the previous years feature Eminem, Kings of Leon, and Skrillex  and many other big International names.  You would be smart to find yourself among the  300,000+ that hit the festival every year.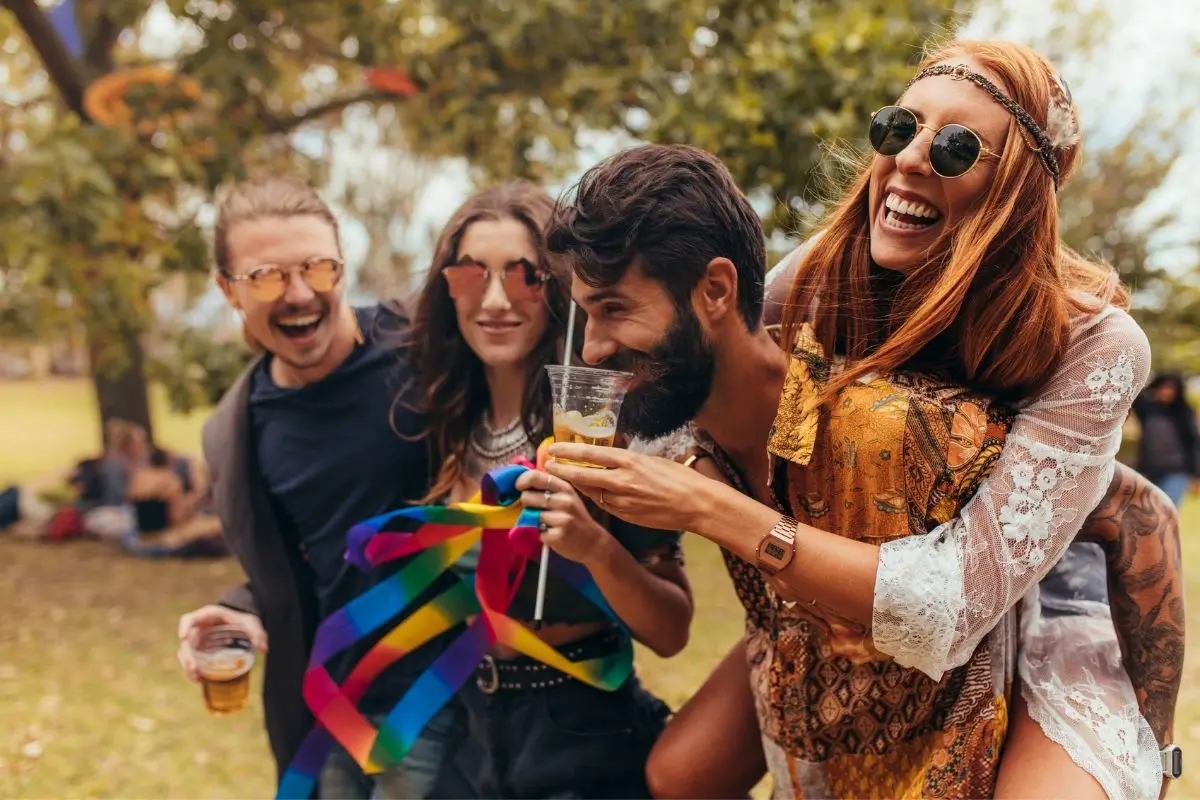 Shambhala
Where:  British Columbia (Canada)
When:  August
Why: Unique natural location and sponsors free
Site:  http://www.shambhalamusicfestival.com/
Why you should go: Shambhala is one of the smallest festivals on the list and is one of the most unique. It's untouched by sponsors and is super creative in terms of the stages and festival grounds.
It's in the British Columbia wilderness and it's trippy. Surrounded by nature, the festival is all about enjoying the music in the surroundings. The festival had around 10,000 people attending in 2013, but it continues to grow through word of mouth and the dope EDM lineup they brought in previous years with headliners like Bassnectar, Moby, Skream, and Skrillex.
What makes this festival even cooler is the freedom of the organizers. It's run by a family who owns all the land without corporate sponsors, which allows the festival to execute any creative ideas they have for the stages and setting. If you're a fan of EDM go to this, it will be the one you'll be telling all your friends to go to next year.
Przystanek WoodStock
Where:  Konstrzyn Nad Odra, Poland
When:  End of July
Why: Massive event with lots of Rock music and it's free!
Site:  http://www.woodstockfestival.pl/
Poland's homage to the festival of '79 is another one on the list that sticks largely to one genre: rock. The performers are international representatives of the form, with 2013 headliners including names like Atari Teenage Riot and Kaiser Chiefs. In emulation of its namesake, the festival has a running theme of "Love, Friendship, and Music." Entry is free and in fact Przystanek Woodstock is held by the Great Orchestra of Christmas Charity as a thank you to its volunteers.
The average attendance for the past four years is 625,000 people. Since the 11th festival its organizers have called Przystanek Woodstock "the biggest open-air festival in Europe".
Along with the concerts on two stages there are many other events organized during the festival such as an Indian food cafeteria, yoga classes, meditation exercises or meetings with gurus.
Mawazine
Where:  Rabat , Morocco
When:  End of May
Why: The diversity and the opportunity to enjoy African music
Site:  http://www.festivalmawazine.ma/en.html
This huge festival is relatively unknown worldwide. The line-up is mostly made up of African artists, specifically those from French-African countries like Amadou & Mariam and Tinariwen from Mali. Otherwise, a small selection of huge international names plays every year: in the past, Rabat has been visited by Whitney Houston, Lionel Richie, and other big names, and in 2013 the festival was headlined by Rihanna. Mawazine keeps beating its own attendance record, breaking the million mark for several years running now. In 2013 the festival was attented by over 2.5 million people, which makes Mawazine the second biggest festival in the world.
Mawazine is one of several events  to promote an image of Morocco as a tolerant nation, with a post on the event's website declaring that the festival intends to promote and support Rabat, as a city open to the world.
Donauinselfest
Where: Vienna, Austria
When: End of June
Why: Because it's the biggest festival in the world
Site:  http://www.donauinselfest.at/
Donauinselfest isfamous for being the biggest festival in the world on all counts, and does so impressively over the short course of three days. For reference, Summerfest and Mawazine take eleven and nine days respectively to amass a million revelers. For 30 years now, millions have gathered on a 6.5 kilometer stretch of the Danube Island in Vienna to hear the biggest names in Austrian music, like Austropop legends Wolfgang Ambros and Rainhard Fendrich. The festival also welcomes international acts, like Zucchero, from Italy, and house DJ Otto Knows, from Sweden. Perhaps the festival would like to keep foreigners at bay, from the Austro-centric lineup to the fact that information on the festival readily available in English is tough to dredge up. But, if you want to bear witness to the uncontested biggest festival in the world, brush up your German and get yourself to Donauinselfest.
Osheaga
Where: Montreal, Canada
When: End of July
Why: For the indie music
Site:  http://www.osheaga.com/
Since 2006, the Osheaga Music and Arts festival has established itself as the most important festival of its genre in Canada. Held annually at the scenic Parc Jean-Drapeau, the three-day musical festival includes five stages and performances from a diverse lineup of artists. Festival-goers can jam out to popular indie rockers or listen to mellow, up-and-coming folk artists while taking in the city skyline. Set times vary based on the status of each performer, with emerging artists opening the show and headliners concluding with longer, 90-minute sets. Consider getting to town a week early, as the city hosts concerts and exhibitions prior to the main event.
Ranked by Pollster as the number 1 festival in Canada and the 11th best festival in the world, Osheaga has grown significantly since the first edition. Some have criticized the pronounced commercial presence at last few years of the festival; however, those same reviewers admit that the lineup quality has been well maintained since 2006.  In total, the festival has presented more than 600 performances to more than 400,000 audience members.
Rock Al Parque
Where: Bogotá, Colombia
When:  Middle of August
Why: Free and with great Latin Artists with a nice organization on a beautiful Park
Site: http://www.rockalparque.gov.co/
Most music festivals require tickets, but Rock al Parque isn't your typical shindig. The three-day festival does not charge an admission fee and boasts an estimated attendance of over 85000 visitors a day.  In 2004, 400,000 people took part in the event. Festival-goers line up to watch performances from some of Latin America's most popular artists, but the festival also offers performances from international bands. With genres ranging from rock and Ska to hardcore and punk, Rock Al Parque offers something for everyone. After 1997, artists were selected by a jury after an open multi-stage process to perform in the festival to promote new bands and find the new top bands in South America.
Dour
Where: Dour, Belgium
When:  Middle of July
Why: The good vibe
Site:  http://www.dourfestival.be/en
A French-speaking village in Belgium transforms every year for Dour, one of Europe's most popular music festivals. Named after its host town, the festival is easily accessible from many European countries and has grown over the years to include six stages that host 200 bands and DJs. A wide range of musical genres round out the lineup, including electronic, hip-hop, reggae, and indie. Performers carry on through the wee hours of the night, and visitors can move through outdoor stages and tents to watch the latest set.
The atmosphere at Dour is amazing and it marks 5 days of alternative love and music and the kind of music attracts a good and friendly crown.
Fuji Rock Festival
Where: Naeba, Japan
When:  July
Why: Good line up and the beauty of surrounding forests, streams and hills
Site:  http://fujirock-eng.com/
The beautiful surroundings practically overshadow the performances at Japan's Fuji Rock Festival. Held in the mountains at Naeba Ski Resort, the festival site enchants visitors with its sparkling streams and hilly green forests. Visitors can take a gondola lift to the top of the mountain overlooking the festival and attend performances from more than 200 Japanese and international musicians. Whatever you do, come equipped with an appetite; the main site boasts more than 30 food stalls from around the world.
Once feted at the base of Mount Fuji, the party's gotten so large that the hills are now alive in a sweeping area that accommodates both campers and more traditional ryokan-goers.
This photogenic festival almost guarantees rainy weather, but the beauty of its forests, streams and hills more than make up for the inclement weather.
Primavera Sound
Where: Barcelona, Spain
When:  End of May
Why: The independent music
Site: https://www.primaverasound.com/?lang=en
Primavera Sound is an annual music festival taking place in Barcelona. The festival is noted for its eclectic lineup, focus on independent music, and as a showcase for newly established international and Spanish acts. The range of musical genres include alternative, indie, hip hop, dance, folk ,electronic, pop , jazz, metal, and experimental music.
The Parc del Fòrum grounds have the feel of an industrial carpark and there is a lack of shade from the sun. So bring comfortable shoes and a hat.  Everyone is incredibly kind. The Balearic Sea behind you. Well, Spain.
In 2012 a second festival, Optimus Primavera Sound was created and the event takes place in Porto, Portugal over the weekend following the Barcelona edition, and shares a similar line-up of acts.
Benicàssim
Where:  Benicàssim
When:  July
Why: beach, long nights and naked people
Site:  http://www.fiberfib.com/en
There are a few reasons the Festival Internacional de Benicàssi  being one of Europe's most enduringly popular weekends for artists and music fans alike. There's the pretty town of Benicàssim (close to Valencia)  a 20 minute stumble away from the main site. There's the irresistible Mediterranean beach next to the town, with the amazing sea just waiting to absorb all hangovers. There's the fact that the music doesn't really get going till the sun goes down, and then doesn't really stop until it comes up again. And there's the fact that the young, cosmopolitan crowd are so cool that they think it's all good to get naked in the unisex showers and engaging in general chit-chat about this and that while washing their this and thats, not necessarily noticing or caring that they and everyone around them are naked. Oh yes, and there's some music that goes on – which just happens to be one of the most consistently strongest line-ups in all of indie Festivals over Europe.
Splendour in the Grass
Where: Byron Bay, Australia
When:  July
Why: Unique location
Site:  https://www.splendourinthegrass.com/
After 14 years, Splendour in the Grass is becoming something of an Aussie institution with 30,000 party goes regularly making the trip to North Byron Highlands for three days of good music, art and camping. The site is sprawling: in some cases the stages are 20 minutes apart. You will be needing plenty of water since you will be walking under the hot sun so plan your daily activities carefully.
The 2015 line-up contained many a splendid thing: reunited Britpoppers Blur, Florence + the Machine and Mark Ronson headline, with able support from Tame Impala, Wombats, Royal Blood and more. You can also exercise your brain at the Splendour forum: home to talks, comedy shows and much philosophical pondering.
Sonus Festival
Where: Zrce, Pag, Croatia
When:  August
Why: Quality Techno with a the beach just on the corner
Site:  http://sonus-festival.com/
Sonus is an island offshoot of legendary German techno festival Time Warp, which takes place on Croatia's popular Pag Island in August, boasting "beach, sea, sun and techno!" 2015's lineup includes Villalobos, Richie Hawtin, Sven Väth, Joseph Capriati, Chris Liebing, Luciano and more.
The festivities include five days and nights of good vibes and sun-kissed boat parties" DJed by the best underground gods who hop between club sets at the Papaya and Kalypso bars.
This is not the renegade warehouse or bombed-out Berlin vibe devout dub techno heads might hope for.
The location of the festival makes it a one in a lifetime experience with a lot of amazing beaches to explore around if you need a break from the amazing techno music played.
We are FSTVL
Where: Upminster, London
When:  End of May
Why: The diverse and incredible lineup
Site:  http://www.wearefstvl.com/
A relatively new festival onto the scene, the festival first opened its doors in 2012, and has already gained massive popularity amongst the dance/house community in the UK. Its prime location in London means it is a perfect festival for you southerners, and it continuously brings in massive DJ's.
With a stellar cast of dance heavyweights for two days and nights. Names like Sven Väth came back for another 10 rounds, and the likes of Richie Hawtin and Fatboy Slim followed him right over the ropes. That's the proper way  to cement a festival's reputation, and a signal that things are not going to slow up any time soon.
Now it's time to save and plan your next holidays and head to one or several of this one of a kind festivals to see your favorite band or DJ and to make those unforgettable memories!
Enjoy and happy festivals!
Make sure to visit this incredible music festivals at least once in your lifetime.