Rent a Tuk Tuk in Sri Lanka: The Perfect Adventure
Since my first trip to Thailand in 2014 that I got in love with Tuktuk's. Riding on the back of those adorable vehicles gave me such a sense of freedom and adventure that I told myself that one day I would be my own driver and go explore an entire country on my own TukTuk. Back then, everyone laughed at my idea since it was obvious that I wouldn't be able to get a license to drive one around Thailand so that idea stayed only on my mind for the next couple of years. Little did I know that 4 years later I would get to rent a Tuk Tuk in Sri Lanka and explore the country with Marina.
In late 2018 when me an Marina started to plan our Trip to Sri Lanka I found out that there was a chance to legally rent a Tuk Tuk and travel the beautiful Island of Sri Lanka with my own Tuk Tuk.
After a couple of days reading and researching about the legal procedures, insurance, prices and other options we knew this was going to be it. We were going to explore Sri Lanka on our own Tuk Tuk!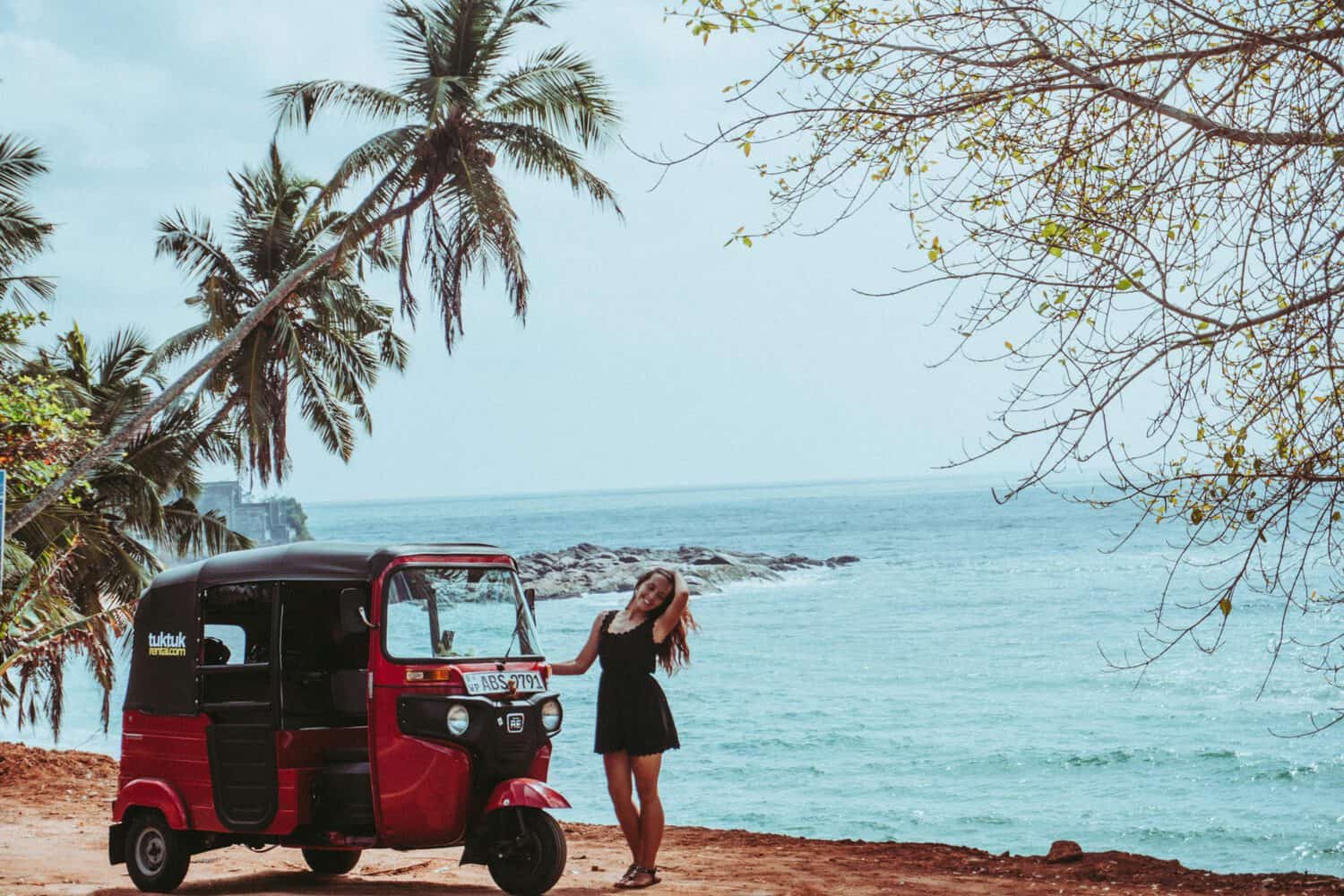 Finding a TukTuk Rental
You will be landing in Negombo, a city 40 minutes north from Colombo and those would be the 2 best places to rent your TukTuk. After our online research we found several local companies and local TukTuk owners renting them before you land. Cheapest prices available where around 12$ per day and we were told by other travelers that if you just land and go around asking to local drivers some of them would just rent their own tuk tuks on the spot for your stay. We talked with several people and several of those who rented the TukTuk when they landed either had problems with the police because they did not have a local license to drive or ended up renting an old and rusty Tuk Tuk that ended up braking just after a few hours on the road.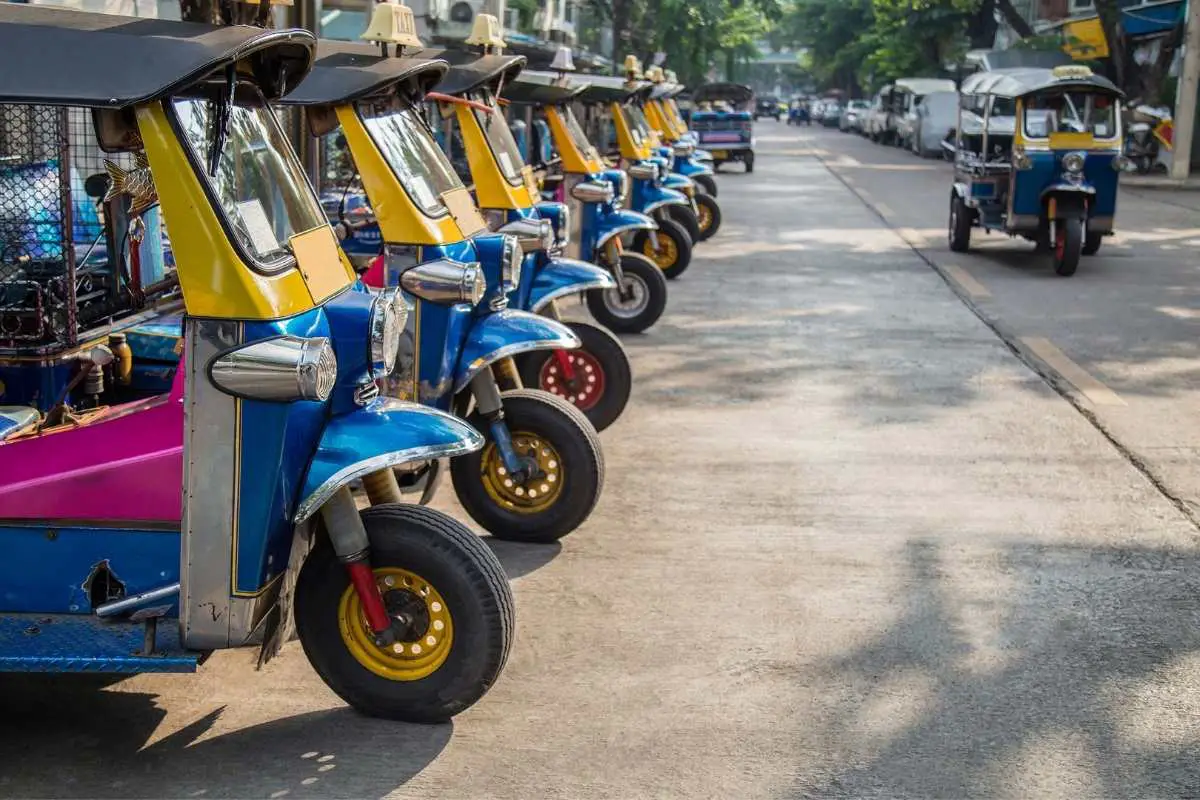 Picking a TukTuk Rental
The thing is, we love adventure, but we did not want to be scammed and most of all, we were not planning to travel and drive a Tuk Tuk illegally and without insurance.
We got recommended by a good friend of ours to check TukTuk Rentals. The company connects travelers with Local Tuk Tuk drivers to support local families and providing all the safety and coverage we were looking for.
We emailed them 3 weeks before our arrival and asked for the details.
The daily price to rent our TukTuk was around 18$ and the main reasons we decided to rent from TukTuk Rentals were the following:
TukTuk insurance with an International Agency ( Allianz)
Contract with the company
24 hours support in case of accident/damage
Tuk Tuks maintained and in great shape
They would take care of all the legal paperwork for us in advance
Instructor to teach us how to drive on our first day (that was a must)
We rented our Tuk Tuk with them and we set our pick up point close to the airport so we could start our journey early morning on our first day.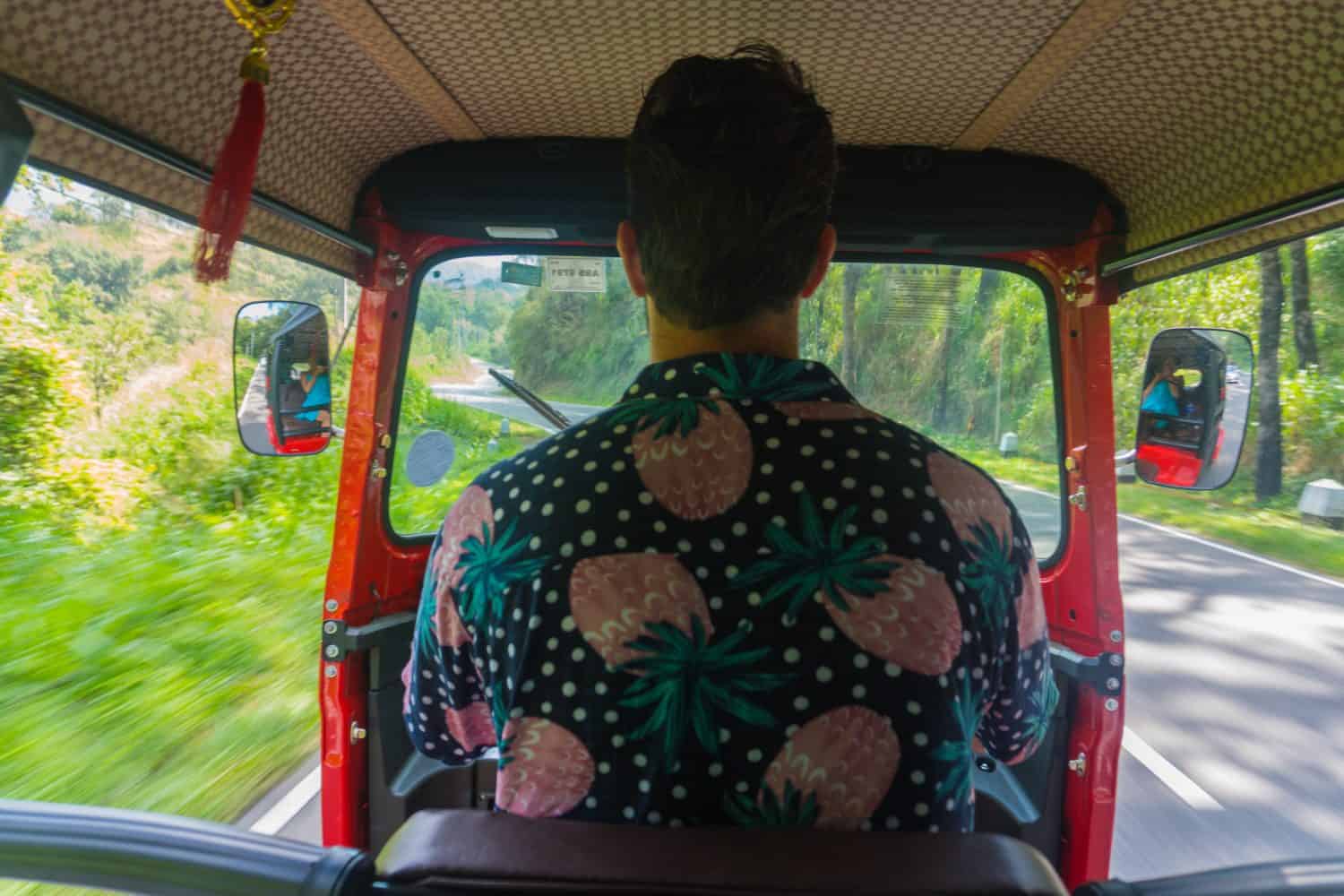 Getting a Tuk Tuk Driving License in Sri Lanka
Sadly, our trip to Sri Lanka was only going to last 2 weeks so we did not want to waste our first day at a local office trying to figure out our paperwork to drive around Sri Lanka.
All we had to do was to send a photo and a copy of our passport and they managed all the paperwork for us.
If you have the time you can apply for a license yourself at the Automobile Association of Ceylon (AA) in Colombo if you have an international driving license with you. If you don't have an international driving license you need to go to the department of Motor Traffic and get a local permit to drive your TukTuk.
Picking up the Tuk Tuk & Driving Class
After 5 years traveling around Southeast Asia I have spent a lot of hours driving motorbikes but I was a bit scared to hit the traffic with a Tuk Tuk.
We set our meeting point to 10 am at Hangover Hostels, just a 10 min ride from the airport and when we got there our Tuk Tuk was already parked with our instructor waiting for us. He welcomed us and gave us all the necessary instructions. From the daily check ups to the more advanced details in case something would go wrong.
He took us on the Tuk Tuk to a quiet road and we spent the next 30 minutes practicing and it was by far the best way to start the adventure. 1 hour is enough to get you used to the gear and the driving basics and I was comfortable behind the wheels once we left Negombo.
Before leaving us he checked if everything was okay with the TukTuk, gave me the paperwork and driving permit plus the insurance card and a manual with all the important stuff I might need on the road.
Around 11 am we were hitting the road and ready to explore Sri Lanka!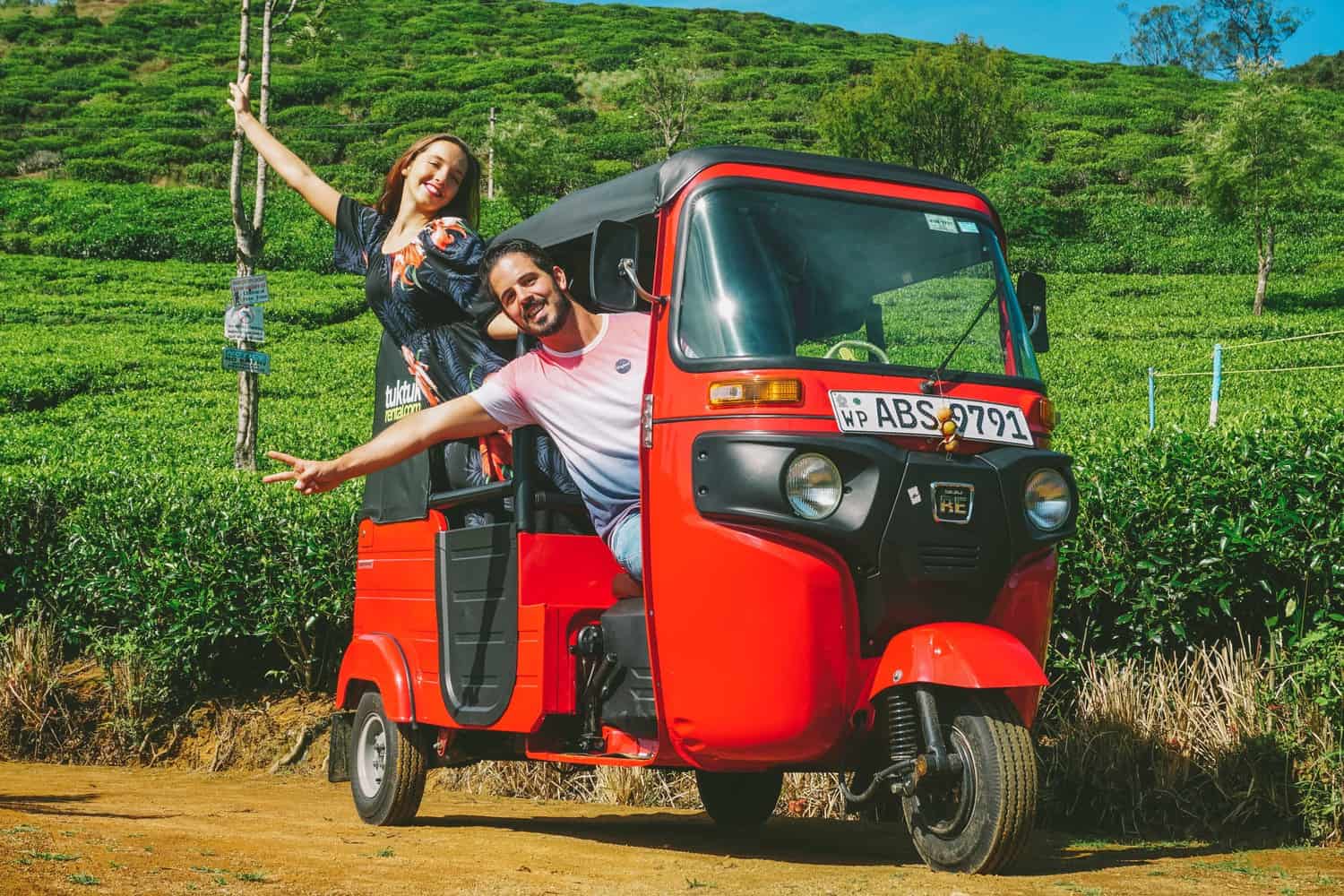 Driving a TukTuk in Sri Lanka
Traffic in the big cities is quite crazy but as soon as you get out of the busy areas the roads are pretty chill and the views are just incredible.
Speed limit for TukTuks is 40kph and you will find plenty of police check points along the way so do your best to stay under the limits and you will be fine.
During our trip we got stopped twice by the police and after showing them our license and permit they let us go with no problems and with a smile on their faces for seeing us driving such a cute Tuk Tuk around the island.
Finding Accomodation
Sri Lanka has a lot of options in what concerns accomodation. From cheap guest houses to luxury Hotels you can find it all. The Hostel scene is just starting so if you are traveling alone your best bet is to book in advance a hostel or pick one of the family run guest houses and connect with the locals. During our trip we booked most of our stays before flying to Sri Lanka and letf a few nights unbooked so we could travel freely with the tuk tuk and booked our stay one or two nights before using Booking.
Luggage Transportation
We arrived from Sri Lanka with all our luggage after living 4 months in Thailand so we had way too much stuff to carry around with us. Since we would be traveling on a TukTuk we wanted to have the least amount of stuff with us as possible. We planned to leave our 2 big suitcases at the airport storage room and travel only with a small bag for the two of us that we could carry with us easily when we were exploring and with a small backpack to keep passports and important stuff. Sadly the Airport luggage room was full so we ended up asking the owner of the first Hotel we stayed in close to the airport if we could keep our bags there and he kindly accept so we left all our stuff there and pick the bags before flying out of Sri Lanka.
Having only a small bag is the best way to travel on a Tuk Tuk. If you have a big suitcase you won't have that much space for it and when you are on the road you don't have the freedom to go sightseeing when you are traveling between cities. By having a small bag with us we could park anywhere on the road and go explore without being worried that our stuff would be gone when we came back.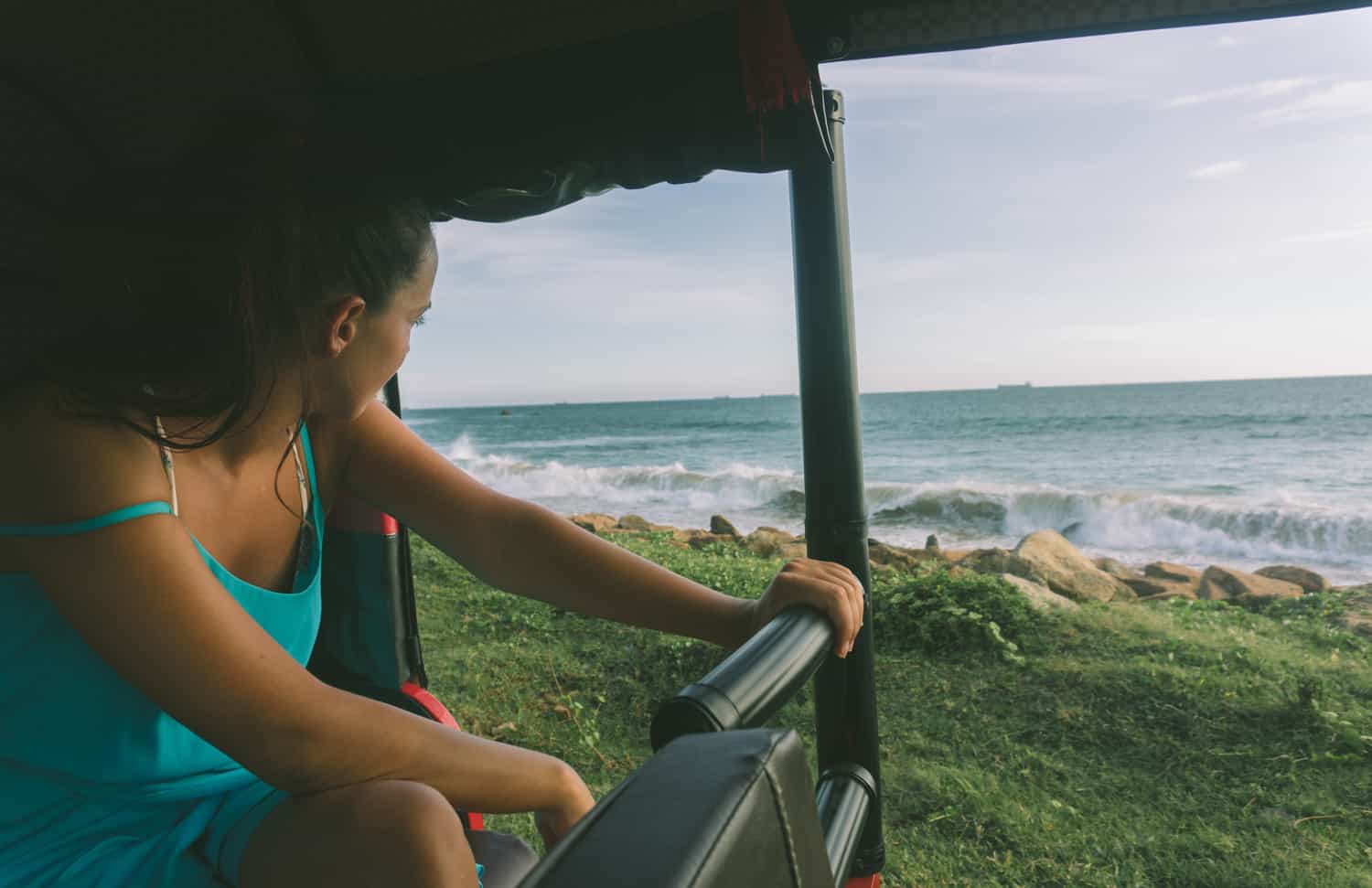 Our Travel Route
With only 2 weeks to travel Sri Lanka we had to make some decisions regarding our route.
Marina wanted to spend at least some days chilling at the beach and exploring the coast and I wanted to see some historical sights and waterfalls and spend a few days in the mountains and country side.
We ended up planning the following route:
Negombo (Airport)
Kandy (2 Nights)
Nuwara Ellya (2 nights)
Ella (1 Night)
Yala National Park (1 Night)
Rekawa (1 Night)
Unawatuna (2 nights)
Galle Area ( 2 nights)
Colombo ( 2 nights)
Fly away! ( Sad!)
Before we even landed in Sri Lanka we got an email from TukTuk Rentals with a detailed Map of Sri Lanka with thousands of pins curated by them and by other travelers with the best local spots to visit and with an invitation to a WhatsApp group where other TukTuk travelers shared their daily experiences and tips and even set up to meet up for a drink or so.
They also asked up our rough plan and after we told them the route, they gave us an awesome list with the best spots to explore in the places we were about to travel to. We checked a lot of the sights recommended and those recommendations totally made our trip.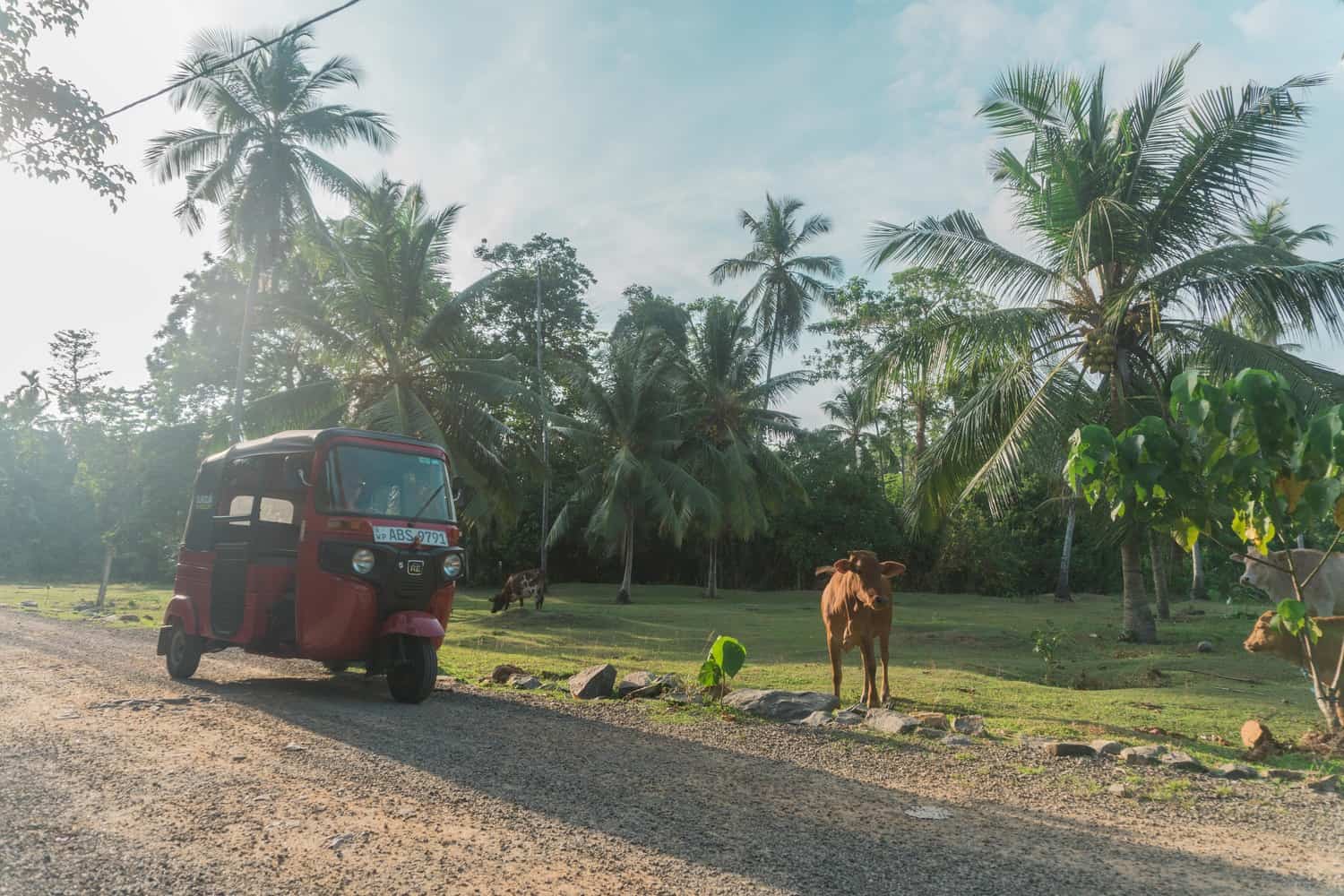 Recommended Sights for our TukTuk Trip
Kandy:
Botinical Gardens
Temple of the Tooth
Udawatakele Rainforest
East of Kandy, near Digana is an amazing hike to Petigala through Bambaragala Monestry.
Between Kandy and Nuwara Eliya:
Ambuluwawa Temple, Gampola
The road via Kadyanlene to visit Kataboola Ella Falls, St. Claire Falls and Devon Falls.
If you have the time, check out Castlereigh Reservoir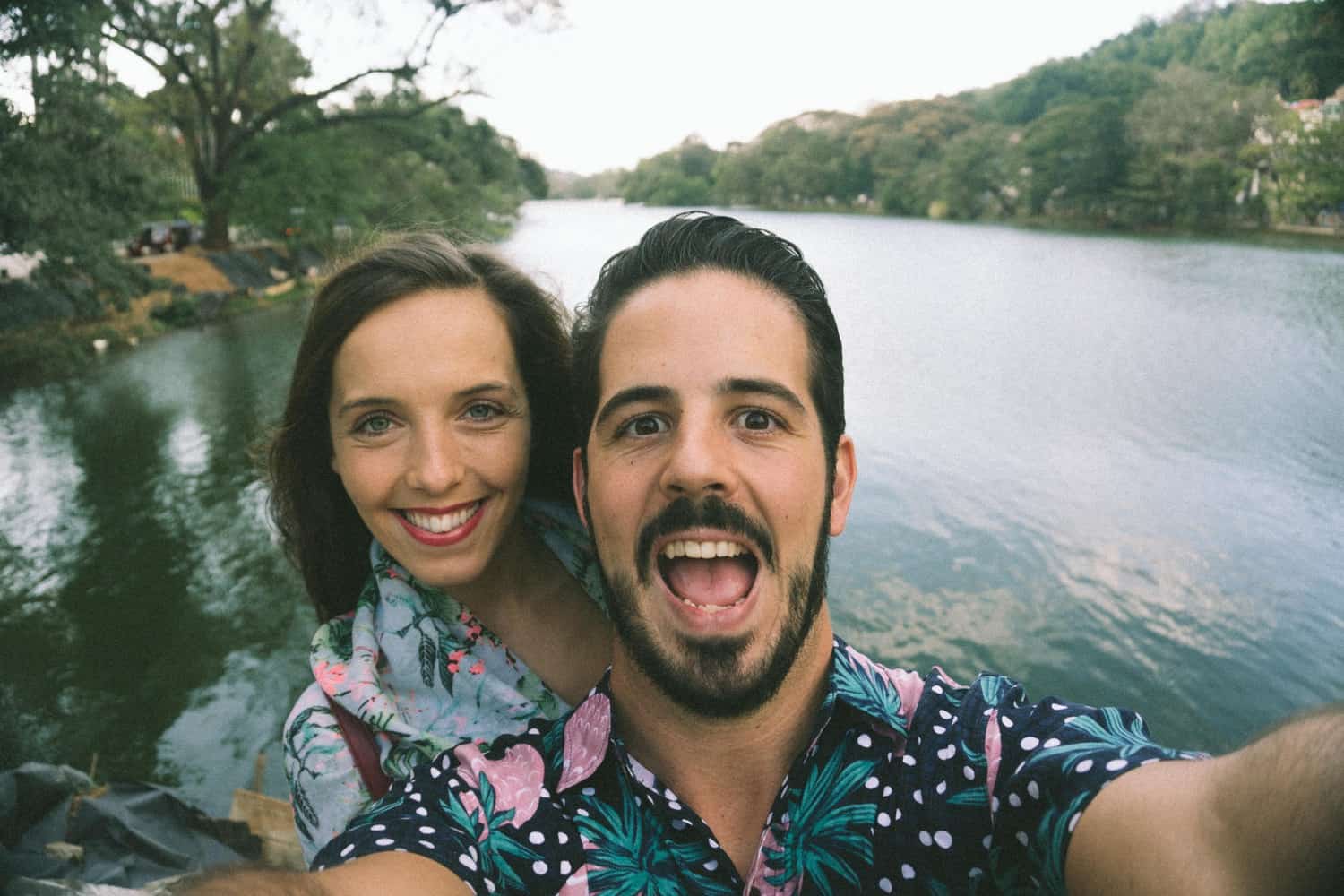 Nuwara Eliya:
Shantipura village
Lowers Leap Falls
Gregory Lake
Moon Plains
Single Tree Hill viewpoint
Grand Hotel for old English experience, nice high tea
Between Nuwara Eliya and Ella:
Leave early and go through Horton Plains ($15 entrance fee pp), do the hike to Worlds End and Bakers Falls.
Take the small roads like Imalgashinna, Haputale maybe Liptons Seat to Ella.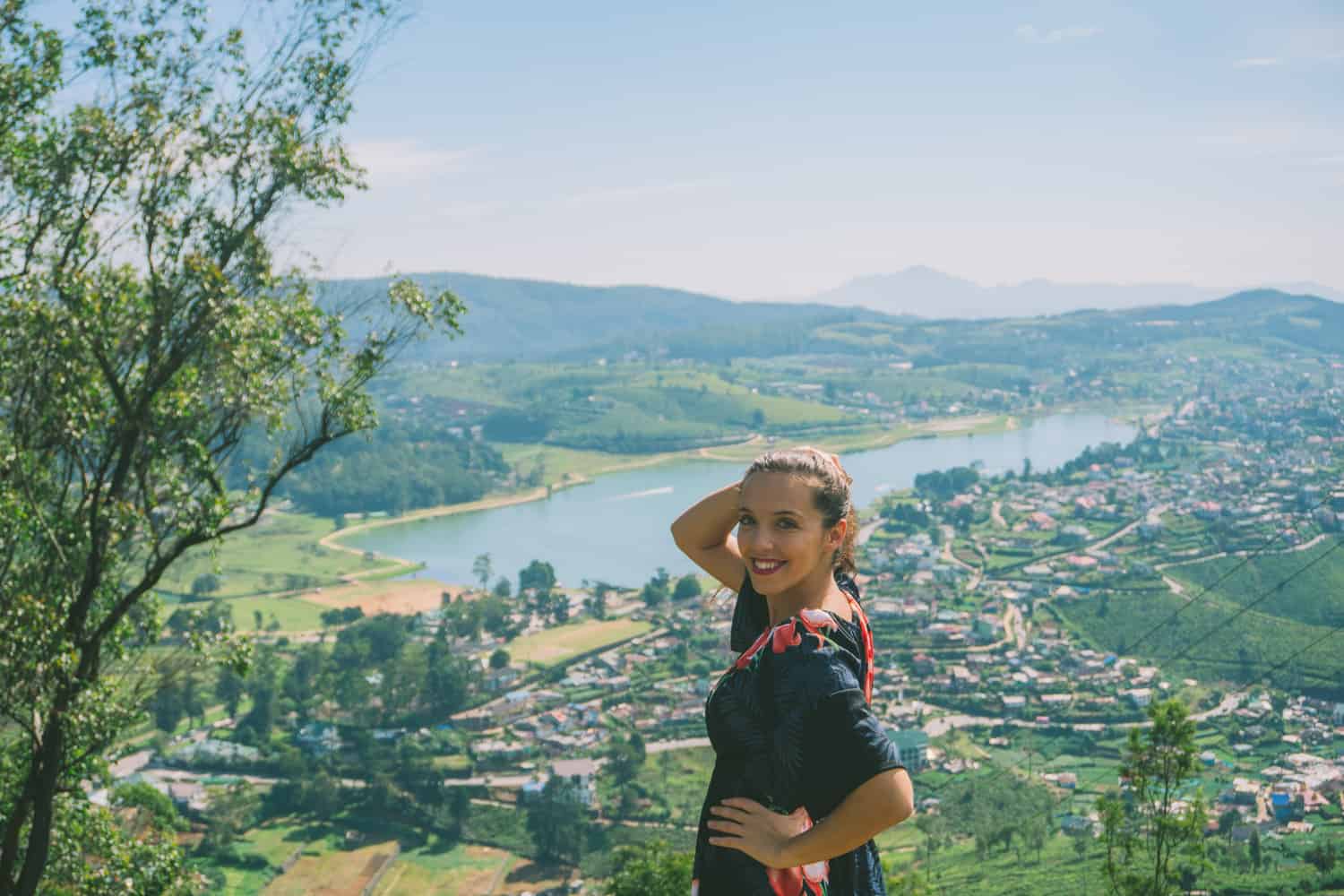 Ella:
9 arch bridge
Ella Rock
Little Adams Peak
Walk from 9 arch bridge over the tracks to Demodara Loop (careful for the train)
Ravana Falls
Between Ella and a National Park:
Rakkhiththakanda Ancient Cave Temple
Diyaluma Falls
Buduruwagala Temple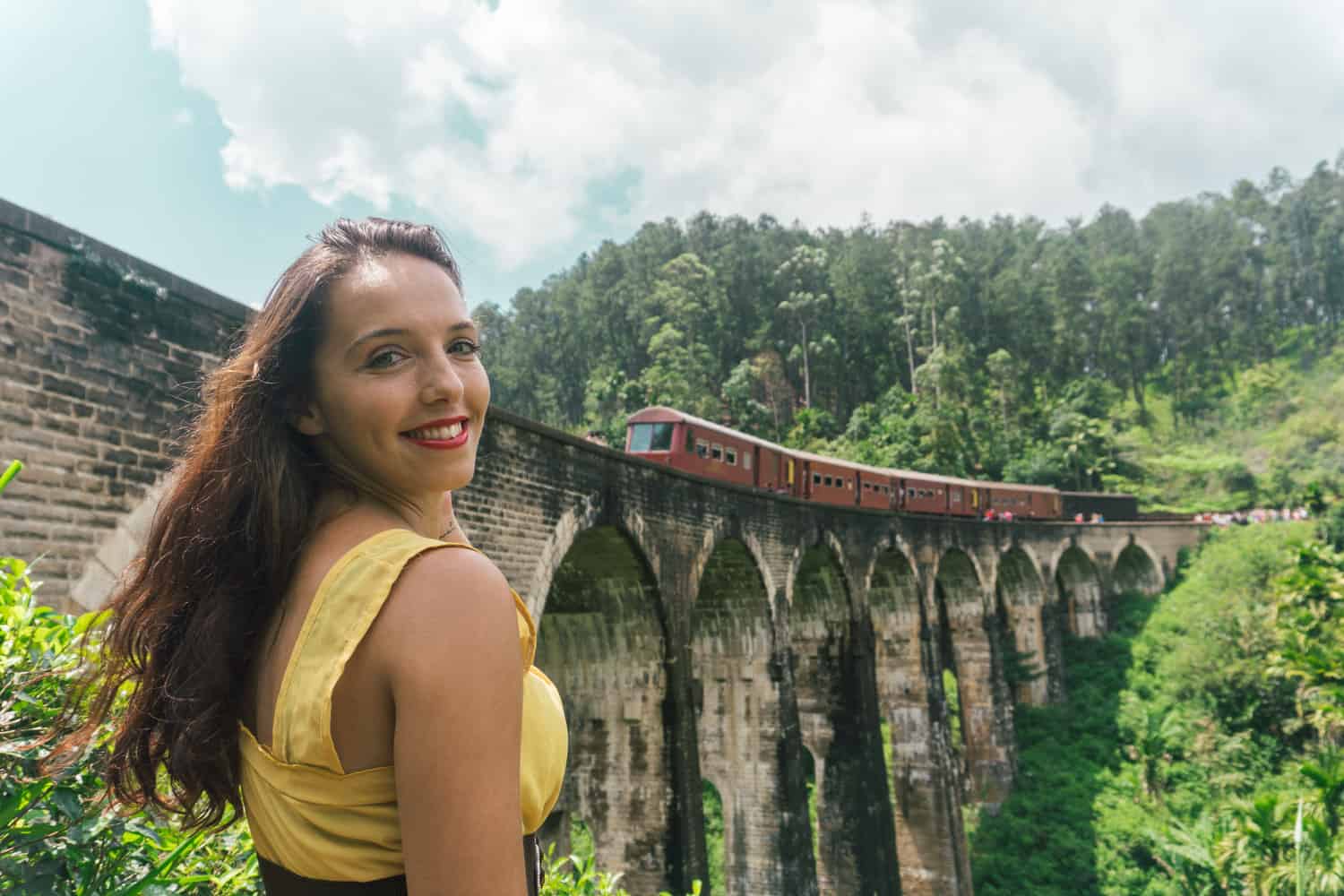 National Park:
Yala is generally busier, but a chance to see bears and leopards. There are three entrances, 2 of which go to Yala and 1 goes to Lunugamvehera.
Udawalawe is full of elephants.
Near Udawalawe there is the Elephant Transit Home, an ethical orphanage.
South Coast:
Rekawa Turtle watching near Tangalle, nice empty beach in that area too!
Mulkirigala Raja Maha Viharaya (rock temple)
Goyambokka Beach
Hiriketiya (can be busy).
Dikwella, very beautiful and empty at the moment.
Talalla, nice and empty.
Mirrisa, busy beach.
Weligama, surf town, also busy.
Midigama surf
Ahangama, surf and beach
Talpe, nice beach behind a reef
Unawatuna, old hippie town
Galle Fort, interesting morning tour through the old city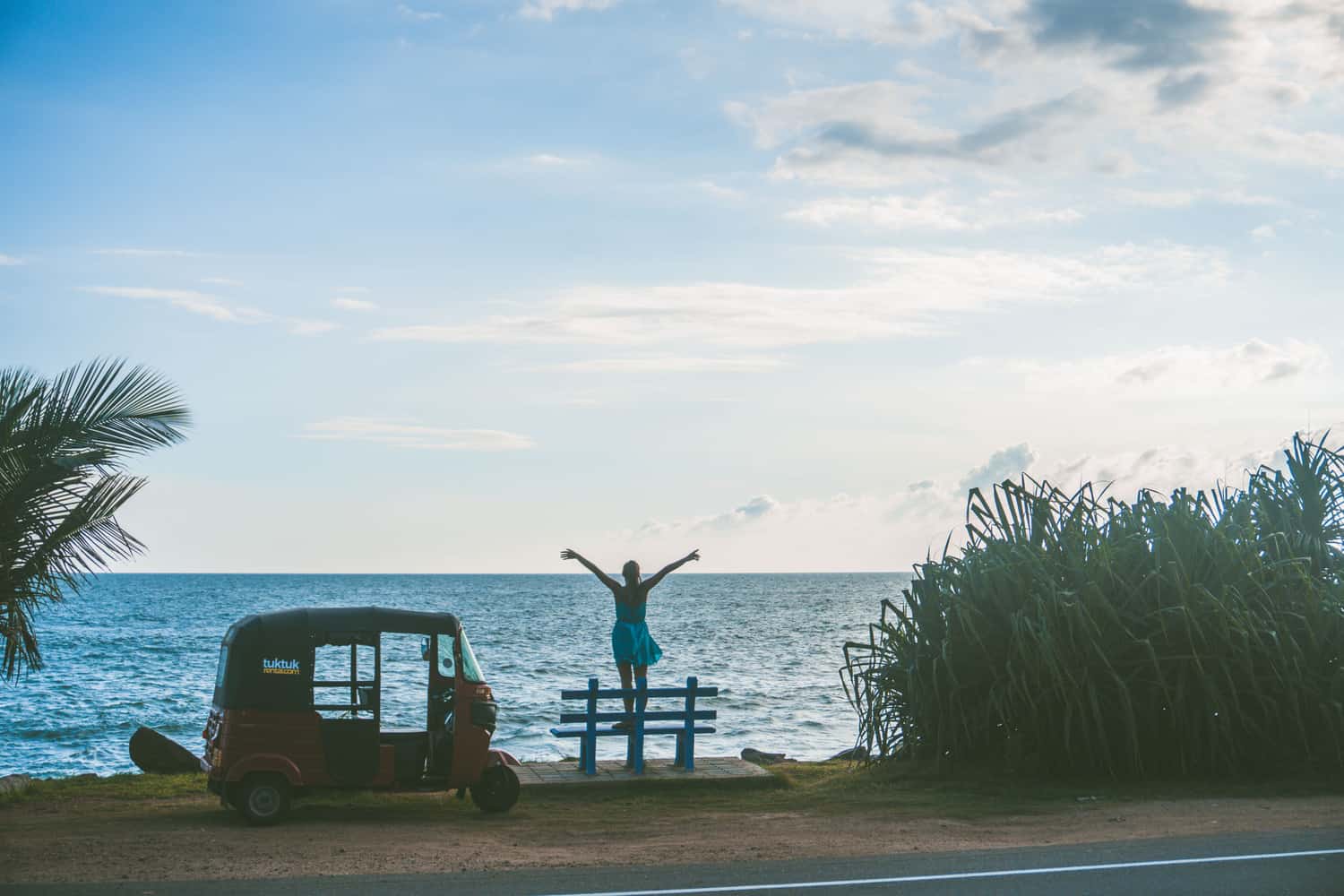 Did we love our Tuk Tuk Experience?
Just like any other experience there are pros and cons to consider before you make a final call.
The down sides of driving a Tuk Tuk we could think of were the following:
Speed Limit: you can only drive 40kph so if you want to get quickly from place A to place B this is not your mean of transportation. We wanted to see the views and were not in a rush so the speed limit was not a problem for us but make sure you don't go over the limit if you don't want to get a fine since there are police check points everywhere.
Traffic: it's hard to drive around the cities since there is usually a lot of traffic. We felt that Kandy and Colombo were too busy for us. During most of the trip we followed some smaller roads and truly enjoyed the connection with the Nature along the way
The awesome stuff about traveling on a Tuk Tuk around Sri Lanka:
Freedom: it can be small and slow but it will take you everywhere! From the top of a mountain to that secret beach spot, your tuk tuk will take you everywhere.
Connecting with the Locals: Sri Lankan people are extremely kind and friendly and often came to talk to us and were interested about seeing us on a Tuk Tuk and that turned into some really interesting conversations along the way
It is cheap: less than 20$ per day with insurance is a bargain! We especially liked the fact that we never needed to take buses or local tuk tuks to go from one place to another saving a lot of time in bargaining and looking around for what we wanted
Something you will never forget: Besides being a dream come true to me, it was just such an amazing experience. Being able to see Sri Lanka in such an authentic way made this experience one of the most memorable activities we ever had and we will be renting a Tuk Tuk and exploring more of the country when we return to Sri Lanka!
Our experience with TukTuk Rentals
With so many companies and locals offering their own Tuk Tuk for rental, we were not sure if we were doing a good call by renting our Tuk Tuk from TukTukRentals, our final call after the trip is that it was indeed the best decision ever.
Why?
From the pre-arrival coordination regarding our license, to the punctuality and convenience to pick the Tuk tuk less than 5 minutes from the airport with a local that is fluent in English and patience enough to teach a newbie how to drive in a safe and quiet environment.
Having access to their local knowledge with a map full of hidden gems and an active WhatsApp group with all the other travelers driving around with Tuk Tuks sharing daily content and tips that made our trip unique and memorable.
On top of that they often checked on us via email to know if everything was going great and whenever we needed help with the Tuk Tuk they were just a call away and helped us fixing the issue without even needing to call the Insurance. Yes, the insurance was the cherry on the top of the cake to make our trip safe and relaxed.
We will be back with some friends to explore the north of Sri Lanka in 6 months and we will definitely be renting our Tuk Tuk with them again.