Tanah Gajah: The Chedi Club Ubud Luxury Resort
Tanah Gajah Ubud Luxury Hotel Review
Formerly known as The Chedi Club Tanah Gajah
The Chedi Club is a secret garden of sumptuous luxury private residences surrounded by working rice paddies. Resting in the exclusive Tanah Gajah estate, with a traditional Balinese architecture, local artefacts and contemporary design, this five-star boutique resort, has 20 individual villas dotted around its lush sprawling grounds. Nestled in the jungle just eight minutes outside of Ubud you can find stone statues greet you at every corner, huge sculptures regally wave you by and each private villa.
The Rooms
All the villas come with a personal butler,  willing to help you and share stories about the Balinese culture. The service is highly professional but also warm and personal making your stay even more enjoyable.
The villa is private, luxurious and has one of the most comfortable beds we ever slept in. Everything in your room is complimentary and it is all included: driving service, laundry, evening cocktails, morning yoga.
The Dining
Having dinner at the Rice Paddy Platform was one of the most romantic experiences we ever had in our lives. This Platform is perched on the edge of rice fields and stretches as far as the eye can see. It's the perfect place for special events and is a spectacular venue for small group dinners.
During your dinner, you will feel completely embraced by nature: different species of birds and butterflies can be found here, and at dusk, the fireflies appear. Moonlight and candles make this an unforgettable experience you will never forget.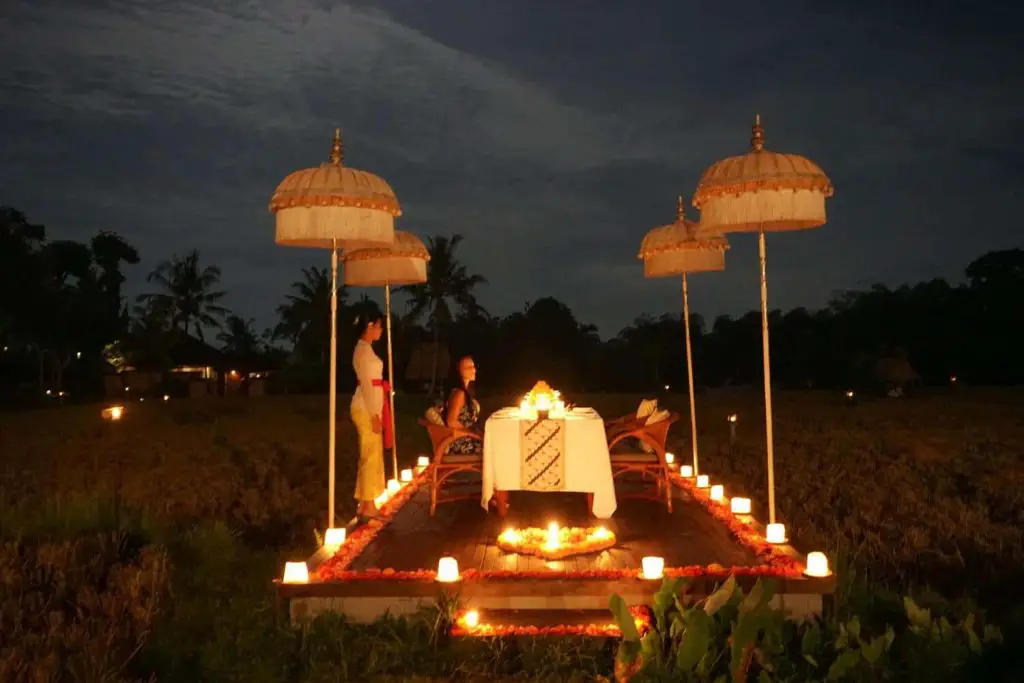 The Traditional Dance
A Kecak fire dance takes place at this luxury hotel twice a week in front of a magnificent split gate adorned with hundreds of tiny carved elephants, the amphitheater. The dancers perform an authentic, traditional number, which is a proud expression of the local culture.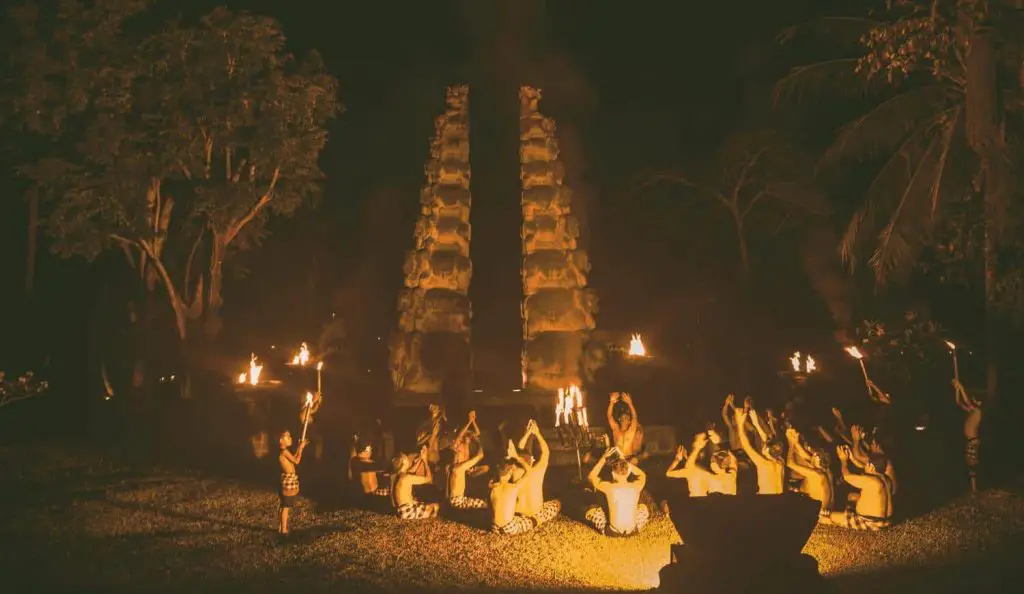 The Facilities
The Club Lounge and The Restaurant provide a unique venue for cocktails, afternoon tea and dinner overlooking the paddy fields. The Bird Lounge is a great place for drinks and in villa dining options are extensive as are romantic private dining venues around the estate. There is a 35 meter swimming pool, tennis court, yoga studio, state of the art gym and serene spa overlooking the verdant fields.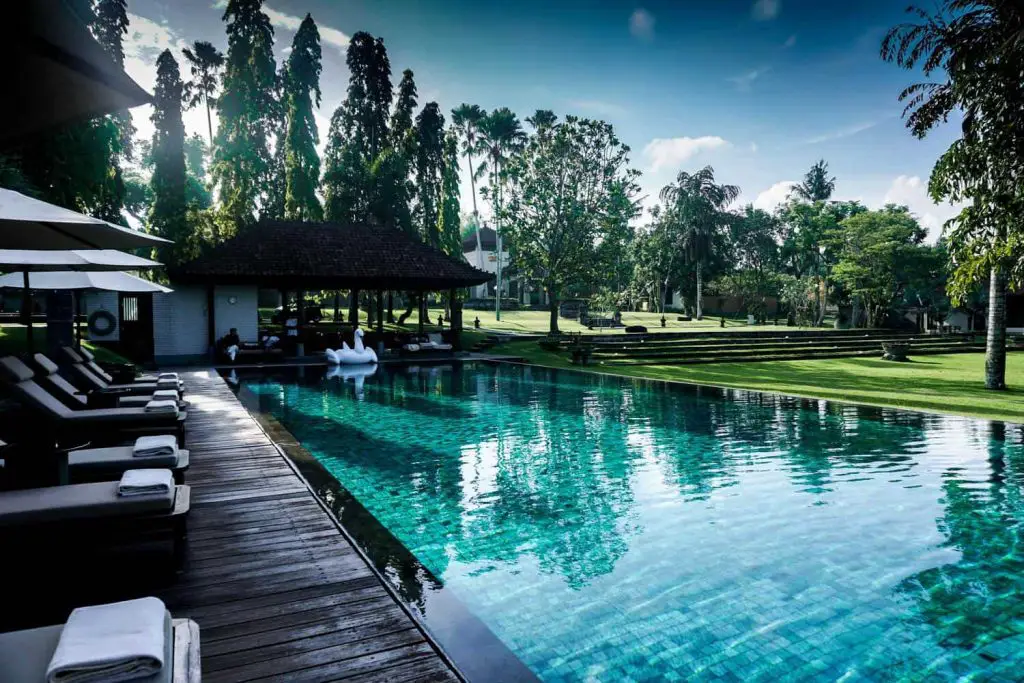 The activities
A complimentary limousine service can take you to and from Ubud when you feel like exploring the surroundings (galleries, shops, restaurants and cafes). Other activities include cooking classes, yoga and meditation, cycling tours, weekly cultural performances, trekking and rafting.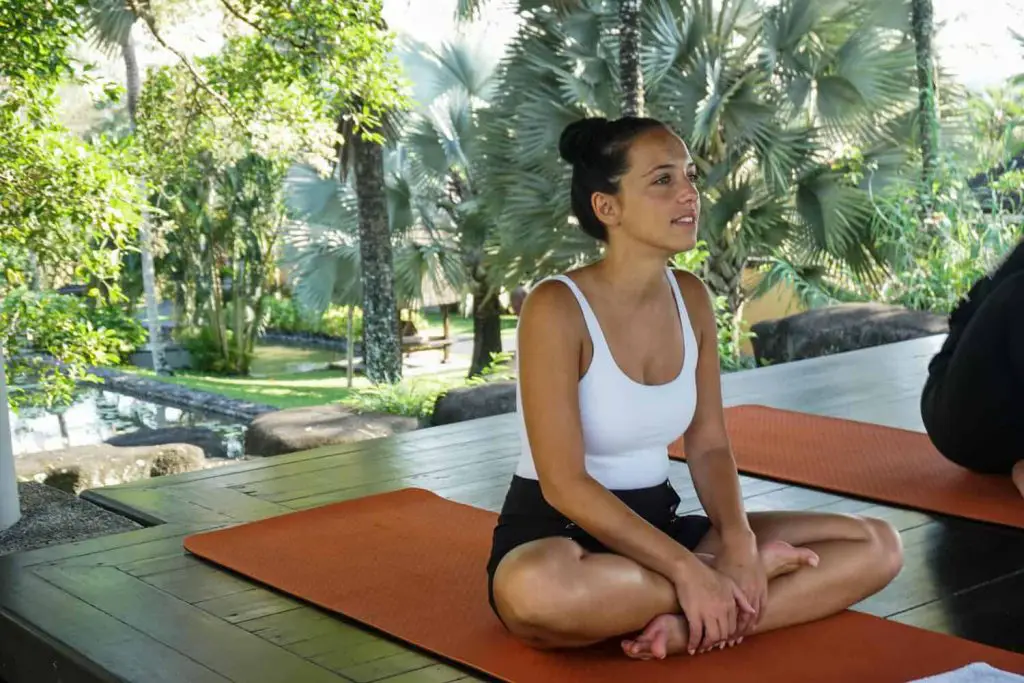 The Elephants
Tanah Gajah means "Land of Elephant," and many can be found here: more than 100 elephant statues and figurines onsite. The Chedi Club is also right next door to the unique 9th-century Goa Gajah Temple (Elephant Cave), the site of many magical local ceremonies.
Whether it is your birthday, wedding or any special occasion, if you have ever dream of having an entire luxury experience this is the perfect place!
The Chedi Club Tanah Gajah, Ubud
Facebook // Instagram // Booking // Website
THE TEAM
António Araújo // The Portuguese Fox // Taylan Alpan// Ferriy Bagus