25 Cool Things to do in Chicago
The homeplace of Jazz, deep-dish pizza and the world's first skyscraper, Chicago is second to no city! In fact, it was nicknamed the "second city" because a majority of thebuildings were reconstructed after the Great Chicago fire in 1871, establishng the rebuilt Chicago skyline as the architectural epicenter it is today.
Bellow you will find a complete list of the activities our local friend Richard recommends for a unique adventure in Chicago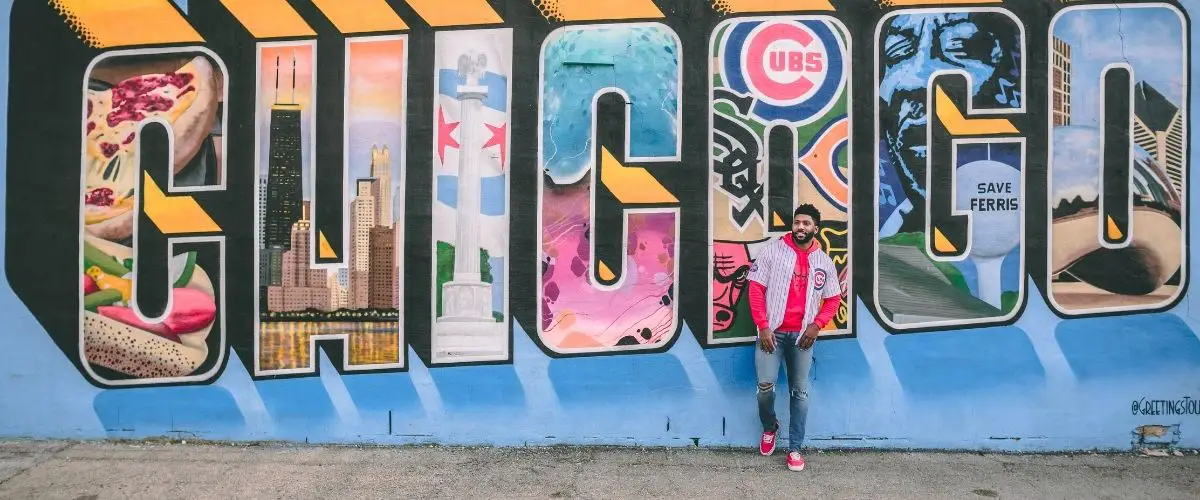 Breakfast Spots in Chicago:
XOCO
Address: 449 N Clark St, Chicago, IL 60654
Maps | XOCO | XOCO Facebook
Rick Bayless has mastered the breakfast torta. A torta is a type of flatbread typically used with sandwiches. This Mexican flatbread sandwich in the breakfast version and shows it off as a proud parent would at XOCO. From 8-10am  is when the chorizo-egg torta loaded with scrambled eggs, pork chorizo, poblano rajas, Samuel's cheese, and avocado is served. This a brunch for the books and one to help kill a major hangover you may have from the long night of drinking. This brunch is not one to be passed up as it will linger in your taste buds and in your your mind for days to come.
Brunch is always a good idea at Taverna 750 which is the deal of lifetime for brunch in Chicago.
Taverna 750
750 W Cornelia Ave. Chicago, IL
Maps | Taverna 750 | Traverna 750 Facebook
The Deal or steal of a lifetime is $24 brunch special. $24 will get you two brunch items and mimosa pitchers that are refillable until the entrees show up, drink up and you won't be worrying about breaking the bank. The mimosas are only in the original flavor. With this deal you are able to choose from 6 starters and 5 entrees. If you would like to upgrade to a premium entree it's an $3.00 upgrade charge.  Who doesn't like bottomless mimosas?  For an extra $5 nets you two martinis as well, Sat-Sun  from 11am-2pm. Pro tip: spend the extra $5. There the 10 commandments when eating brunch at Taverna 750 please check them out on their website before you go to brunch.
Lunch:
Sumi Robata Bar
Address: 702 N. Wells St. Chicago, IL 60654
Maps | Sumi Robata Bar | Sumi Robata Facebook
Bento box is what you need to get for lunch. It includes your choice of robata grilled meat, seafood, or vegetable served over rice with miso or chicken soup, mizuna green salad, and seafood croquette.  All of the options for the Bento Box are $15. You are also able to add soft poached egg for $1.50 extra. Robata originates from a centuries-old country style of cooking by northern Japanese fishermen around a communal hearth that serves both as a cooking area and to provide heating, found on the northern island of Japan.  This lunch is beautiful and special treat unlike anything you have had before.
Dinner:
 Boka
Address: 1729 N Halsted St, Chicago, IL 60614
Boka has a great atmosphere and is a wonderful place to go on a date. More than the ambiance the main attraction to Boka is the food and menu. Lee Wolen is the master-mind behind Boka. He loves to mix flavors and textures for the customers' palates. The starter dish of the heirloom carrots with pistachio crumbles, vadouvan, dates and smoked feta cheese. The combinations for Rohan Duck are out of this world too. Its duck with turnips, rhubarb, and mint. The dessert menu is a whimsical combinations. All desserts are $11 so either share, or to get your own and decide if you want to share.
Deep Dish Pizza: Giordano's
Address: Multiple Locations and Addresses in Chicago
Maps | Giordano's | Giordano's Facebook
Giordano's is where I had Chicago's Famous Deep Dish Pizza. It was an experience I will always be ingrained in my brain. The combination of dough which is thick and chewy in a good way, thick layer of cheese and great tomato sauce topping this amazing pizza pie. The combination of flavors and textures that happened in my mouth was incredible. Chew by chew you realize that this is a type of pizza unlike any other you will eat in your life.  Chicago Deep Dish Pizza is famous for a reason and it's a must when you are visiting Chi Town. 6. Portillo's Hot Dogs: Chicago Style Hot Dogs
Address: 100 W Ontario St, Chicago, IL 60654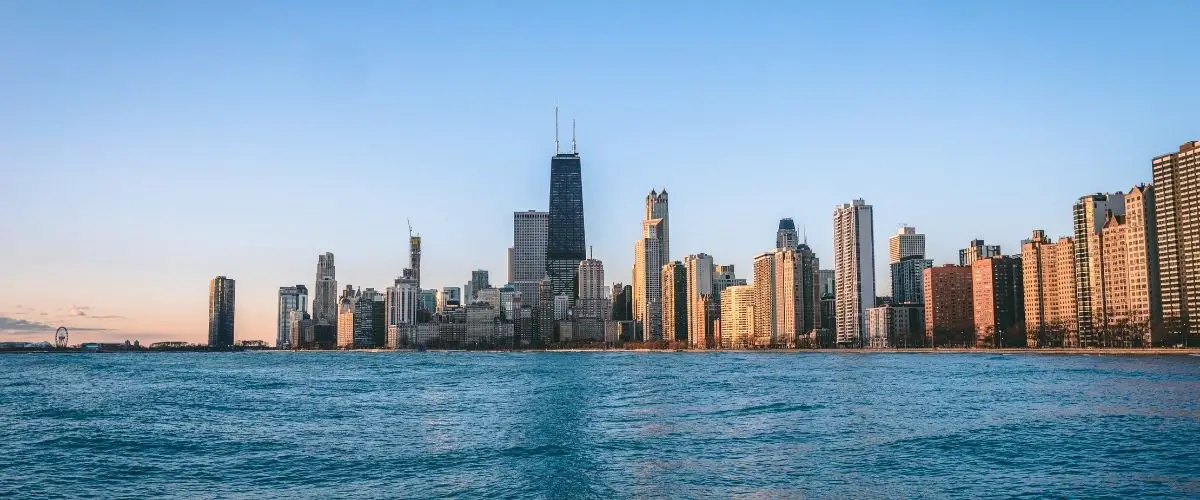 6.The Chicago Style Hotdog! Portillo's Hot Dogs!
Maps for Mult. Locations| Portillos | Portillos Facebook
Its beef hot dogs from one of the originals places to get a famous Chicago hot dog with a drive through. Its as if you are taking a time machine back to the 1960's.  Portillo's serves a beef hot dog with all the fixtures of a chicago style hot dog. Topped with a pickle,tomatoes, peppers and onion. It's the best hot dog experience you will have in your life and you will want to eat more than one. Chicago style hot dogs are my favorite kind of hot dogs so I was thrilled to be eating the original real thing first hand.
Firecakes Ice Cream Sandwiches
Address: 68 W. Hubbard Street, Chicago, IL 6065 And 2453 N. Clark St. Chicago, IL 6065
Maps | Firecakes Donuts | Firecakes Facebook
Firecakes is known for their donuts well it's a donut shop but it's getting put on the map for their donut ice cream sandwiches. Yes donut a ice cream sandwich, it's so wrong, but oh so right! This is not a dessert for anyone who is counting their calories.They start with a raised honey-glazed donut, sliced and packed with chocolate espresso or vanilla bean gelato (from the owner's nearby La Madia) and capped off with chocolate & caramel sauce and cocoa nibs. It's served in a coffee sleeve. Only one will get you hooked for life and having you coming back to Chicago just for these ice cream doughnut sandwiches.
The Fat Shallot Foodtruck
Address: Goose Island, River North, The Loop, Hyde, Park
Maps | The Fat Shallot | The Fat Shallot Facebook
The Fat Shallot food-truck is an amazing sandwich food truck that is run by husband and wife duo who both equally have a true love for food. Its sandwiches made with love which you can definitely tell. It's not vegan friendly so it's for those who want to eat cheese and meat. My choice would be going with the Smoked turkey breast sandwich on the pretzel bun with avocado, cucumber, arugula, and basil aioli. Paired this sandwich with our truffle fries, devine! My mouth is watering just writing about it… Make sure to find out where the Fat Shallot will be bopping around downtown Chicago because eating only one sandwich is not enough.
Half Acre Beer Company: Brewery
Address: 4257 N. Lincoln Avenue Chicago, IL 60618
Maps | Half Acre Beer | Half Acre Beer Facebook
Head this one of a kind brewery in Chicago. The equipment was bought 2nd hand and driven back from land of beers, Colorado in 2008. They built a production brewery. The Lincoln location has the original full tap room, along with serving a full food menu, and a retail shop.  Lastly, it's the locations where the tour takes place. Tours are $10 (cash) every Saturday except for on major holidays at 11:00 am for people that are 21+. It is good to go early especially if you are with a large group. Your $10 gets you into the tour, 3 samples and a branded pint glass to take home. Up to 60 people are accepted for each tour. The tap room offers 15 different beers on tap.
Green Mill Jazz Lounge: And all that Jazz…
Address: 4802 N. Broadway Ave. Chicago, IL 60640
Maps | Green Mill | Green Mill Facebook
If walls could speak… Live out of this world of Jazz with performances every day of the week. On Sundays there is also a poetry slam. Get your culture of cool on at Green Mill. Hear talented singers and musics play and sing their hearts out. Deep thrilling Jazz from the early 30's and 40's. Musicians perform traditional, bebop, contemporary and improvisational types of music. Every day and night is different at this renowned Jazz Club. Come join the cool cats of Chicago by hanging out at Green Mill Jazz Lounge. You may just start to skatt while Jazz takes you over.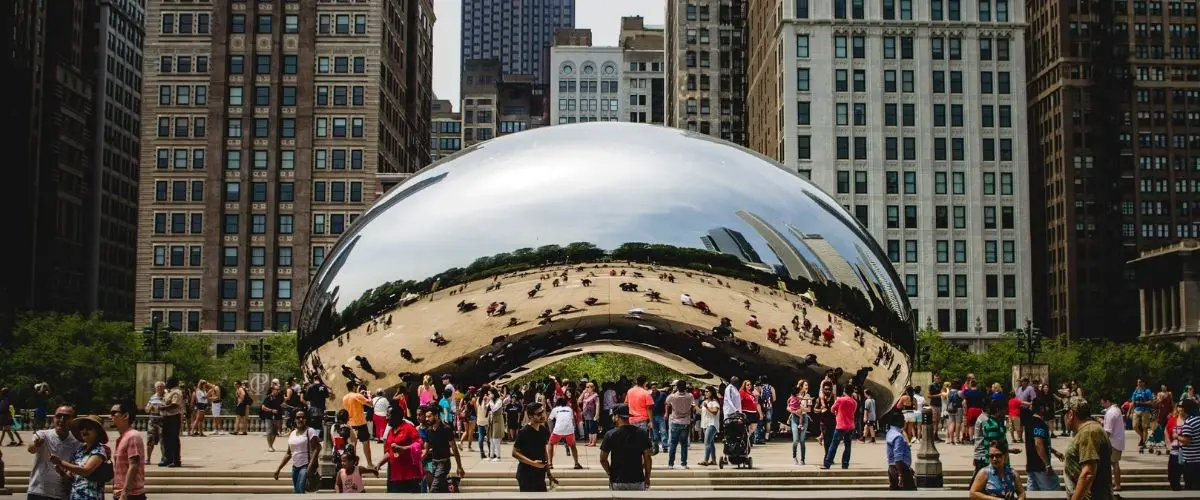 Signature Drinks at the Signature Room.
Address: 875 Michigan Ave., Chicago, IL 60611
Maps | Signature Room | Signature Room Facebook
Drinks and dinner with the best view of Chicago? Who wouldn't be interested in checking out the Signature Room. It is not cheap but it's well worth it. So be ready to splurge with signature cocktails starting at $16+ and entrees $29+. If you want to go on the cheaper side try some appetizers or side dishes along with drinking beer. My suggestion would be going for dessert and a signature cocktail before heading out for the night all dressed up. It's a great destination for tourists and locals to act like tourists for a night out of fine dining and drinks.
Headquarters Beercade: Get your Game On!
Address: 2833 N. Sheffield Ave. Chicago, IL 60657
Maps | Headquarters Beercade | HQ Beercade Facebook
Headquarters is an arcade bar 40+ vintage arcade games throughout the bar. If you tend to get bored when going out to drink which happens to me, this is the perfect way to contain your ADD or ADHD. Also, this may be a perfect way to have a first date since they tend to be awkward and show off your video game skills. I am more a vintage gammer than the modern day gammer. Daily drink specials along with DJ's, and $150 prize bingo. What more could someone who is a kid at heart ask for? With locations in Lakeview and River North and open 365 days a year at each location. At the Lakeview location check out all day brunch on Sundays and their patio.
Go to "Beer School" at Map Room. I am ready to get my Beer education.
1949 N Hoyne Ave. Chicago, IL
Maps  | Map Room | Map Room Facebook
As an avid traveler I would go to this bar because of its name and theme of this bar. It has a list a very rare beers that from all over the world. The tapped brews change daily and events happen weekly as well. The beer school is put on by Half Acre brewery. Tickets are available at the bar by email or over the phone.  It is $25 per person and there is a limit 2 per person. Tickets need to be paid by cash or credit card. Beer Schools start promptly at 4 p.m. Late arrivals will not be allowed to catch up on beers they've missed.You along with the other students will be able to soicalize inbetween tasting the different kinds of beers.
Go have a laugh at The Second City show.
Address: 1616 N. Wells St. Chicago, IL
Maps | The Second City | The Second City Facebook
The Second City is the premier comedy club and school in the world and has shows and performances of comedy's best and upcoming performers . Take a class and learn from the pros about the comedy world and the gift of laughter. Shows are at the Mainstage Theater, E.T.C. Theater, Up Comedy Club, and the Training Center. Various shows with tickets are on sale online and at the theaters. Go laugh until your stomach hurts and watch the future of comedy in person. Maybe one day you will see those people on SNL or their own comedy show. You never know maybe you will go after your dreams to be on stage and make people chuckle.
Stand up paddle boarding on Lake Michigan.
Address: 1601 N. Lake Shore Drive North Ave. Beach, Chicago, IL
Maps | Chicago SUP | Chicago SUP Facebook
This would be something to do when the weather is warmer but you could do the polar bear swim and paddle board in Lake Michigan in the Winter is that is what you want to do. At Chicago SUP there are rentals, lessons, groups, yoga/fitness, expeditions, wake and storage services offered. If you are daring and like yoga and paddleboarding go for the paddleboard yoga classes. It's new challenging way to do yoga and really tests your balance skills and abilities. Hopefully you don't mind getting wet. Paddleboarding is a great way to excercise, be in nature and a zen activity to do to help with stress.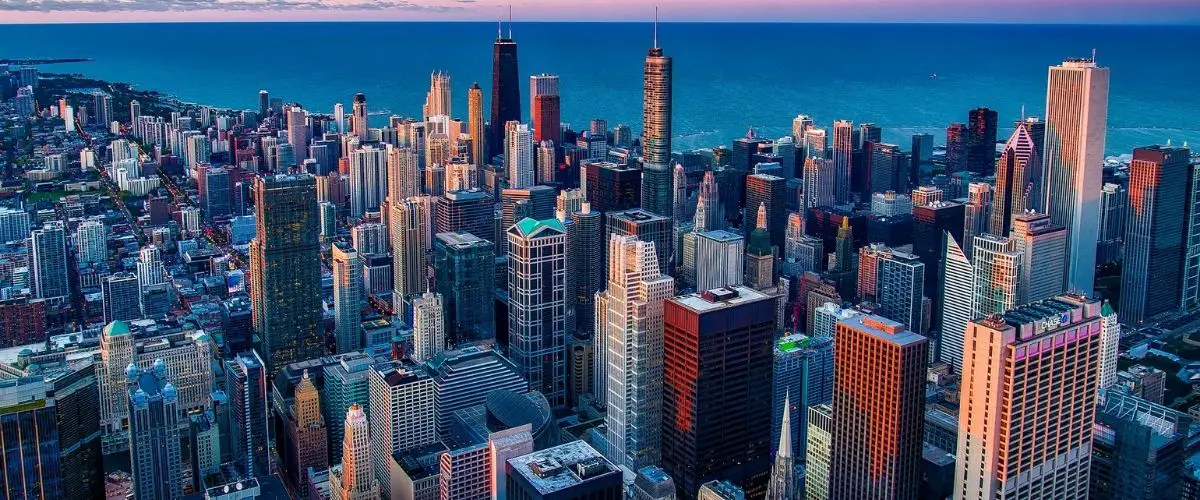 See the stars and universe at Adler Planetarium.
Address: 1300 S. Lakeshore Dr., Chicago IL
Maps | Adler Planetarium | Adler Planetarium Facebook
Learn about stars, planets, our solar system and the universe at the U.S.'s first planetarium. When it comes to science and space everyone wants to know more and has questions. Also, who doesn't want to go to space talk about the ultimate trip well besides time travel… Buy tickets to the featured shows of Planet Nine, Destination Solar System, and Cosmic wonder. There are the featured exhibits of What is a planet?, Mission Moon, and Community Design Labs. Your mind will be expanded and you will learn something when you take a trip into space through the Adler Planetarium. The only requirement is have fun and to learn something new.
Enjoy the Museum Campus and all it has to offer!
Maps | Museum Campus | Museum Campus Facebook
Museum Campus is a 57-acre park in Chicago that sits alongside Lake Michigan.  The park encompasses five of the city's most notable attractions: the Adler Planetarium, the Shedd Aquarium; the Field Museum of Natural History; Soldier Field, home of the NFL Chicago Bears football team, Da Bears, Da Bears; and the Lakeside Center of McCormick Place. Museum Campus is being expanded. In the future it will include the Lucas Museum of Narrative Art by legendary filmmaker George Lucas. Museum Campus sits adjacent to Northerly Island along the waterfront. It has enough options to entertain any tourist or a local acting as a tourist for days.
Go to a Cubs game at Wrigley Field.
Address: 1060 W. Addison St, Chicago IL 60613
Maps | Chicago Cubs | Chicago Cubs Facebook
Wrigley field and The Cubs are two well known and famous attributes in the game of professional baseball. Wrigley field is a beautiful stadium and known for its ivy covered walls, and is a big part of history in Chicago. Tours are available but the best way to see this place is by going to a Chicago Cubs baseball game. Tickets can be as low $8 on certain dates. If you only get one chance to see the Cubs and go to Wrigley go get a seat in the bleachers which tickets are $32 per person. Take yourself out to the ball game!
Go see The Bean (Cloud Gate).
Address: 2833 N. Sheffield Ave. Chicago, IL
Maps | Cloud Gate (Bean)  | Cloud Gate Facebook
Cloud Gate is a public sculpture by Indian-born British artist Anish Kapoor which is known as The Bean by the general public close to Millenium Park . It's one of the most recognizable sculptures in Chicago and is a very popular place to take selfies and posts for social media. It is the centerpiece of AT&T Plaza at Millennium Park. It is  in the Loop community area of Chicago, Illinois. The sculpture and AT&T Plaza are located on top of Park Grill, between the Chase Promenade and McCormick Tribune Plaza & Ice Rink. Constructed between 2004 and 2006, the sculpture is nicknamed The Bean because of its shape. It looks like a kidney bean. Made up of 168 stainless steel plates welded together, its highly polished exterior has no visible seams. It is a sight to see and should not be missed.
Get over you fear of heights by going to The Ledge at Skydeck Chicago.
Address: 233 S. Wacker Dr. Fl 103rd Chicago, IL
Maps | Ledge @ Skydeck | Ledge @ Skydeck Facebook
Head to the Willis Tower up the 103rd floor to reach the Ledge at Skydeck. It has be beautiful views of Chicago and views reaching up to 4 states. The skydeck is open 365 days a year. Tickets are $22 for people ages 12+ per person. This is another great place to take selfies and tourists pictures of yourself to post on social media. This is a good test for people who have a fear of heights. The Ledge transforms how visitors experience Chicago. At 1,353 feet up, The Ledge's glass boxes extend out 4.3 feet from the skyscraper's Skydeck on the 103rd floor, providing never-before-seen views of the city. The tower is a world-renowned building. It's the 8th tallest building in the world, it remains the tallest building in the Western Hemisphere, standing 1,450 feet and 110 stories tall. Get out of your comfort zone and head to the ledge at the skydeck at the Willis building!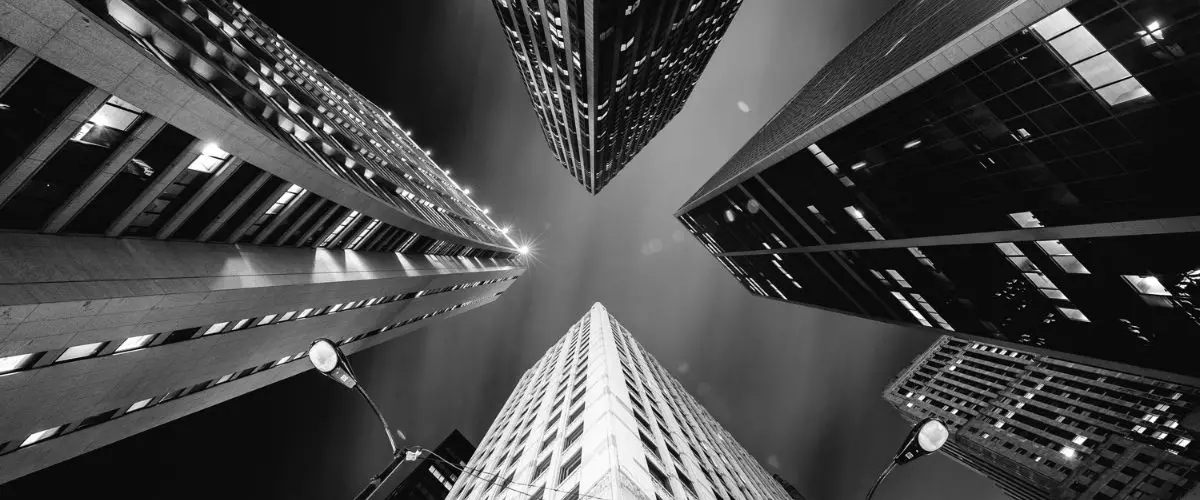 Visiting Millennium Park and all its beauty and culture.
Address: 201 E. Randolph St., Chicago, IL 60602
Maps | Millennium Park |  Millennium Park Facebook
Millennium Park is a public park located in the Loop community area of Chicago. It is called Millennium Park to celebrate the 2nd millennium. This park is for art lovers and showcases great post modern architecture. This park is the stage for Jay Pritzker Pavilion, Cloud Gate (The Bean), the Crown Fountain and Lurie Garden. This park has one of the biggest green roofs in the world. The park cost about $500 to build and complete. It is unlike any park in the world and has so many features. It is the home to music festivals, events, parties, fundraisers, lighting of the Christmas Tree, and in popular cultures. Millennium has been filmed for movies, shows, weddings, etc. Have fun exploring the wonders of Millennium Park.
Lakefront Fun at Navy Pier.
Address: 600 E. Grand Ave. Chicago, IL
Maps | Navy Pier | Navy Pier Facebook
Navy Pier is 100 years old! It is celebrating all summer long with Firework Shows. Navy Pier offers sightseeing tours and cruises, indoor ice skating rink, shopping and dining hall. Crystal gardens and botanical gardens are inside the pier as well. The Chicago Funhouse Maze is located on the pier where a person has to navigate through 4,000 square feet of tunnels, mazes and fun!  There is much more that goes on at Navy Pier. The Chicago Children's Musuem, Chicago's Shakespeare Theater and The Pepsi Skyline Stage for shows this summer. Last but not least is the Ferris Wheel which recently just reopened. Its is a great place to take kids or if you are kid at heart.
Buckingham Fountain at Grant Park.
Address: 301 South Columbus Drive, Chicago, IL 60605
Maps | Buckingham Fountain |  Buckingham Facebook
Buckingham Fountain is a Chicago landmark in the center of Grant Park. Dedicated in 1927, it is one of the largest fountains in the world. It was built in a rococo wedding cake style and inspired by the Latona Fountain at the Palace of Versailles. It represents Lake Michigan. It operates from April to October, with regular water shows and evening color-light shows. During the winter, the fountain is decorated with festival lights to help with celebrating the holidays. The fountain itself represents Lake Michigan, with four sea horses symbolizing the four states:Illinois, Wisconsin, Michigan and Indiana—that border the lake. The fountain was designed by beaux arts architect Edward H. Bennett. Another great place to take out the selfie stick and snap some photos.
Go Michael Jordan Statue at United Center.
Address: 1901 W. Madison St. Chicago, IL
Maps | United Center  | United Center Facebook
Go be like Mike. Go to where the Bulls play and see the Michael Jordan Statue outside of the United Center. Da Bulls, Da Bulls, Da Bulls and Michael Jordan are the most famous figures in basketball history. It is one of the main venues to see shows and concerts. Look on their website for list of shows and dates. The United Center is the home of the Bulls and Blackhawks. So if you are sports please come and check out The United Center. They throw over 200 events a year so it should be an easy place to get to with awesome things happening.
Go see Sue at the Field Museum the largest T Rex found and get your short arm pose ready.
Address: 1400 S. Lake Shore Dr. Chicago, IL
Maps | Field Museum | Field Museum Facebook
Get your Retar on at the Field Museum. Dinosaurs and Mummies enough said to make any person happy to go to the Field Museum. Sue is the largest, best preserved and most complete Tyrannosaurus Rex ever found and what a sight she is to see in person. You are able to get your education about Sue by watching a 3D movie about where she lived, what her environment was like during her time when was more than bones and fossils. Who doesn't like to see dinosaur fossils and bones and learn about how earth was on the daily before humans were here and dinosaurs ran the show.