Antwerp Day Trip Free Travel Guide
Your Free Antwerp Day Trip Guide
25 cool things to do in Antwerp
Medieval meets modern in Belgium's port city of Antwerp, a truly unique and hipster city with a different vibe from the rest of the coutry. Our visit to Antwerp was short but surprised us with the diversity and mix of cultures the city has to offer. The nightlife and the historical vibes made our time in Antwerp a really lovely experience. We got to discover the city with our friend Marteen who has been living in town for over 8 years. You can find our recomendations and highlights bellow.

Best Antwerp Restaurants
1. Hippie culinary vibes
Address: Lombardia – Lombaardenvest 78, 2000 Antwerpen MAP / FB / LINK
If you are looking for a different culinary experience, where relaxation, happiness and good food are the 3 main concepts, or if you're looking for a hippie culinary experience full of alive colors and powerful flavors, Lombardia is the place to go. The moment you cross the door of this vegetarian restaurant, a wave of mouthwatering smells and good vibes will hit you.
This place was founded in 1972 as the very first organic food-shop in Antwerp. Ideal for breakfast, lunch, coffee & tea or simply for chilling out while drinking a tasty juice. Its hamburgers are quite famous, and they have a veggie daily special always worth a try. Prices are reasonable taking into account the quality of food and the place. Advice for non-vegetarians: there are also some meat/fish options within the menu so don't worry; you can still enjoy this special eatery.
If you consider yourself a "tea lover", try the famous Ginger Love (currently spread all around the world, but originally from here), a delicious fruity tea that will give you the energy you need instantly.
Vegetarian food is becoming quite a culture in Belgium. There are more and more new restaurants flooding the streets of the Belgian cities, so if this type of food is your thing, in a city like Antwerp you won't be disappointed.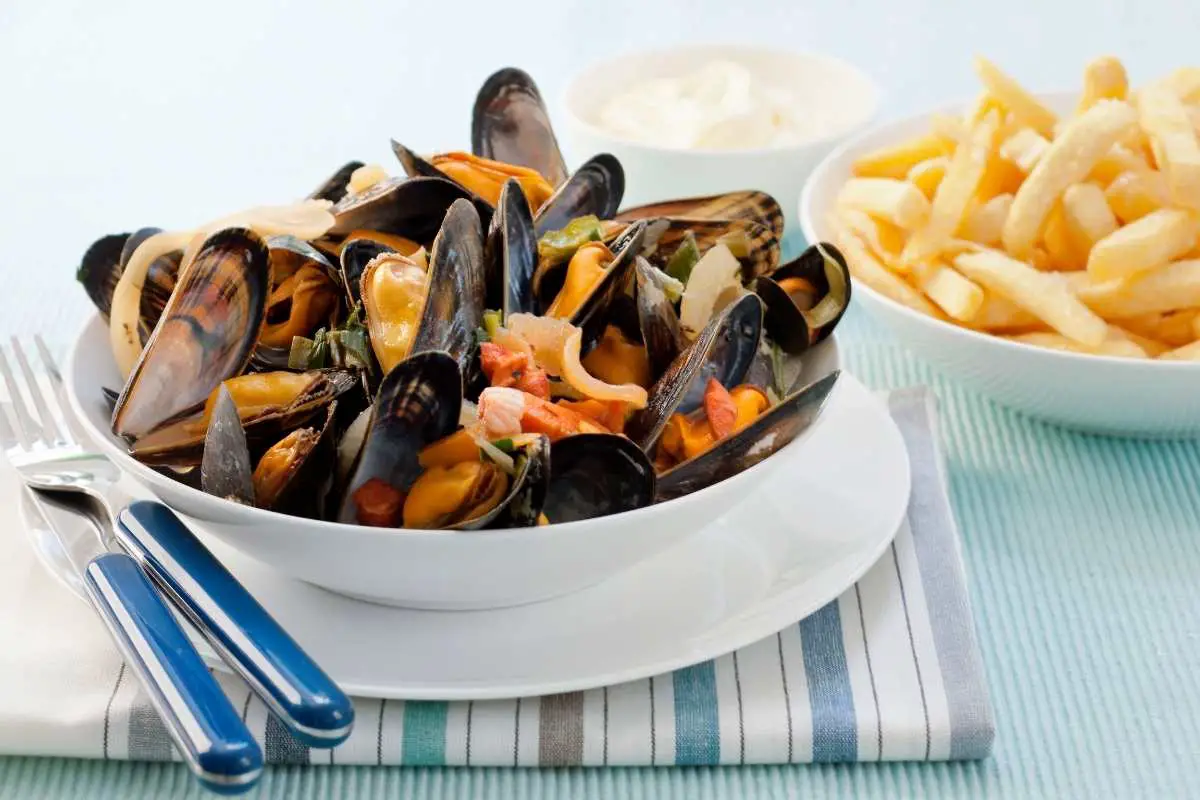 2. Food treated as a treasure
Address: The Lunch Box – Nieuwstad 8, 2000 Antwerpen MAP / FB / LINK
When you were a child, do you remember your mother preparing lunch that you took to school, carried carefully inside your precious lunch box? A box that was no doubt treasured for many years. Well, this is the idea that inspired "The Lunch Box" restaurant to create their concept: Food must be treated as a treasure, so you need to indulge all your senses on it. And they nailed it.
This cozy place just in the heart of Antwerp, offers you a healthy and yummy, as they call, "bunch of lunch". From Thai Salads to Fish and Chips, the menu is full of different types of dishes to cover all different types of tastes. Prices are good for the quality (around €15 a dish) and even greater if you combine them with a refreshing drink, like for example, their famous home made Iced Tea. Just to mention, their cocktails are quite famous too, so maybe your visit becomes longer than expected.
The Lunch Box has a business partner called "Den Box", also in Antwerp, with a more ecological perspective where dishes are based on vegetables and herbs.
3. Classic Belgian Fast Food
Address: De Smulpaep Frituur– Varkensmarkt 2/A, 2000 Antwerpen MAP / FB
Have you heard about the famous Belgian fries ("Friejtes" in Dutch)? Of course you have! This food is a real "classic Belgian" thing to try, so if you are planning to visit Antwerp and want to experiment with authentic, local food, "De Smulpaep Firtuur" won't disappoint you.
Located just in the center of the university quarter, it is always a good option for a late night snack or quick lunch. The place is an unquestionably famous spot among students, so when visiting, you might find it quite crowded. But that small problem certainly shouldn't stop you, since the reward is completely worth it – cheap and tasty Belgian food!
Try these "frietjes" with either the mysterious "joppiesaus", (nobody knows the receipe apart from the makers), or the "andalousesaus", for spice lovers. Don't miss the classic "stoverijsaus" either, made from the typical Belgian dish "stoverij" (beef stew cooked in beer).
Just a quick interesting cultural note: "Frituur" is actually the place where Belgians sell fried quick food.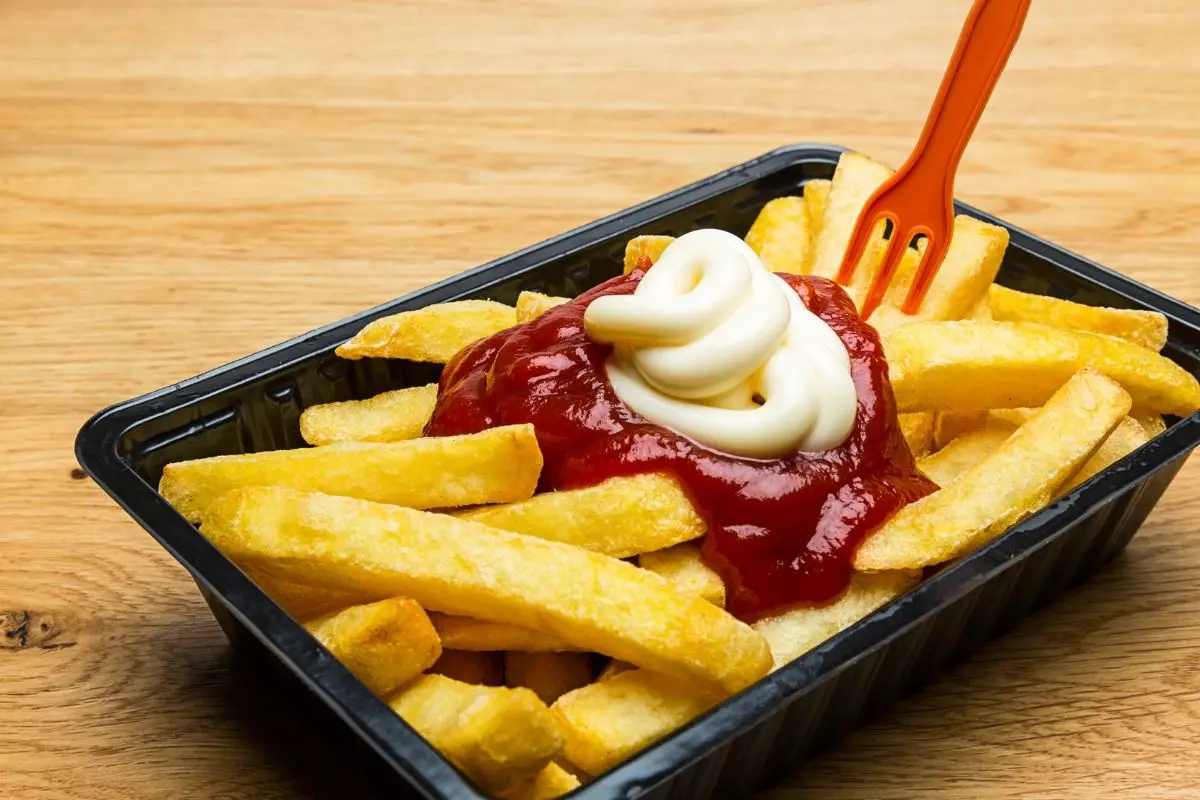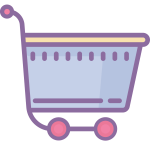 Antwerp Markets
4. Flood your senses
Address: Exotic Market- Oudevaartplaats/Theaterplein, 2000 Antwerp  MAP
Every Saturday (from 8am to 4pm) in Antwerp at the Oudevaartplaats and surroundings of Theaterplein, is a market where you will find local food, but also Turkish, Moroccan and Mediterranean foods too. It is called the "Exotic Market" because certainly, the exotic colors and smells are the two main characteristics of this market.
A great cultural combination, blended together to conquer your senses can  be found here, from feta cheese to Belgian Waffles, passing through stands full of homemade honey or dried fruits. Fresh food is everywhere!
Once there, you will find that traders have the perfect way for attracting visitors to their stand, by offering some food to try for free! So even if you don't have any intention to buy something, it's highly likely you will end up purchasing some gourmet souvenirs, or just some snacks to satisfy your appetite.
5. Wait, are we in Paris?
Address: Lambermontmartre Market – Lambermontplaats, 2000 Antwerpen MAP / LINK
Every last Sunday of the month, between May until September, if you visit the "Lambermontplaats" of Antwerp, you may think you're no longer in the Belgian city, but in the area of Montmartre, in the city of Paris.
Every season, the market welcomes painters and artists who would like to exhibit their creations. Photographers can also find a small spot here. So if you work within the artistic sector, this could be a great opportunity to showcase your art in the very center of Europe! But even if you are not, it is undoubtedly a visit not to miss.
The organization that runs the market also prepares some extra activities during the day, such as concerts or workshops for kids, which makes the journey even more pleasant.
You can find more information and the exact dates for this market on their website. Don't forget that it is open only between 12 and 5pm!
6. Antwerp's Flea Market
Address: Brocantwerpen Market – Grote Markt, 2000 Antwerpen MAP / FB / LINK
It can't be denied that vintage attractions, either restaurants, bars or markets, have become a "must thing to do" while traveling around the world, and this is true even more so if you travel through Europe. A city like Antwerp doesn't fail to deliver in this regard.
The Brocantwerpen Market is the city's excellent Flea Market, where you will find many types of antiques and vintage items. Belgians have a 'thing' for antiquities so expect to find a bunch of different articles, including furniture, books and even old postcards from all over the world!
The market takes place from March until October, every last Wednesday of the month, from 10.00 am to 6.00 pm. Whenever the sun is shining and the good weather floods the country, the market gathers together Belgians, expats and visitors, all looking to spending some time on a nice day under the sun.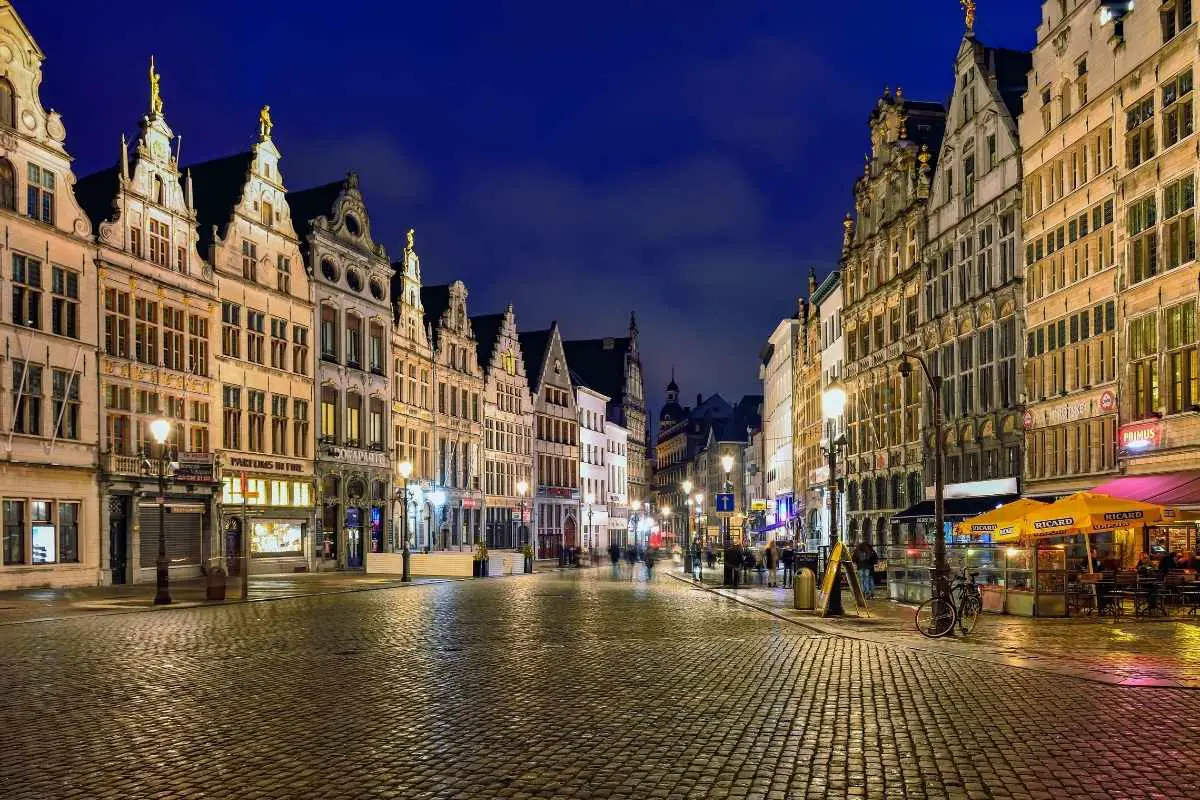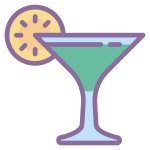 Antwerp Coffee Shops
7. Digital Nomad Paradise
Address: CoffeLabs – Lange Klarenstraat 19, 2000 Antwerpen MAP / FB / LINK
CoffeeLabs is a great place to disconnect, grab a coffee and read a book. It is also a great place for a tasty homemade breakfast or lunch.
It's unsurprising that they serve their own house blend coffee, based on the café's name, but don't miss the chance to try their homemade fresh juices and iced-teas too, perfect to enjoy while sitting in their terrace when the weather is good. Prices are certainly reasonable for such a nice place like this.
The simplicity of the decoration in this café creates a completely pleasant and relaxed environment; and that may be why people looking for a nice spot to work in frequent this place, or why you can often find small groups having meetings during working days. On this note, the café is associated with "Idealabs", a startup accelerator that helps entrepreneurs on their projects. They even offer a working space to rent. If you are the kind of person that works while traveling, this is certainly a good location to settle yourself for a while.
8. Chocolate, fries and …
Address: 't Waagstuk –  Stadswaag 20, 2000 Antwerpen MAP / FB / LINK
So you already know that Belgium is famous for its chocolate and fries. What else is left? …Yes, we are talking about beer! Travelling around this country means that you simply must include some good bars and proper time to enjoy the countless number of Belgian beers available.
In Antwerp, there is a famous bar called "'t Waagstuk" where you will definitely be able to quench your thirst. It is quite famous among travelers but also among locals, basically because of the authentic Belgian atmosphere you can "smell" just by crossing the door. Usually they serve 6 or 7 beers from tap, but they have also a good selection of classic ones. "Tripel Karmeliet" is definitely worth trying if available, a really tasteful blond beer that stands out, even though almost all beers from this part of the world are excellent.
Whilst enjoying your drinks you can always order some snacks to avoid starting to feel a little bit different than when you arrived! Prices are good for a bar of this kind, since other similar ones tend to raise their prices in this part of the menu.
Make time for at least one afternoon-evening visit to a place like this. Remember, you haven't been to Belgium if you didn't try their 3 main things: chocolate, fries and beer!
9. "Wanna Rock&Roll all night"
Address: Kid's Rhythm 'n Blues Kaffee – Grote Markt 50 , 2000 Antwerp  MAP / FB / LINK
Described as "a true Belgian bar with an American feeling", this is a unique place in the heart of Antwerp, where live music becomes the main essence. For 20 years, Kid's Rhythm and Blues Kaffee have been gathering every Friday (and also Sundays), with national and international rock bands on its stage.
But Fridays and Sundays are not the only days in which live music floods the bar; every Wednesday there is a Jam Club session where emerging blues talent and other more experienced acts share the stage to delight the crowd. Saturdays wouldn't be any less either, so prepare your hips for a Rock 'n' Roll Dance Night to the rhythm of the best songs in the history of rock.
This place is also well known with celebrities, singers like Joe Cocker and groups like Iron Maiden or Mötorhead have spent some time within its walls.
Get ready for a real rock & roll night and good live gigs!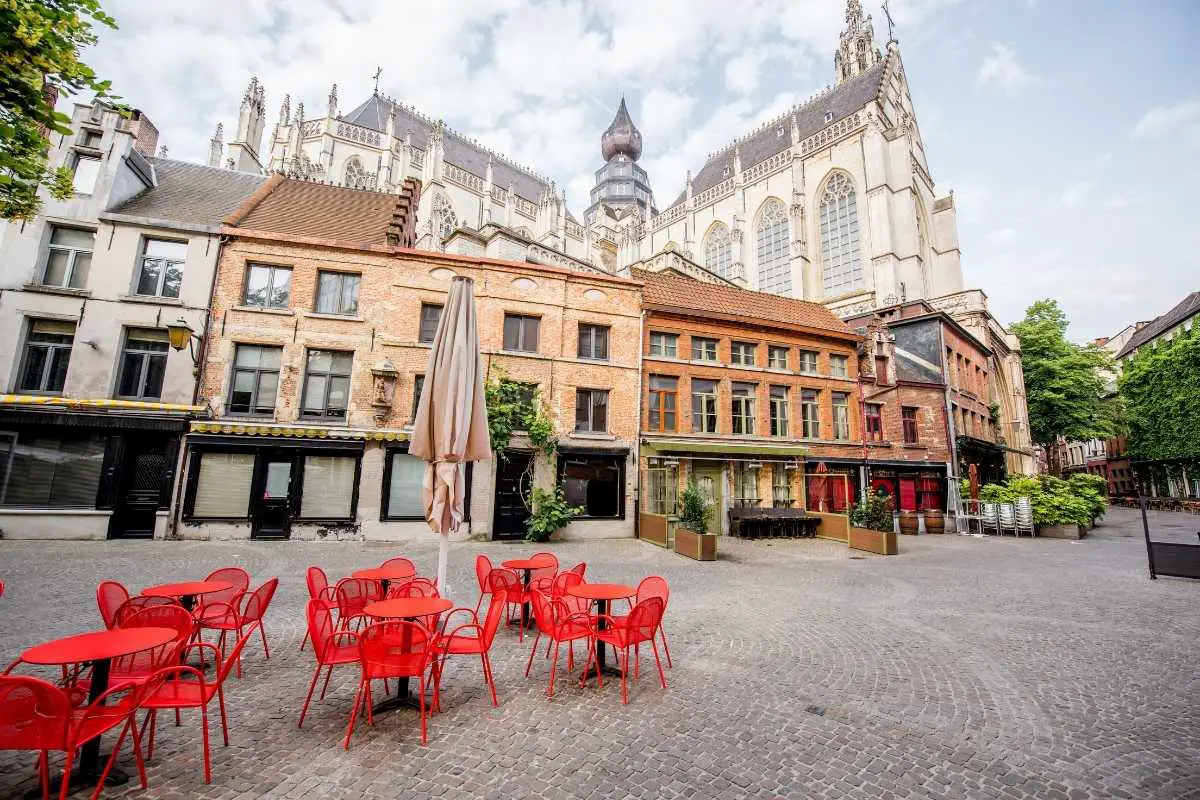 10. For Jazz Lovers
Address: Hopper Jazz Bar– Leopold De Waelstraat; 2000 Antwerp MAP / FB / LINK
Louis Armstrong once said, "If you have to ask what jazz is, you'll never know." Jazz-lovers will understand perfectly the meaning of this sentence. It is without a doubt a kind of music you have to listen to carefully, to discover the sounds and leave the melody flooding all of your senses.
For those who consider themselves among these privileged Jazz experts, Hopper Jazz Bar would be a great stop on the road while visiting Antwerp. A place with a past and history, since many national and international musicians have visited the stage since it was opened.
The official Jazz season takes place from October until April, but the live music keeps running throughout the whole year. During this specific period, there is a jam session organized every Tuesday, plus the weekly Wednesday night concerts. For the rest, Sundays and Mondays are the key days, with live music at around 16.00 h. and 21.00 h. respectively. The second and fourth Tuesday of the month is what they call "Hopper Jams" (for the regular season).
Music is the main element in this club, and live is the principal characteristic.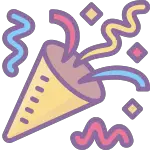 Antwerp Nightlife
11. Can you keep up with the Belgians?
Address: Gare 27 – Damplein 27, 2060 Antwerpen MAP / FB / LINK
Let's be honest. Belgians know how to party. There is plenty of talk about frenzied parties in places like Spain or Croatia, but a country with such a background in Music Festivals, Belgium had to take the spotlight.
In Antwerp there is a Place called "La Gare 27" where you can dance all night long until the sun begins to rise. Opened just one and a half years ago, this place rapidly joined the group of nightclubs in the city spotlight. They base their success on bringing the best current national and international DJs, playing dance to hip-hop, and regularly offering special parties and events. The entrance fee depends on the event, so its best to check their Facebook page in advance. Sometimes they even have free entrance until a certain time!
If you're a fan of big clubs, this place will satisfy your music and dance cravings perfectly.
12. Not your typical Sunday Mass
Address: Café D'Anvers – Verversrui 15, 2000 Antwerpen MAP / FB / LINK
An old church converted into a nightclub, a meeting place for the best national and international DJ's, a space that gathers together house and tech house lovers. That's how you can describe Café D'Anvers, ranked number 38 of the "Top 100 Clubs in the World" by DJ Magazine's in 2011.
If you know the world recognized festival "Tomorrowland", keep in mind that is has a tight connection with this club. Famous DJs like Sven Väth or Richie Hawtin, who join this event almost yearly, have shared their music art at this club during the past year. And this is only an extra to the regulars on stage!
Different parties are hosted every weekend on Fridays and Saturdays, and ticket prices for these are usually around €10. There's only one space and one kind of music in this club, but certainly a night at Café D'Anvers won't leave you indifferent.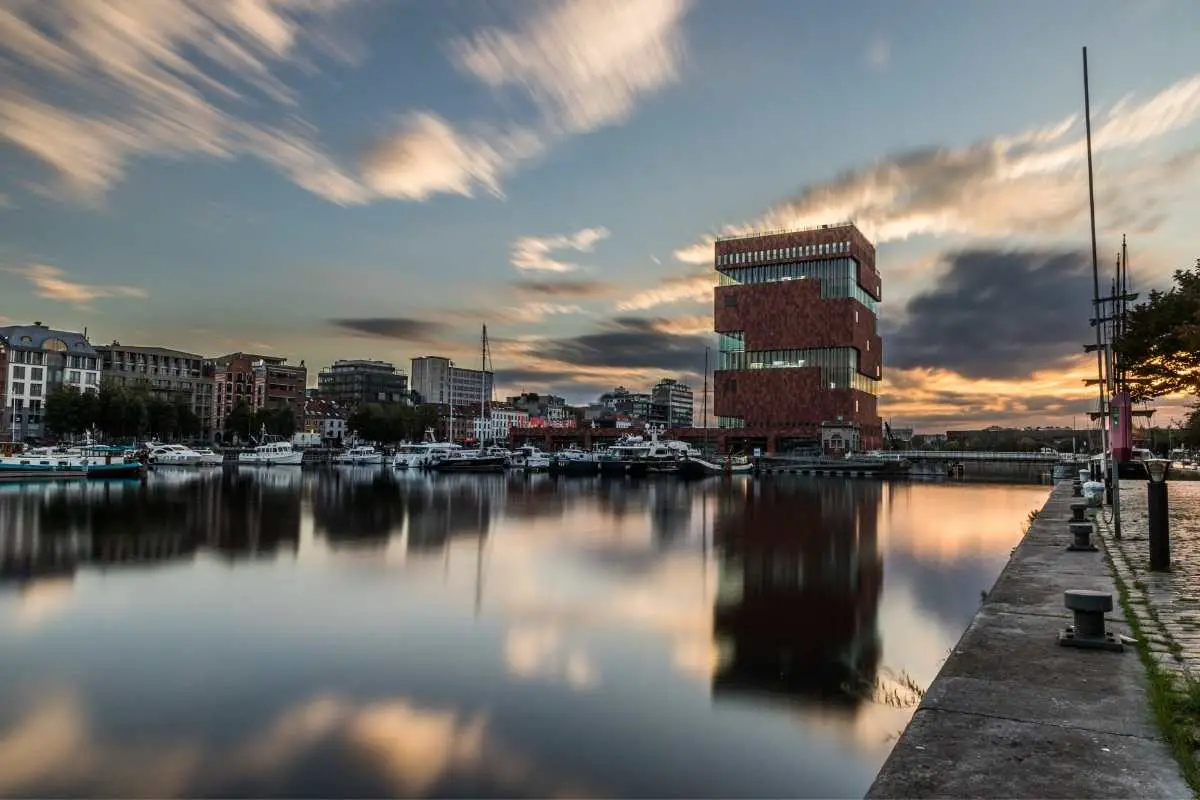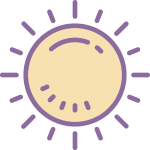 Antwerp Cool Spots
13. Diamonds are a girls best friend
Address:  Antwerp Diamond District– Hoveniersstraat 53, 2018 Antwerpen MAP / LINK
Antwerp is not only known for its UNESCO Heritage Museum, good beer bars or its famous nightclubs. The Flemish city is also known as the "City of Diamonds", since more than $16 billion of polished diamonds passes through the city each year.
And everything happens in just a small area of the city close to the central station. There, around 380 workshops working for more than 1500 companies conform to what is called the "Diamond District" or "Diamond Quarter".
It's incredibly interesting to walk around and see how workers, brokers and merchants deal with their daily business. The city of Antwerp has created a map for this purpose that will guide you through the diamonds' history in the city (see link above).
14. A ticket to nowhere
Address: Antwerpen Centraal – Antwerp,2018 Antwerp MAP
Indeed, Antwerpen Centraal is just the central station of the city. So what makes it so important to appear in this list? Well, the moment you see it you will understand.
The original building was constructed between 1895 and 1905, replacing the old one where the original terminus for the Brussels-Mechelen-Antwerp line was located. Its vast dome and its architectural style will make you feel as if you are no longer inside a train station.
This station has won several awards for being considered one of the greatest and most beautiful railway stations in the world!
Take a moment to check every design detail of this building, it is considered a unique example of railway architecture in Belgium.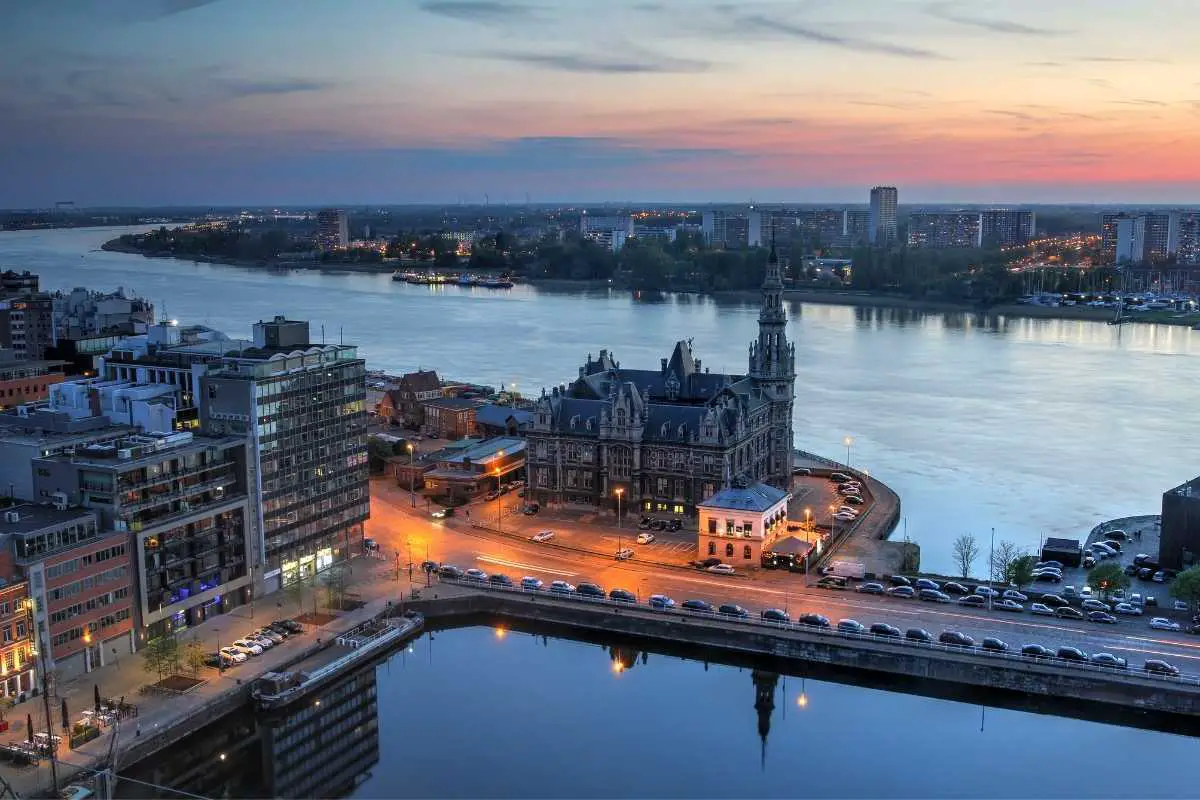 15. Beware of the Giant!
Address: Het Steen – Steenplein 1, 2000 Antwerpen MAP
This is the oldest building in Antwerp, just on the riverside of the river Scheldt over a peninsula known as "The Yard" (De Werf, in Dutch). Originally part of a fortress, and used afterwards as a prison, some years ago it became host to the National Maritime Museum, until 2008. Nowadays everyone can visit this place, and children are even more welcome between its walls, since many workshops are held there during school days.
If you visit Antwerp during the summer, you will also find a wonderful outdoor bar for spending some time under the sun, whilst enjoying a refreshing drink or ice cream.
Curious fact: Check the statue at the entrance of the castle, a giant accompanied by two humans. This huge guy was "Lange Wapper", a famous Flemish folkloric character and legend, whom they said tormented the habitants of Antwerp in medieval times.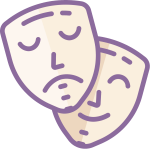 Antwerp Cultural Activities
16. Stumble upon your next Creative Idea
Address: FOMU – Fotomuseum Provincie Antwerpen – Waalsekaai 47, 2000 Antwerpen MAP / FB / LINK
The Fotomuseum of Antwerp, also known as FOMU, offers visitors a permanent contemporary collection of photography art and also temporary exhibitions within the national and international art spotlight.
Throughout these carefully selected exhibitions, lies the aim of communicating current social and cultural context in the form of photojournalism, scientific photos, documentary photos and fashion photography. Not only that, you will find interesting collections about advertising photography and even family photos or postcards. Besides this, it is interesting to know that the museum also publishes a magazine called "FMM" (in Dutch) about photography and art.
Consider this visit an inspirational experience. You will find yourself admiring great productions and a place where maybe, as an artist, you will finally find the muse you were looking for.
Open from Monday to Sunday, between 10.00h and 18.00h, the ticket will cost you €8. This is certainly a "must visit" for photography and museum lovers.
17. Lose yourself in Books
Address: Museum Plantin-Moretus– Vrijdagmarkt 22-23, 2000 Antwerpen MAP / FB / LINK
There is only one museum recorded in the prestigious UNESCO World Heritage List, and that's the Museum Platin-Moretus in Antwerp. The agency gave this privilege to the institution because of its unique collection of typographical material, including the two oldest printing presses in the world!
This place was the original residence of the famous printers Christophe Platin and Jan Moretus, which is where the Museum's name is derived from. Between its walls you will find 300 years of book-printing history; letters, typography, books, and also some portrait art of the famous artist, Rubens. Open every day from 10am to 5pm, the ticket that will open the doors to printing history will cost you only €8.
It is certainly a true and unique cultural experience not to be missed.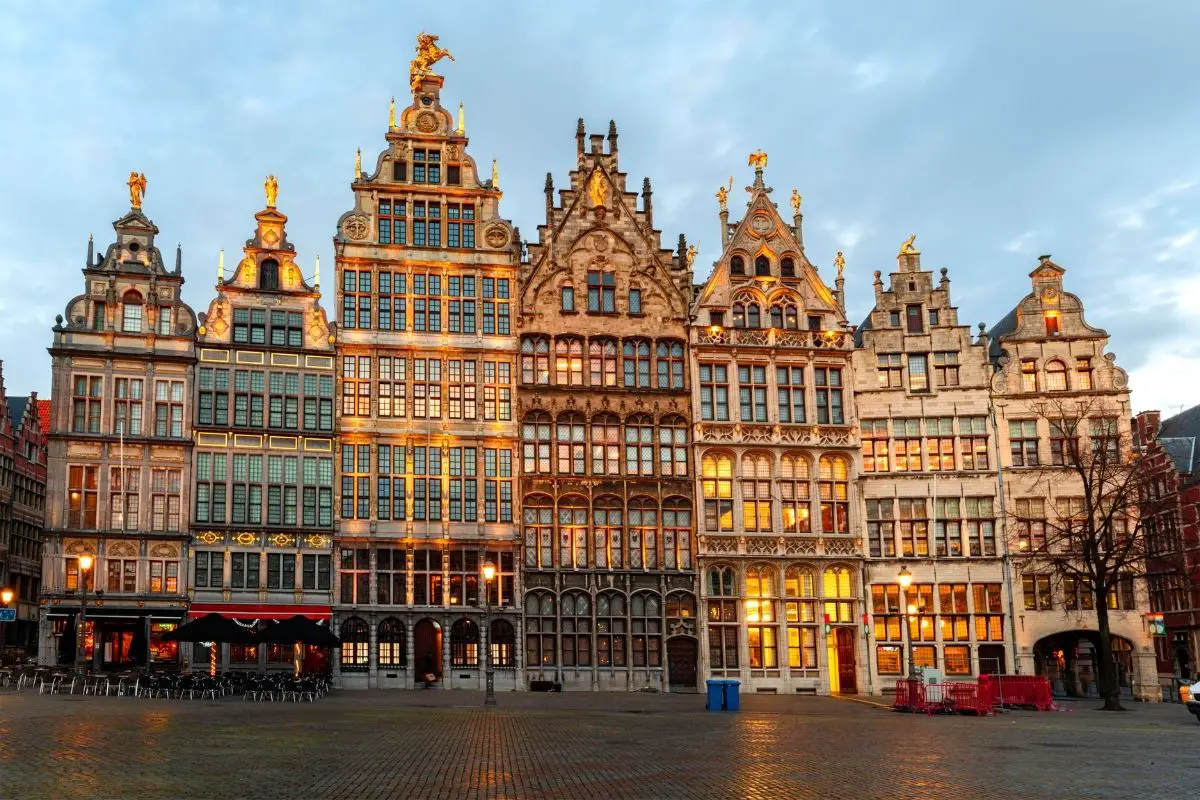 18. Raw Urban Art
Address: New Zurenborg – Minkelersstraat, 2018 Antwerp MAP
Innovative art accessible for everybody is what happens at Nieuw Zurenborg in Antwerp. You will find an open-air gallery of around 3000m² full of wonderful and inspirational graffiti.
In 2015 more than 120 national and international artists contributed to a project named "meeting of styles 2015". The Flemish city became home for many aerosol artists, and some of them left their "small grain of sand" among these walls. Thus, this place became a unique spot for street artists from all over the world trying to show their creativity via the streets at Nieuw Zurenborg.
Looking for inspiration? Start at Krugerstraat and continue into Minkeyerstraat and Vlijtstraat. But it is better to follow the art flow as the creations guide your inner artistic spirit.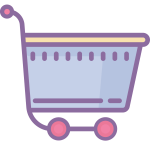 Antwerp Shopping
19. Shopping, Shopping and More Shopping
Address: Shopping Zone Meir – Meir and Sourrandings, 2000 Antwerp MAP
Antwerp is famous among Belgians not only for its museums or diamonds, but also just for the simple gathering of dozens of people during the weekends with a specific purpose – shopping.
Walking 10 min. straight on from the west exit of Antwerp's Central Station, you will reach a zone known as "Meir"; this is one of the main shopping streets among the city, where you will find big stores of major International brands but also Belgian ones that you may never have seen before. Walking in the surroundings will bring you to small stores offering an alternative to the massive shopping centers. Many shops are open during the first Sunday of the month.
If you have it in mind to dedicate one day during your trip for this sole purpose of shopping, prepare your wallet because Antwerp is known as the shopping capital of Flanders for a reason.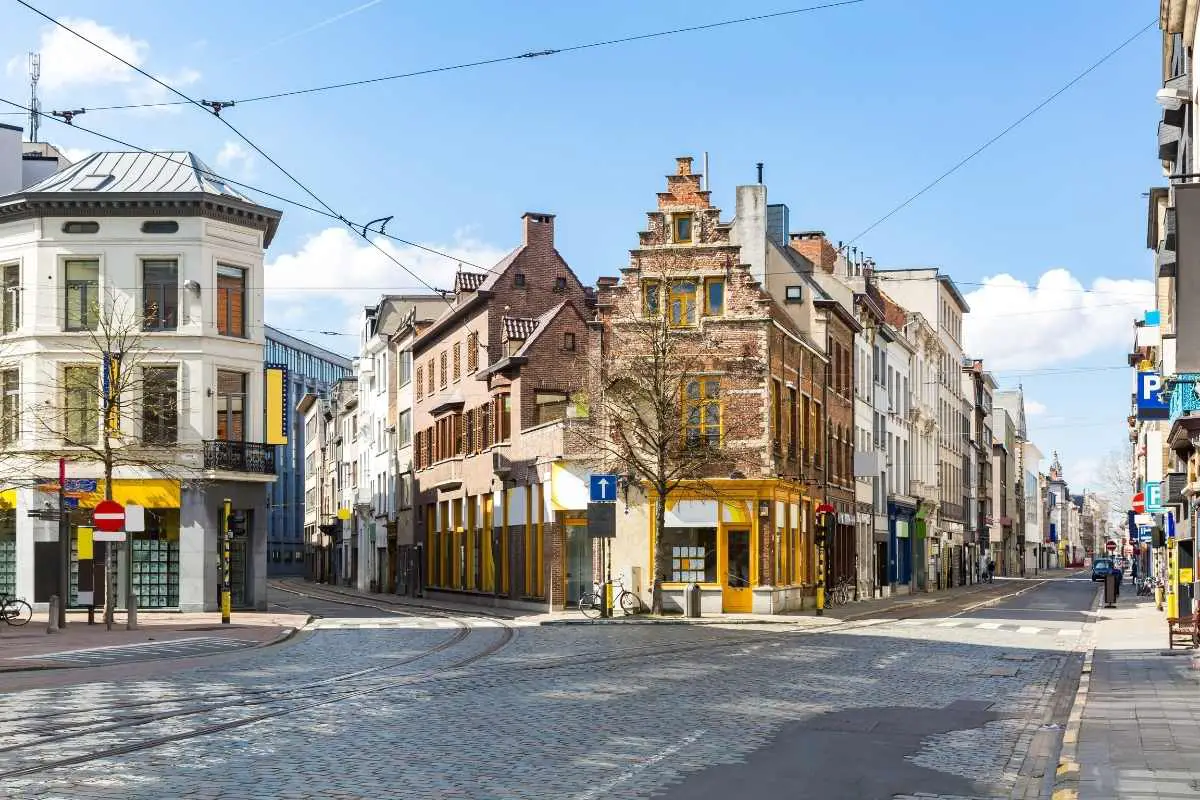 20. Stand out from the crowd
Address: Kammenstraat–  Kammenstraat, 2000 Antwerpen MAP
Trenders of the world! There is also a place in Antwerp for alternative shopping covering your fashion and trend cravings. At Kammenstraat you can redesign and reaffirm your own style. Along this street you will find exactly what you need to go with the flow, or against it entirely.
From well-known brands to alternative small shops where you will find the most original and different products, the birthplace of the known music event "Laundry Day", (created by a thrift shop called "Naughty") will become your favorite shopping street.
You will also have the chance to grab a bite in between your shopping, since the street is full of affordable eateries, restaurants and coffee bars.
Save some of your shopping time to visit this area. It isn't located in the heart of the Antwerp Fashion District for nothing.
21. Gold in its edible form
Address: Del Rey– Appelmansstraat 5,2018 Antwerpen MAP / FB / LINK
Let's be honest, when you think about Belgian specialties, there are four things that come to mind, waffles, fries, beer and… chocolate! This country produces more than 220,000 tons per year of this "culinary gold".
Just a few minutes away from the central train station in Antwerp, is a place worth a visit if you are planning to try or buy some of these delicatessens. "Del Rey" is one of the oldest chocolate shops in the city, and its fame, based on the quality of their pralines, is beyond question. So if chocolate is the king, pralines are the queen, without a doubt.
Classic outside, but completely modern in its interior, the moment you cross the door of this shop a wave of smells and tempting forms will reach the most inner part of your brain. Prices are average for the quality, so be prepared to pay around €25 for a medium sized box. You fill the box as your taste guides you, selecting the chocolates you want to include. They also offer boxes "ready to go", gift boxes, and they even have chocolates with 'no added sugar' available.
But "Del Rey" is not just made by chocolates. Baked goods are also delicious in there. Cakes, cookies and marzipans too, which are also a really typical sweet in Belgium. So don't even think about it, treat yourself to these homemade pleasures, and enjoy a real sweet gastronomic experience.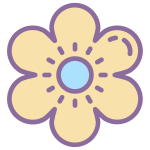 Antwerp Parks
22. Back to the bliss of nature
Address: RivierenHof – Turnhoutsebaan 232, 2100 Antwerpen MAP / FB / LINK
While travelling, we all need a moment just to connect with nature, to look for a place where relaxing is our main concern and probably take a picture or two of those great moments.
The RivierenHof (basically translated as 'the garden at the riverside') is the biggest park in the city of Antwerp. Located on the east side of the city, this is a park consisting of 130 hectares for walking, cycling, jogging, playing mini golf or just lying on the grass. Even fishing is permitted at this place!
The RivierenHof Castle is the main icon of this park. Inside it you will have the chance to grab a drink, snack or complete meal. As it should be, it hosts a nice terrace in front of the pool for whenever the weather is good.
During summer the place becomes more crowded (since Belgium is not really famous for its weather) but culture floods the place with music and theatre shows and many other activities at its open-air theatre creating a great atmosphere to soak up.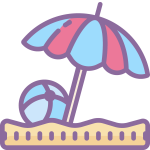 Antwerp Entertainment
23. On the road like a local
Address: Freewieler – Steenplein 1, 2000 Antwerp MAP / LINK
Do you know that in Belgium, the most famous transport method is the bicycle? Antwerp is a really bicycle friendly city, so don't hesitate if you are thinking about renting a bike during your stay.
On the eastern riverside of the Scheldt, there is a place called "Freewieler". There, you will be able to rent a bicycle and then visit the city feeling like a local (at least for some hours!). They even have a specific brand specifically created for tourists.
Renting is possible from one hour to 1 day, or even a weekend, week, or a month. Prices go from €4 to €120, depending on the length of the rent. The place opens exclusively from Easter until the end of the autumn break, from 10.00am to 6.00pm.
You will only need your Identity Card as deposit, and a lot of energy for a sporty tour around Antwerp!
For good tour bikes and routes check out Antwerp by bike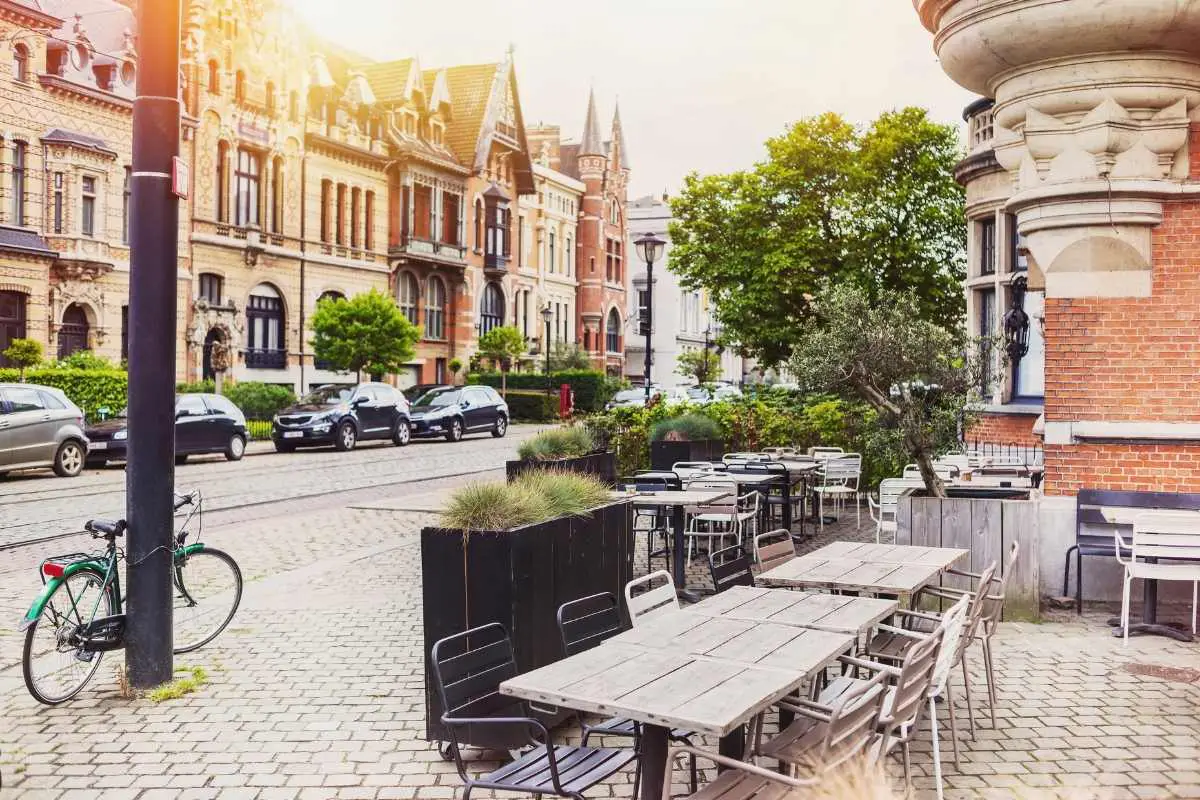 24. And this is what you call a music festival
Address: Laundry Day – Titanstraat 4, 2620 Hemiksem MAP / FB / LINK
If you're planning to visit Antwerp during September and you consider yourself a true electronic and dance music fan, then you are in luck, because you have the chance to join a true Belgian party experience, The Laundry Day.
Since 1998, this one day festival takes place every year on the first Saturday of September, transforming the Flemish city into a huge celebration. The event started just as a street party organized by Luc Carpentier, the owner of a thrift store called Naughty (we have mentioned this place before), and nowadays has become one of the biggest within the Antwerp party spotlight.
A carefully selected Line Up of Belgian DJs manage to congregate thousands of attendees within its venues, and always aim to maintain that "street character" spirit by making the audience vibrate with each sound.
Early bird tickets are around €36; otherwise it becomes a little bit more expensive, around €50.
But no matter the price, it is an experience that you will absolutely never forget.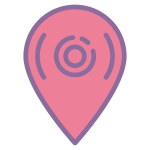 Antwerp Day Trip
25. Ecological Swimming Pool
Address: Zwemvijver Boekenberg – Van Baurscheitlaan 88, 2100 Antwerpen MAP / FB
Just 10 minutes biking from Antwerp Berchem station, in the municipality of Deurne, there is a small oasis in the middle of a natural site perfect for those who like to disconnect from the hustle of the city and reconnect with nature.
Zwemvijver Boekenberg is the biggest ecological swimming pool in Europe, with 73m for you to swim and relax in water purified by special biomaterial and plants. It is surrounded by a nice lawn space where you can lay under the sun and chill out. There's even a small version of the swimming pool for the little ones.
This spot is mainly for when the good weather reaches the country, so it's only open from May until September, and the best thing is… it's completely free!
There's only one rule and that is in order to avoid crowds at busy times: you will only be allowed to go into the water for around 15 min at a time.
We hope this guide brings you some cool ideas of how to spend your day trip in Antwerp and obviously, if you have more time to discover the city you can easily spend a few days completing our 25 recommended activities in Antwerp.