Best Kitesurf spots in Portugal
Most of the times when people talk about great destinations for Kitesurf they don't think about Portugal as a first option but unlike many may think, Portugal has some incredible spots for begginer and more advanced Kitesurfers. If you mix that with the amount of sunny days, good food and lovely people it does make a great destination for anyone looking to learn how to kitesurf or to have some great Kitesurfing holidays.
With a long stretch of coastline that faces the Atlantic Ocean and the Mediterranean Sea, Portugal is known best for its world class waves that are claimed wordwide in the surfing community. With the perfect amount of wind in several spots around the country it turns Portugal into one of the best Kitesurf destinations in Europe.
Kitesurfing has been growing a lot in the last few years and Portugal has been adding some truly amazing beaches to the selection of top notch destinations to practice the sport. In this article we share with you some of the best places to practice kitesurfing and some tips for your Kitesurf adventure in Portugal.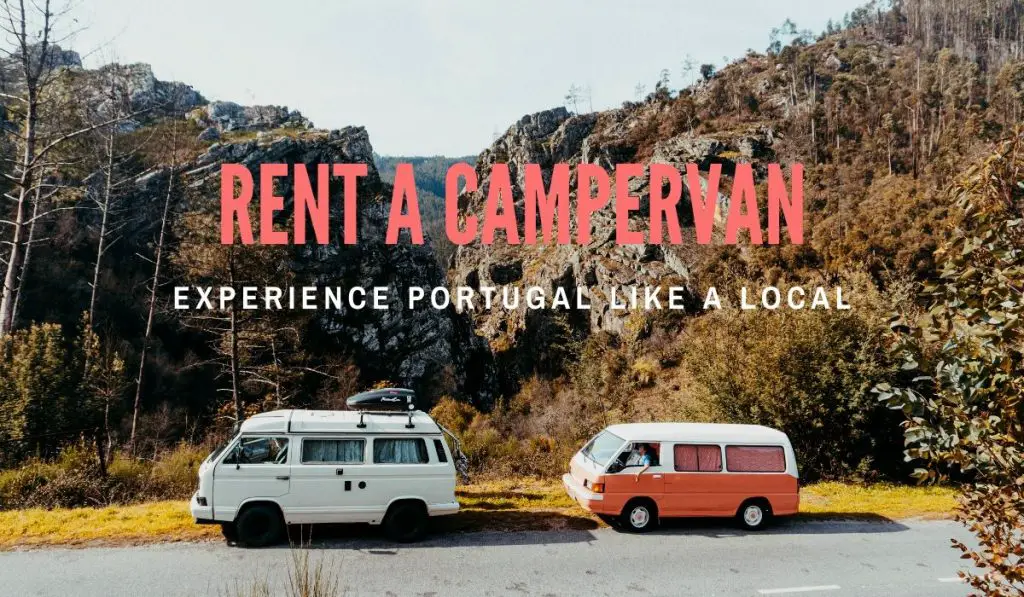 Best time to kitesurf in Portugal: May until October
Average water temperature: During the summer months the water temperature is around 18 to 22 degrees.
Wetsuit recommendation: During the warm summer months, a shorty will be more than enough  in the central and south region to keep you comfortable. Throughout the rest of the year, a full length wetsuit is recommended. In the northern part of the country its probably a good idea to use a full lenght wetsuit all year round.
Wind type: Thermal, Nortada, best when it blows from the North/Northwest
Water conditions: mainly waves, but you can find flat water spots and lagoons too.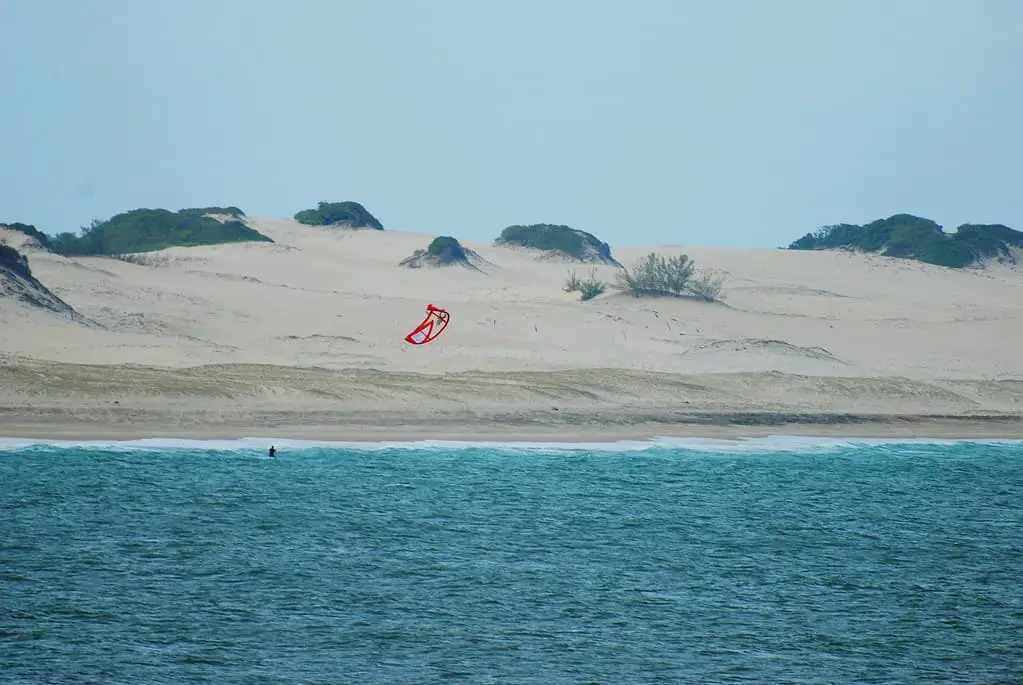 Best Kitesurfing Spots in Portugal
VIANA DO CASTELO/CABEDELO
This is Northern Portugal's best kiteboarding spot. Cabedelo is a long beach facing a huge forest with loads of safe launching space and very few obstacles to worry about. There are two piers here, which create a mellow flatish spot to play around while being covered from the waves.
If it's waves,you're looking for, Cabedelo won't let you down. Clean breakers roll through the bay virtually all year round; if you want to experience the waves at their best, come during the full moon.
ESPOSENDE
When you're done playing around in the waves at Cabedelo, there's a wealth of other kite beaches within a stone's throw of Viana do Castelo; Esposende is definitely one worth checking out and it's actually the place where we have done our Kitesurfing initiation.
This is one of those incredible kite destinations that offers a little bit of everything: flat water, clean waves , and most importantly: awesome wind. One of the highlights of this cute little town is that you will be able to practice in the river and make your way to the ocean if you are a wave lover.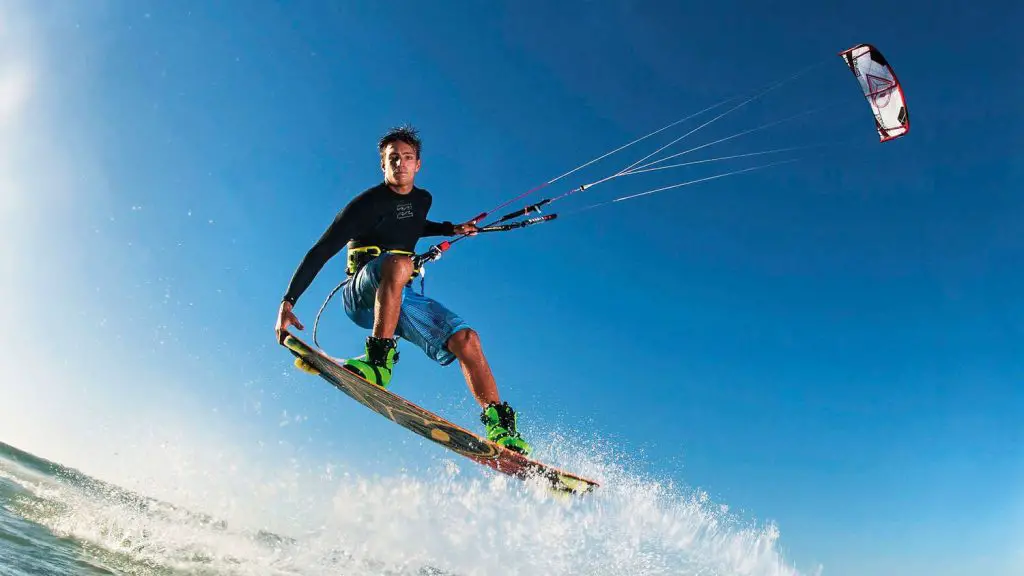 GUINCHO
Around 30 minute train ride from Lisbon, Guincho kite beach has some of the most reliable wind in all of Portugal .
This isn't a spot for the faint of heart; waves at Guincho beach are pretty big with over 1.5 meter during most of the year. That said, if you're into your surfboard riding then this is the perfect place to kite in Portugal.
The flat sand bottom creates an incredible break separated by clean areas to play around in in between the waves. Just take note of the big rocks on either side of the beach; these are the only obstacles that need to be avoided.
PRAIA DO BALEAL/ PENICHE
Famed for its big waves and strong swell ,   Baleal  Beach isn't one for beginners. However, intermediate and advanced kiters are sure to dig the awesome surf and spacious sandy beaches.
The wider area of Peniche is a fantastic destination for kite lovers thanks to the abundance of kiteable spots dotted within a half hour's radius.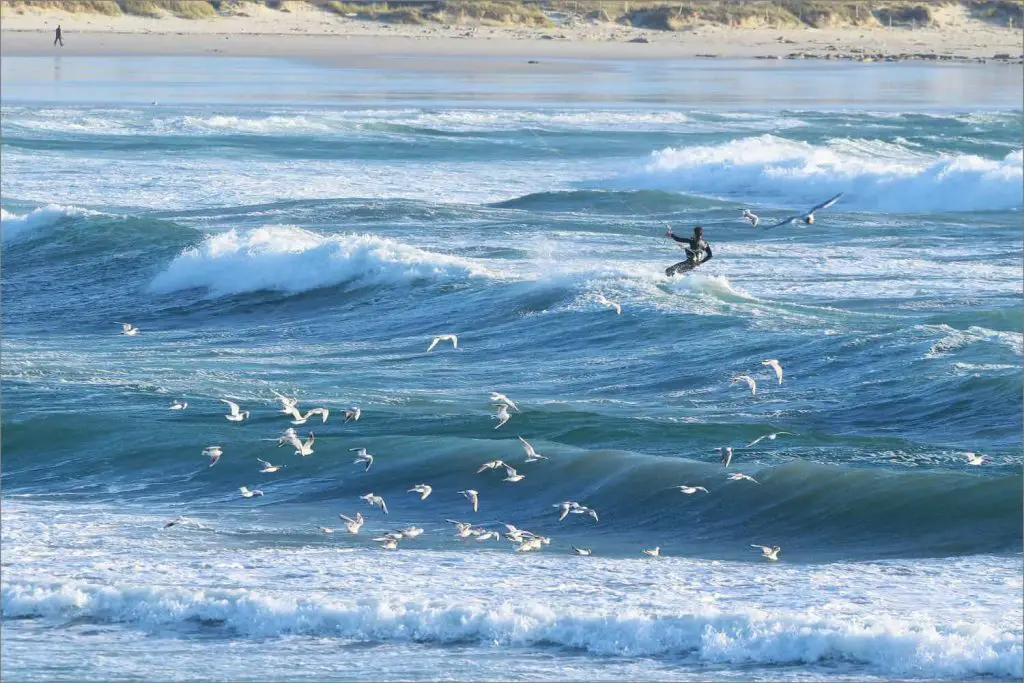 LAGOA DE ÓBIDOS
This is Portugal's largest flat water lagoon and its perfect for beginners, freeriders, and wakestyle kiters. The lagoon is affected by the tides- and during low tide it can become very shallow near the sandbars. The best place to launch is on the Foz do Arelho side, where there's plenty of space and a several schools and facilities.
CAPARICA
Caparica is full of kiteable spots, but sadly kiteboarding is not allowed everywhere. Best stick to the designated kite beaches, the most well known is Novo Vaga.
Located on the southern stretch of Caparica, Novo Vaga enjoys fairly steady wind and 1 to 1.5 meter waves. During the winter months the swell here can get seriously heavy, but during the peak kite season in the summer the waves shrink in size and are far more manageable for us mere mortals- ideal for wave riding novices and intermediate jumpers.
Around 15 minutes away you can reach Fonte da Telha, an increasingly popular kitesurfing beach with several schools. Half an hour away heading south, you'll hit the well known Lagoa de Albufeira, which offers a mix of flat water lagoon riding and challenging breaks outside.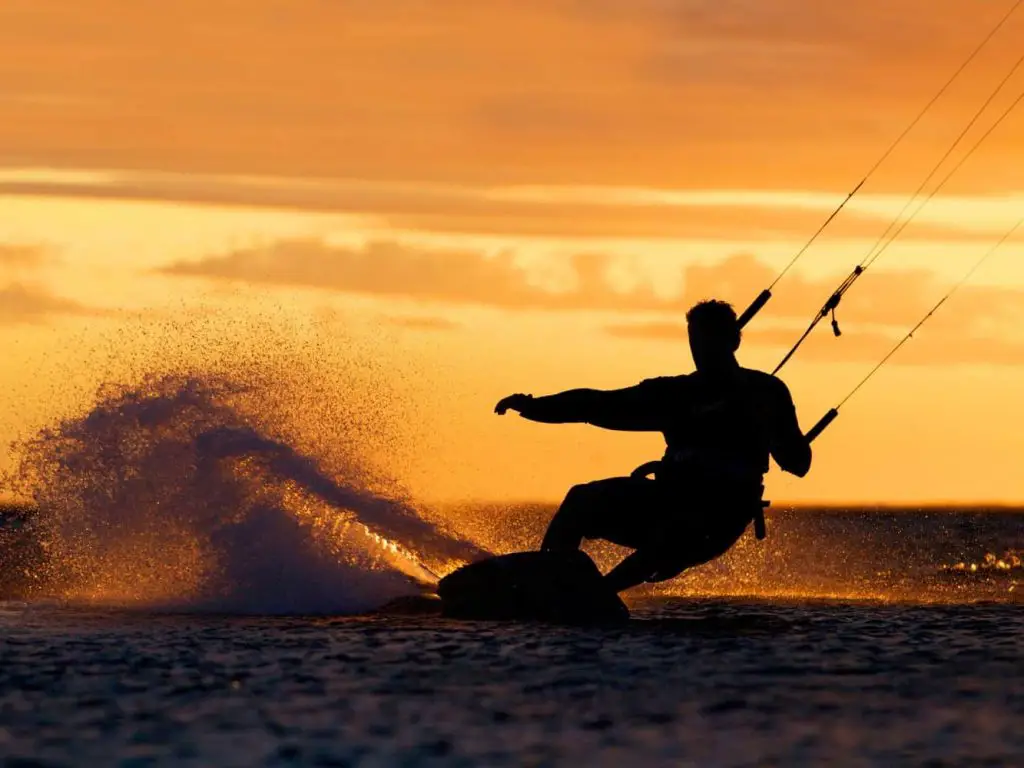 LAGOS/ALVOR
Lagos and the neighbouring Alvor are ideal places for kite surfers looking to score a mix of waves and flat water.
Praia is the most popular beach for kite surfers on the Lagos side. This is the best spot to head if you are a beginner or intermediate kiter, thanks to the moderate winds and wide beach area. On the other side, Praia de Alvor boasts similar conditions and is a safe bet for intermediate kiters ready to test out their slalom skills.
Between the two, there's a flat water lagoon that draws all kinds of kiters- from total newbies to seasoned freestylers. The lagoon is accessible from both Lagos and Alvor.
CARRAPATEIRA
Known by locals as the Southern Portugal's hidden kitesurfing gems, Carrapateira sits half an hour's drive away from Lagos and is a fantastic option for a day trip for those kiting in the southern area of Portugal
Bordeira surroundings offer great big wave conditions that are popular among surfers, but thanks to the cross-onshore wind it's a suitable kitesurfing spot as well. There's also a flat water lagoon hidden behind the estuary. This spot works best in the winter.
Another well known spot in the area is Amado, whose chaotic breaks are usually too much to kite in during the southwesterlies, but it can make for a fun little playground when the northerlies blow strong enough during the winter months.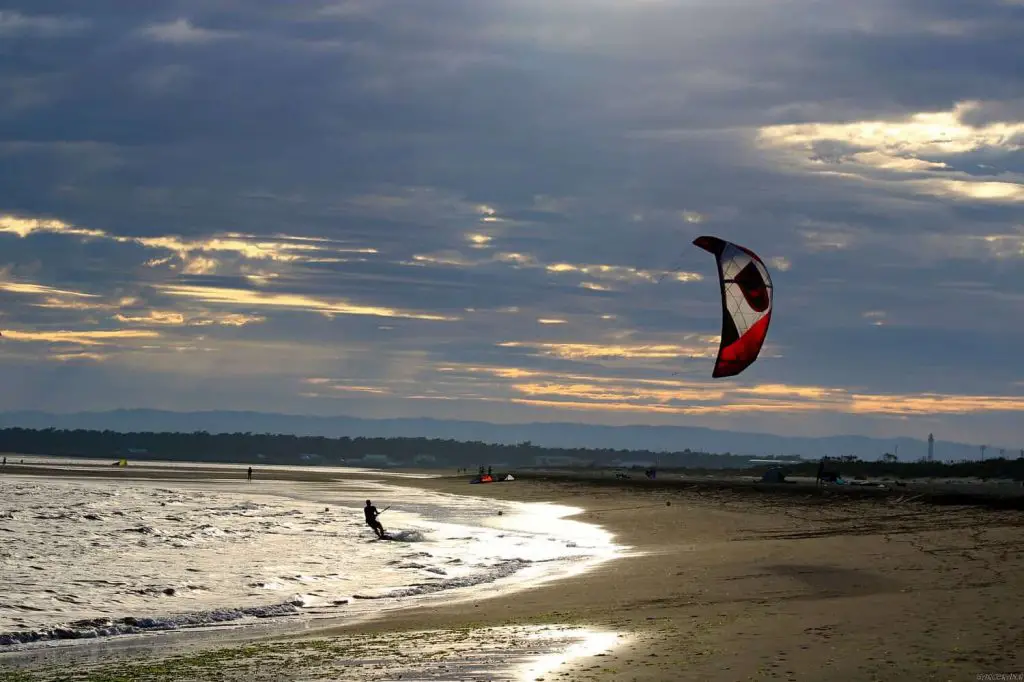 FARO
Faro is home to a few kiteable beaches. The ones to take note of are Ilha de Culatra, Barrinha, Ilha da Barreta and Ilha de Armona. Down these parts you can find a mix of flat water lagoons, waves, and moderate chop on the open ocean.
When you've exhausted your time around these parts, head just half an hour east and you'll hit Cabanas de Tavira, another popular Algarve kitesurfing destination thanks to its moderate winds and safe spacious beach area.
There are several other locations where you can practice and learn kitesurfing including the islands of Madeira.  It doesn't matter if you are looking to get your first kitesurfing experience with one school or if you are an expert kitesurfer since Portugal will have options for all levels.
PORTUGAL KITESURFING SEASON
Portugal is a great kitesurf destination because the season usually lasts from May ultil late October. Those are also the months with less rain and you can usually get a sunny day for your kite adventure.  The wind usually blows from North or Nortwest and it's known as a "Nortada" among the locals.  The water is warmer in the south of the country since its closer to the Mediterranian and temperatures range between 16 and 24 celcius.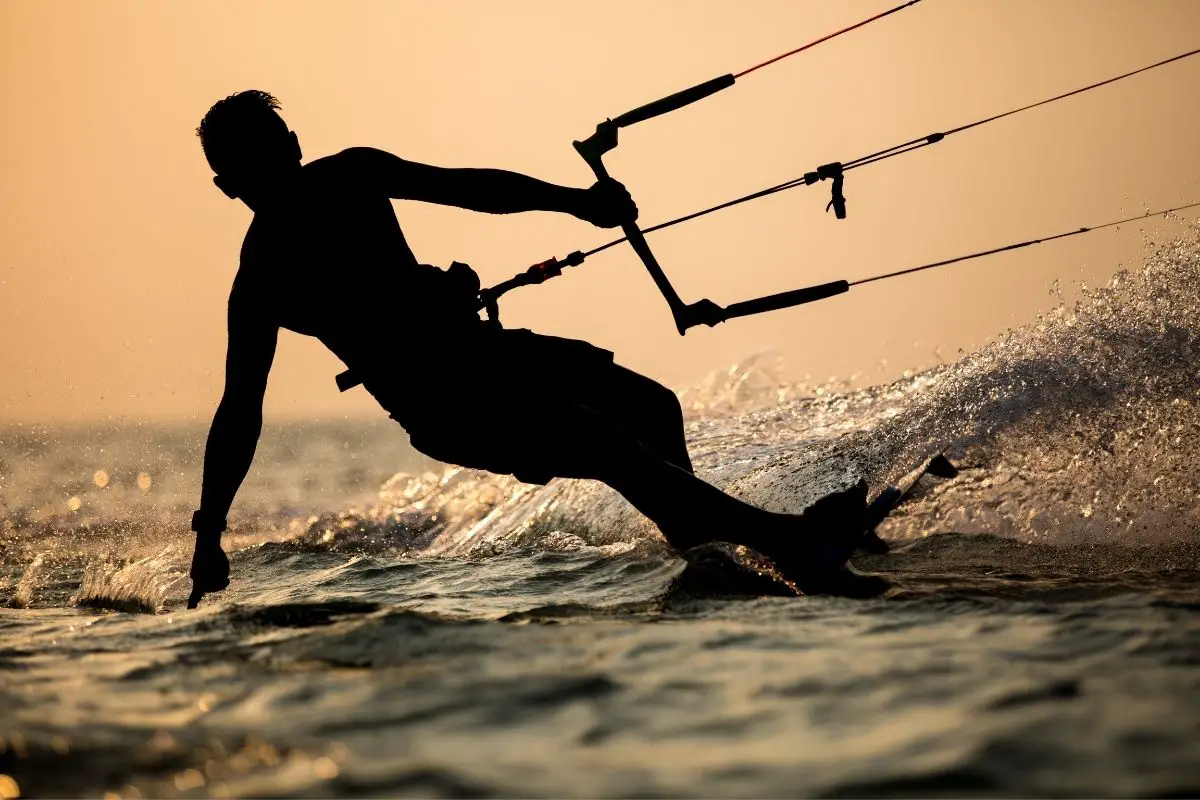 KITESURF PORTUGAL FOR BEGGINERS 
The country is a pretty awesome destination for first timmers or begginers. There are a lot of Kitesurf schools and Kite surf camps around the country that are pretty affordable when compared to other destinations. The waves are good sized to learn and you have several rivers and lakes where you can also learn that are the perfect environment for kite surf begginers.
I have personally completed my first classes in Esposende. The town is lovely and you have the ocean and the river right there so you have more options and different setups for your first and more advanced classes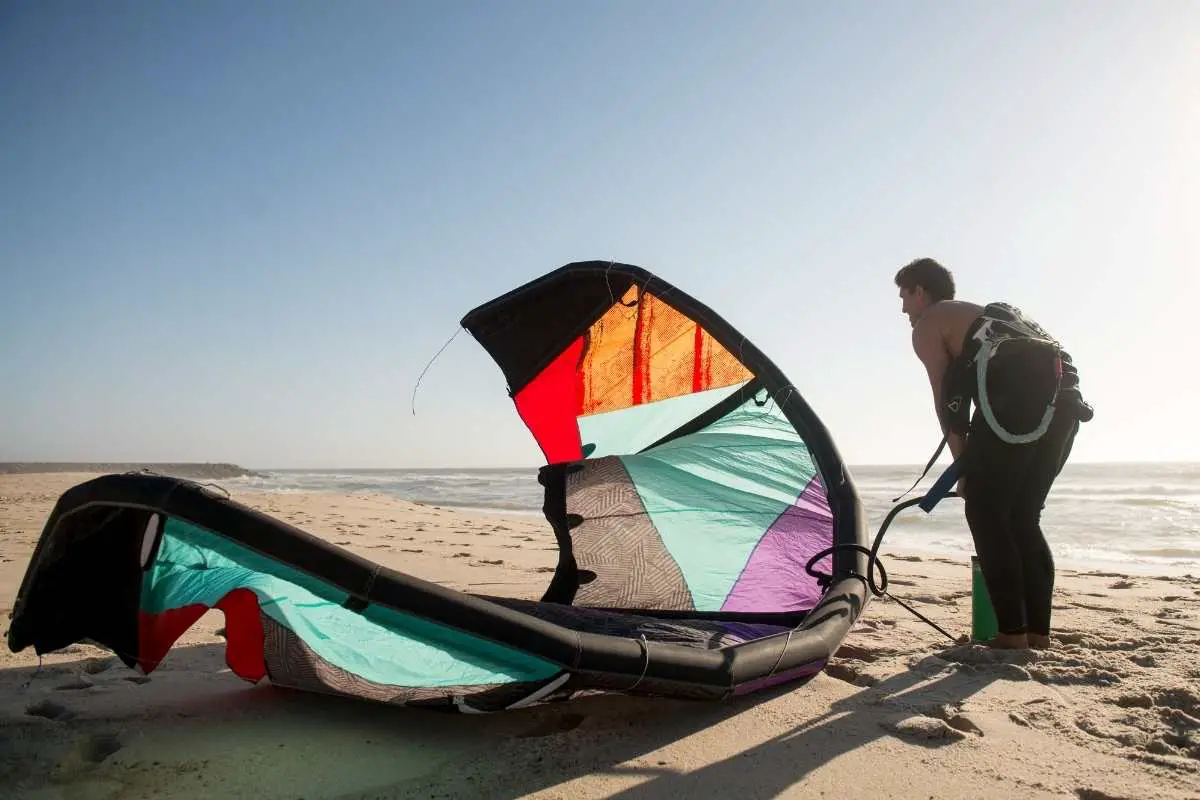 RENT A CAMPERVAN TO EXPLORE PORTUGAL
We highly recommend exploring Portugal from North to South and check all the different spots in a campervan. You can get a truly amazing campervan  rented in Porto and drive around the country. If you feel this would be the best experience check out our campervans for the most memorable Kitesurf trip adventure around Portugal
Enjoy your trip and have a blast kitesurfing Portugal!