Best Private Douro River Cruise
A lovely private cruise in Douro
Whoever comes to Porto can't go back home without hearing about Douro River or at least experiencing an amazing Douro River Cruise, available in several places along the giant vineyards in Oporto, Régua, Pinhão or Barca d'Alva. The Douro river, meaning "the River of Gold", is one of the most beautiful rivers in Europe, and the journey upriver is one of the most scenic routes on the continent. Passing one of the world's oldest wine regions, the Douro river rises in Spain and holds much appeal for tourists during its journey across the north of Portugal. Every day several boats travel through this river showing the visitors an unequaled beautiful and peaceful perspective, where people can escape from the city bustle. Douro River Cruise is one of the main tourist attractions of the region and the truth is, as you go up the river, the views are increasingly beautiful and it is definitely worth a visit! After several cruises we have done, we choose Pinhão as our favorite starting point and we are going to tell you everything about our boat experience from this small town that lies at the heart of Douro's wine region.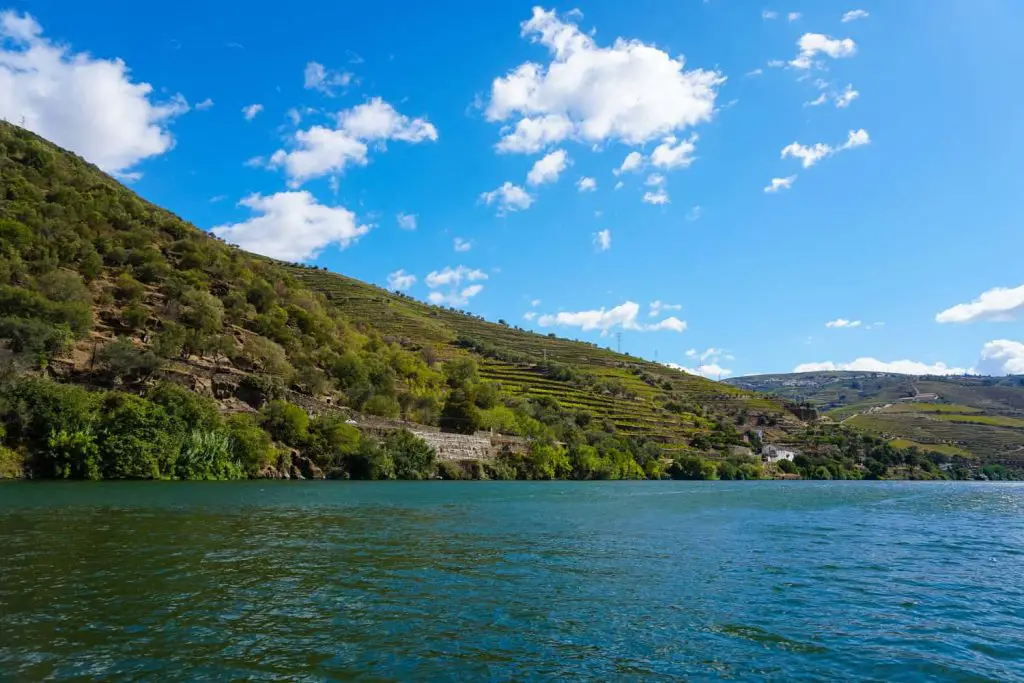 Get there
The tiny village of Pinhão is located in the north of Portugal, 1h30 away from Porto by car.  The trip by train takes bit longer but, we highly recommend you to use this public transportation if you truly want to enjoy the landscapes this river has to offer you. You'll be mesmerized and incredibly thankful! On the other hand, if you have vertigo problems, choose the car since the train goes up really close to the river and not everyone can handle that proximity.
Choosing the right Douro Cruise 
As soon as you arrive at the docks you'll be surprised by the huge variety of cruises available in Pinhão, but don't go with the majority if you really want to relax and enjoy the nature. Big boats can be cheaper but will make you feel tired due to the enormous quantity of people travelling with you and the lack of space and privacy. We chose Anima Durius not only because we wanted to get away from the crowd but also because they offer the possibility of visiting their fantastic wine farm and cellars. There're 3 types of boats available for your trip: Stella Maris, Caota and Baco and you can choose between an afternoon trip or a fantastic experience of dinner and spend the night aboard to make your experience even more unique and get to know the river to the fullest. As we appreciate a big dose of Romance our choice fell on Coata, an elegant sailing boat whose wood interior provides a cozy atmosphere. Can you imagine a sunset cruise with the possibility of dining and sleeping aboard? Simply amazing!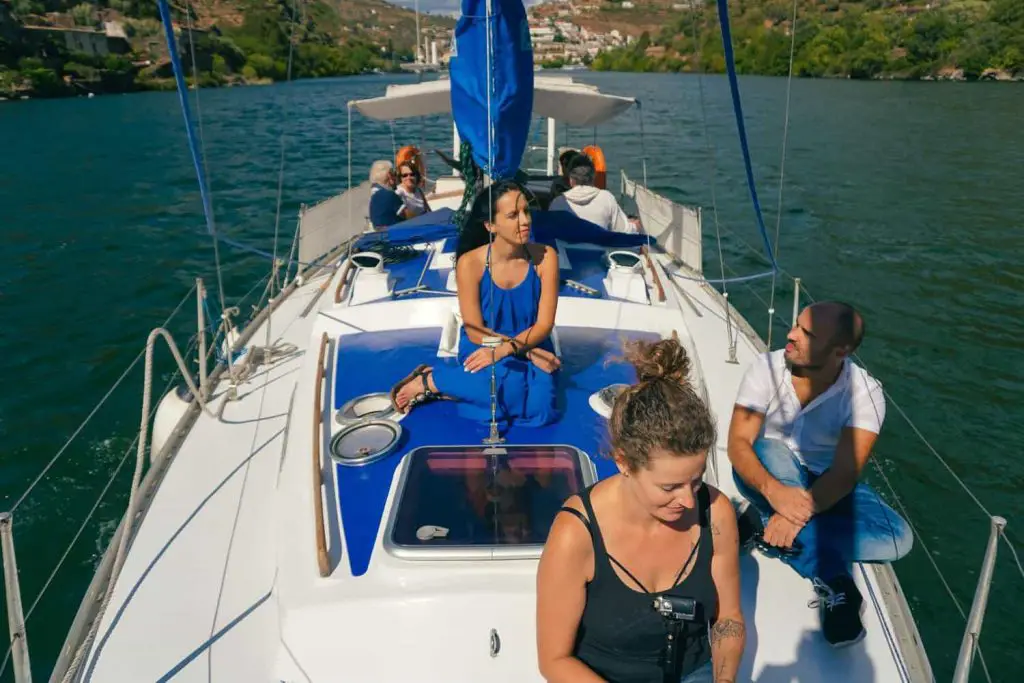 Welcome aboard!
Renting a boat is a really nice option for those who prefer a bit more of privacy and have the knowledge to navigate a sailing boat. If you prefer a programme with skipper you have 6 different tours available and Paulo Mesquita, the owner, will be in charge of navigation and safety on board, leaving you with free time to enjoy the ride and all the beauties of the Douro river. As we went down the river we embraced pure moments of pleasure, in contact with nature, where we could contemplate the amazing vineyards from the calm and sheltered waters of Douro. This  Douro River cruise comprises so many small discoveries, small pleasures and such a generous amount of time sailing on a riverboat that you'll be lulled into a relaxing rhythm that's far away from frantic sightseeing and over-scheduled days. There's a probability of 99% that you'll be dreaming of that Douro magic long after you get home. In one word, our private tour was just magnificent!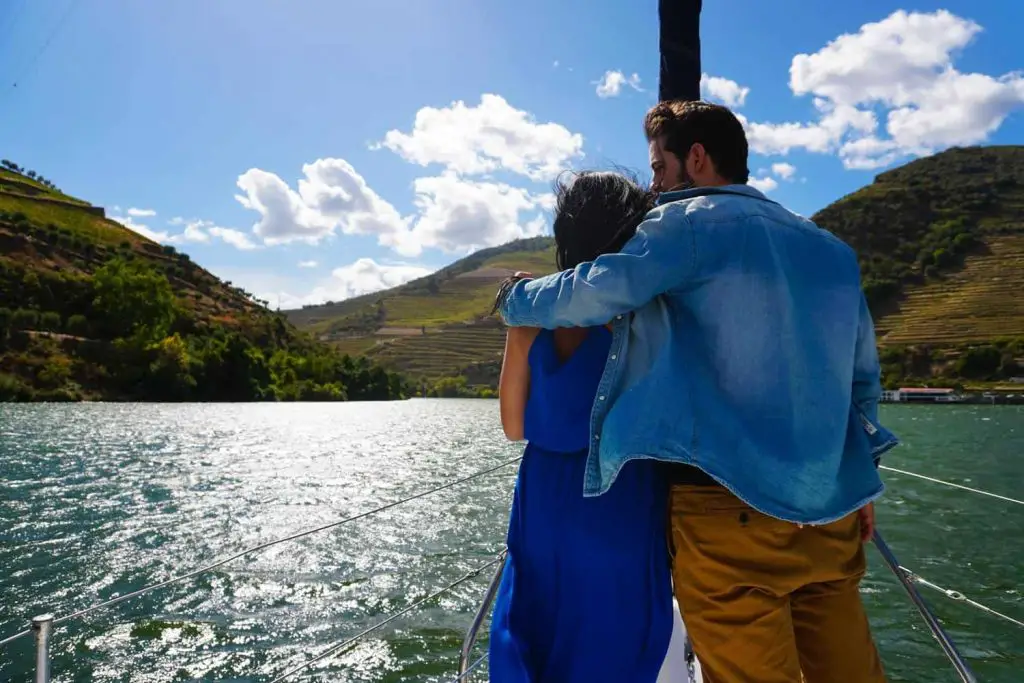 Quinta dos Poços Guided Tour
After this wonderful boat trip, amazed and relaxed nothing better than visiting one of the region's oldest family-run wine productions: Quinta dos Poços –  where you can discover the most breathtaking views and the best gastronomy of the region. Half an hour away from Pinhão by car, with Douro River and Marão Mountain as scenery, Quinta dos Poços, gives you the possibility of visiting the winery and to have an insight on the wine making process. Walk down through the vineyards to its 18th-century house for a typical meal, accompanied by the magnificent wines from the property and we promise this will exceed your expectations!
ANIMADURIUS
Site  //  Facebook // Instagram // Tripadvisor