Staying at Eastin Grand Hotel Sathorn
Intro
There's no better place to go big on your hotel than the big city that is Bangkok. Navigating and exploring this city is certainly rewarding, but you will be crying out for an oasis of relaxation when you return to your hotel. So, if you needed an excuse – this is it. Go big in Bangkok.
If you're familiar with their malls and shopping centers, you should know their hotels will be even more incredulous. If you're not, take my word for it – they certainly know how to do impressive malls and exquisite hotels here. So don't miss the opportunity to relax in style.
Here you'll find an unimaginable number of high-end hotels hoping for your arrival. Eastin Grand Sathorn Hotel was our choice and with good reason.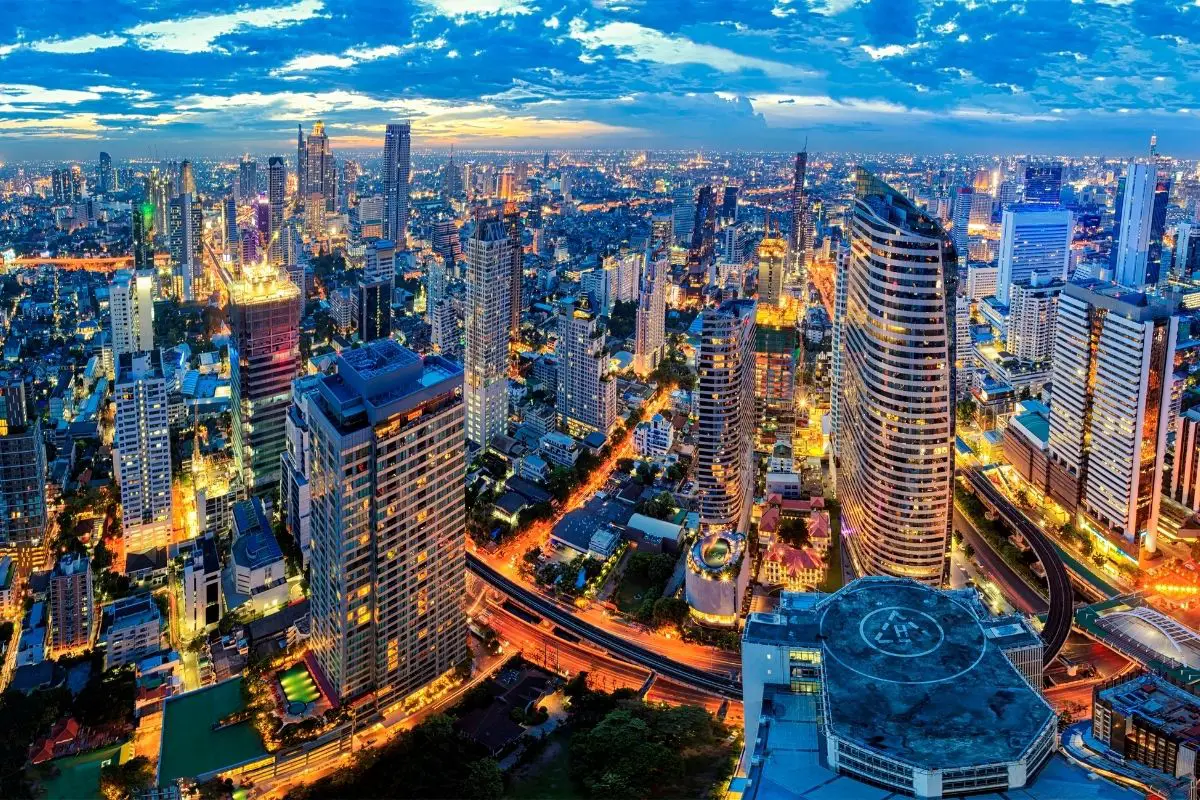 Getting There
After a long 14 hour journey from Istanbul, to Bahrain, to Bangkok, we arrived at Suvanarbhumi Airport around 9am. From there it was a sleepy haze through immigration, luggage collection and out of arrivals to make the final leg of the journey – a taxi ride to Eastin Grand Hotel.
Location
Situated in Sathorn, the business district of Bangkok, Eastin Grand Hotel reaches up a grand 33 floors and is ideally located right next to the BTS station Surasak. in fact, one of my favourite things about this location is that the hotel has a connecting walkway direct to the BTS station on the third floor.
Once you experience Bangkok heat you'll understand just how valuable this is. It certainly saves walking down a long Soi (street) to reach your hotel after departing from the BTS. It also saves you from having to sit in Bangkok traffic gridlock for hours at a time trying to get back to your hotel. The Skytrain (BTS) location is perfect.
The BTS line is just 4 stops to Siam and from there you can switch to the Sukhumvit Line if you so wish. All in all, a prime location.
From the airport the taxi journey cost 400B including airport fees and highway tolls.
Checking In
Upon arrival I was warmly welcomed into the formidable lobby. A beautiful baby grand piano lies in the corner of the lobby and soothing relaxing jazz is intoxicating of an evening.
My luggage was collected from the taxi as I was accompanied to the check in desk. As I happened to be staying in the Superior Sky Room, I was escorted to the executive lounge on the top floor for a private check in. Yet check in at the ground floor lobby is nothing short of excellent. With individual marble check in desks, the staff are most welcoming.
In the executive lounge on the 32nd floor I was given fresh juice and a cold towel to freshen up after my long journey. My passport was collected and check in processed as I waited comfortably. The staff were incredibly friendly and helpful.
After check in I was taken to my room and my luggage arrived shortly after. Upon entering the room there was a lovely tray of Thai sweets and a welcome note from the Hotel team. Again, a very nice personal touch.
The Room
The room itself was the Superior Sky Room. This consists of an incredible view overlooking Bangkok. The window reached the entire surface of the wall, from top to bottom, left to right, with a charming veil for a curtain.
The room was spacious and the atmosphere was light and airy. The king size bed was perhaps one of the comfiest I have slept in and gave way to a most peaceful nights sleep.
The bathroom held a large glass shower cubicle, toilet, and sink under a full walled mirror. A lovely touch in the bathroom had to be the lighting. There was a main light for lots of light, or the option for a backlit mirror only. This lovely backlight certainly made the ambience much softer and set a relaxing mood to enjoy the shower.
The room came with full amenities such as robes, slippers, hairdryer, TV, complimentary wifi, air conditioning, and a safe. Another little detail I noted was the amount of plug sockets. If you happen to work whilst you travel or simply have lots of gadgets, there is no shortage of plug sockets. Furthermore, most of the sockets were adaptable for UK plugs (as I happened to have). Traveling with only one Thai adaptor this was of great benefit to me whilst getting some work done.
As far as working is concerned, the desk is large and the chair is comfortable. The desk light is bright and very conducive for business.
As for the rest of the lights in the room there are plenty. You have the option of a master light, reading light on each side of the bed, or a night light which again creates a very soft ambience.
At night, the views out of the window are simply stunning.
The Breakfast Experience
Breakfast was my favorite part of the day. It's hard to decide whether the best part was the range of food served, or the extensive breakfast hours.
Served from 6am until 11am, there is no need to miss the breakfast buffet if you have a full day planned, or miss out if you are catching up on sleep.
Being jet lagged myself, the first morning I woke around 10am and was very grateful that I didn't have to rush. I enjoyed a full hour of eating!
The breakfast food ranged from bread, salad, hummus, danish pastries, croissants, sweet bread and muffins to noodles, Thai rice dishes, dim sum, sushi and omelette. There is also the choice of American Pancakes with a number of toppings (chocolate, whipped cream, honey etc) or cereals, yoghurt and fresh fruit. You would be hard pressed not to find something you enjoyed here.
I must also note the extensive range of vegetarian options. As a vegetarian myself, being used to limited options, if any in Thailand, I was delighted at the food choices I had, and certainly made the most of it! Fresh fruit juice is available as well as speciality coffee and teas.
The Pool Experience
Now, if the previous hasn't awed you, this is the critical point. Eastin Grand Sathorn has an Infinity Pool on the 14th floor, overlooking Bangkok.
The pool is simply delightful and has an ambience that feels like a secluded retreat, not in the business district of Bangkok.
The cute half moon seats make a romantic nest for couples to sit at the edge of the pool and soak up the atmosphere. Massage services are available poolside as well as fancy cocktails to complete the experience. The pool is open until 9pm. Swimming under the stars is certainly not to be missed.
The pool is also only available for registered Hotel Guests so it is never too crowded.
There is also a fitness suite available next door which has plentiful machines and equipment, though despite my best intentions I can't say I used this facility!
Hotel Facilities
As mentioned, the Hotel has extensive facilities including an Executive Lounge, rooftop infinity pool, massage services, gym and restaurants.
The breakfast buffet is held on the 5th floor in The Glass House, which also offers an International Lunch Buffet and a Grand Weekend Buffet.
Other dining facilities include LUCE, an Italian restaurant serving lunch and dinner, and transforming into a Bar & Lounge at night. Situated next to the Infinity Pool on the 14th floor.
Swizzles is found on the ground floor, next to the Lobby and is exquisite. With soft, sultry jazz and an extensive range of international wines and spirits, it's difficult to leave the hotel. In fact there is seemingly no need to. Swizzles is the perfect place to spend a relaxing evening or conduct a business meeting during the day or night.
Finally, Chef Man, a Chinese restaurant is located on the 3rd floor.
The Hotel is equipped with all standard facilities such as laundry service, daily cleaning and concierge services. Limousine or Airport transfers can also be arranged for a fee.
The Verdict
Eastin Grand Hotel Sathorn is luxury at its finest. It offers a welcome escape from the hustle and bustle of Bangkok, and quite simply makes it difficult to want to leave.
Whether you are taking a holiday, the pool, dining and location make it the perfect choice for relaxation and exploration. Or, be it a business trip, Eastin Grand Hotel offers the perfect environment for working, networking and socializing.
The verdict is simple: Eastin Grand Hotel delivers above and beyond. The staff are incredibly helpful and friendly, with a professional yet personal approach. Eastin Grand Hotel certainly delivers to the highest standards.