An Intensive Introduction to Tantra Yoga in Koh Phangan
Agama is a tantric school of Yoga on the beautiful island of Koh Phangan. Although this island is often associated with full moon parties, the North side of Koh Phangan is the complete opposite. Here you'll find a haven for yogis, with vegan and vegetarian restaurants and all sorts of health and energy healing workshops. Agama is one of the main institutions on this small island and well-known for their 'Yoga University'.
Agama offers great value for money on their Level 1 Intensive Course. With a staggering 3 hours of classes per day, 6 days a week, for one month, their prices are hard to beat.
Of these 3 hours the first was early in the morning and consisted of a morning lecture on the asana (pose) that was going to be learnt that day. The teachers at Agama have a very in-depth knowledge and the amount of detail they go into about each new asana suited my brain entirely. However, if you're less able to concentrate for a long period of time you may find the early morning lectures a little overwhelming and an overload of information. I found that taking a notebook was a great tool to write everything down and read over at a later – more awake – time of the day. It's also made a beautiful keepsake for me to re-read my journey that I detailed in a Yoga Journal.
The complex itself is very beautiful, with three yoga halls and a small pond and yoga shala outside. There is also a small yoga shop and yoga library open at seemingly non-regular times where you can buy some of the 'daily hygiene' items the teachings recommend – such as a Tongue Scraper, or Neti Pot to wash out your nose! As funny as they may sound, I engaged in these cleansing routines every morning and they've now become as essential to me as brushing my teeth! I highly recommend giving it a try!
Depending on what time of the year you attend, the level 1 course can be pretty full. If it's high season you can expect the large hall to be pretty packed with people! I attended the August course which filled the hall nicely but wasn't overcrowded.
The second hour of the day is later on in the afternoon, 3-4pm and starts with a more dynamic flow of Sun Salutations before moving into the tantric poses again.
Aside from the Sun Salutations, every class is of the same structure. Each Tantric asana is done in the same order and the course builds adding a new posture each day. The only exception to this is that sometimes because of time restrictions some asana's will be missed out here and there. This was very new to me and can seem somewhat boring but it actually requires a lot of mental strength to not get bored and stay present in each asana. I also found that my flexibility improved incredibly over the course of the month, more so than ever before, and I have retained that flexibility for well over a year!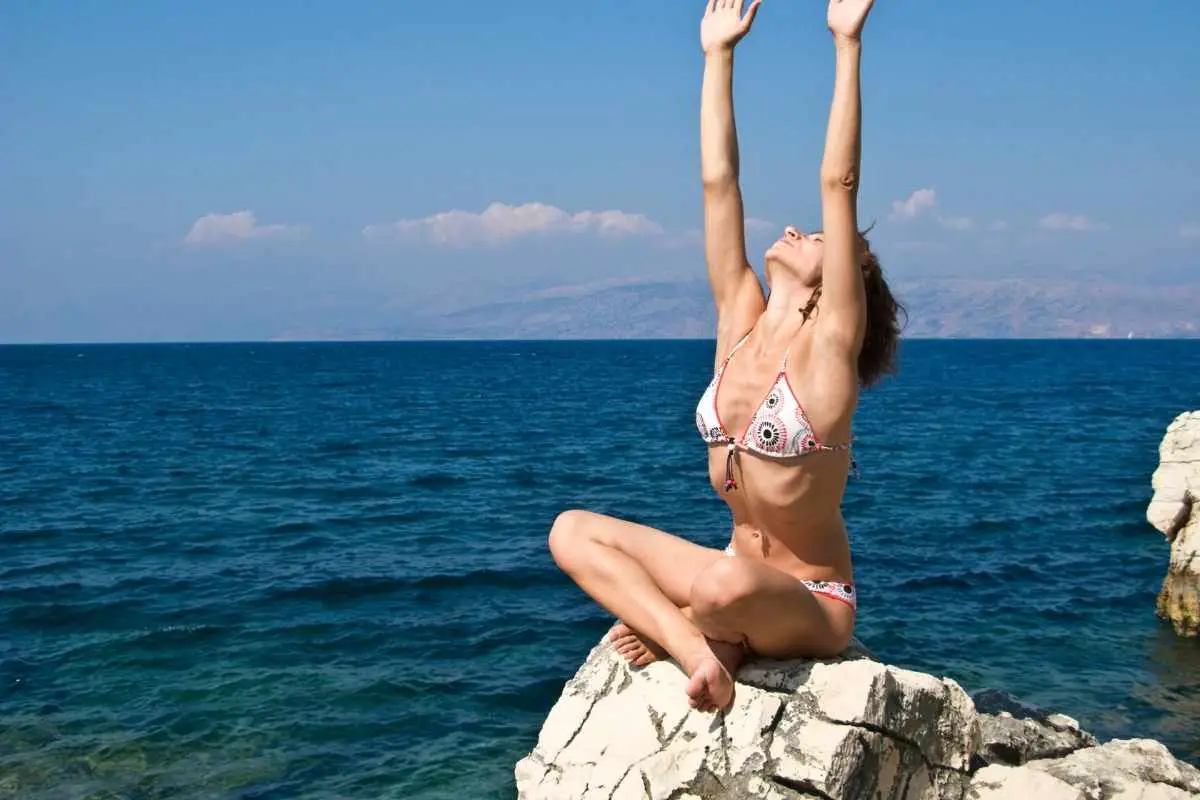 Previous to attending Agama I was a fan of Vinyasa yoga and Power yoga and had no real appreciation for restorative practices like Yin or slower ones like Tantra but I found so much value in the Tantric practice.
The idea of the Tantric practice is that it is all about the process, not the end result. So the 'process' for Tantra Yoga is meditating on a specific chakra during each asana, not what the pose looks like in the end. The course at Agama focuses highly on learning about the chakra system, which I absolutely loved, and a strong focus on Yin and Yang qualities which was also very relatable. If you have never studied the Chakras before this is a really in-depth way to learn about them, and if you have I have no doubt that you will learn something new. 

The final hour of the day was an evening lecture on a whole range of topics. Again, the amount of knowledge provided here is incredible.
However, Agama does receive its fair share of bad press. I personally found that due to the island being so small and with such a strong focus on the practice of tantra – tantric sex included – there comes to be a fairly 'cult'-ish vibe, of which I simply managed to avoid and take from the Yoga course what I could. I don't buy into putting teachers on a pedestal, nor swami's or guru's for that matter and I was a little off put by the teachers purely white uniform and somewhat heightened status within the community. There are many vulnerable people who seek out Yoga retreats for healing and re-connecting so my words of advice are to keep your wits about you and have a healthy level of scepticism. There is a lot to be learnt at Agama and a lot to be gained from the Yoga practice itself, if you can shut off from certain other practices that detract from the Yoga.
From a personal standpoint, I attended Agama whilst I was massively struggling with my health, and many of the principles I learnt and applied whilst at Agama saw my health improve drastically within just one month – mentally, emotionally and physically – which is all I could ask from a Yoga retreat.
A large part in this was also being able to talk with some of the teachers after class, who willingly answered my questions and gave me priceless, personal advice – my thanks in particular go to Rory who is a brilliant teacher if you're lucky enough to attend a course whilst he's there.
My conclusion is this – The Yoga retreat offers a great month away from 'normal life' which provides the opportunity to focus intensely on the practice of yoga, meditation and healing but comes with a somewhat intense group/cult vibe and some dubious ideals and practices. Make of it what you will and take from it what you can. I certainly gained a lot, and made lasting friendships but perhaps turned a blind eye to some other things!