25 Awesome Things to do in Ubud ( Bali )
Ubud is a place of unspoiled beauty and breathtaking countryside landscapes and one of the most beautiful places to visit and explore in Bali
With a wealth of traditional, undiscovered gems down the many winding lanes that make up the area, and some gourmet treats across the surroundings, Ubud has a culinary scene far more exciting and wide-ranging than you'd expect.
There are so many reasons to visit Ubud that it can be hard to pinpoint just a few – but we've done our best to list the best alternative and some mainstream activities when you visit this one of a kind destination.
Seeing these sights will not only show you the beautiful scenes that Ubud has to offer, but will also show you how the locals live on a daily basis, thus, being able to feel the warm hearts of the kind Balinese.
The following places are some of the essential spots to visit while in Ubud.  Aside from sightseeing, the best places to visit for meals and nightlife are also included.
We hope you enjoy your trip to Ubud and that this guide will help you see this unique destination from the eyes and perspective of a local.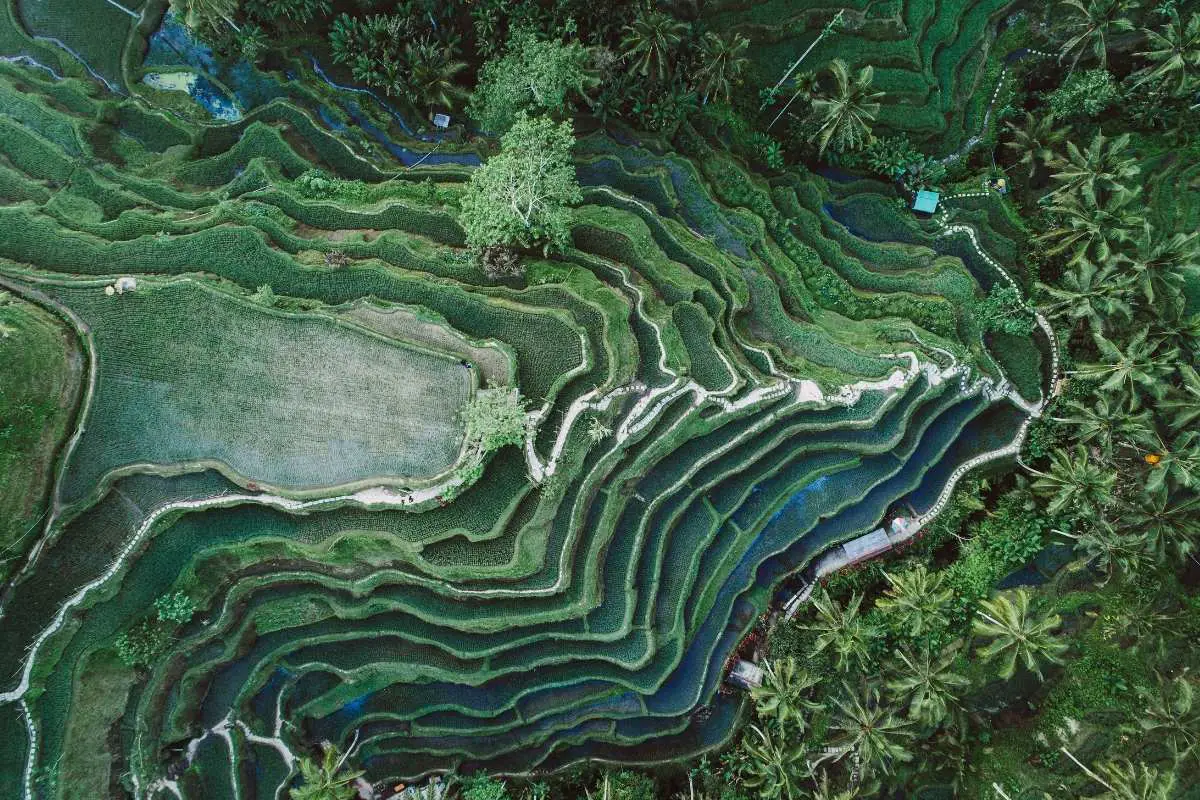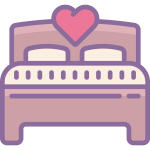 WHERE TO STAY IN UBUD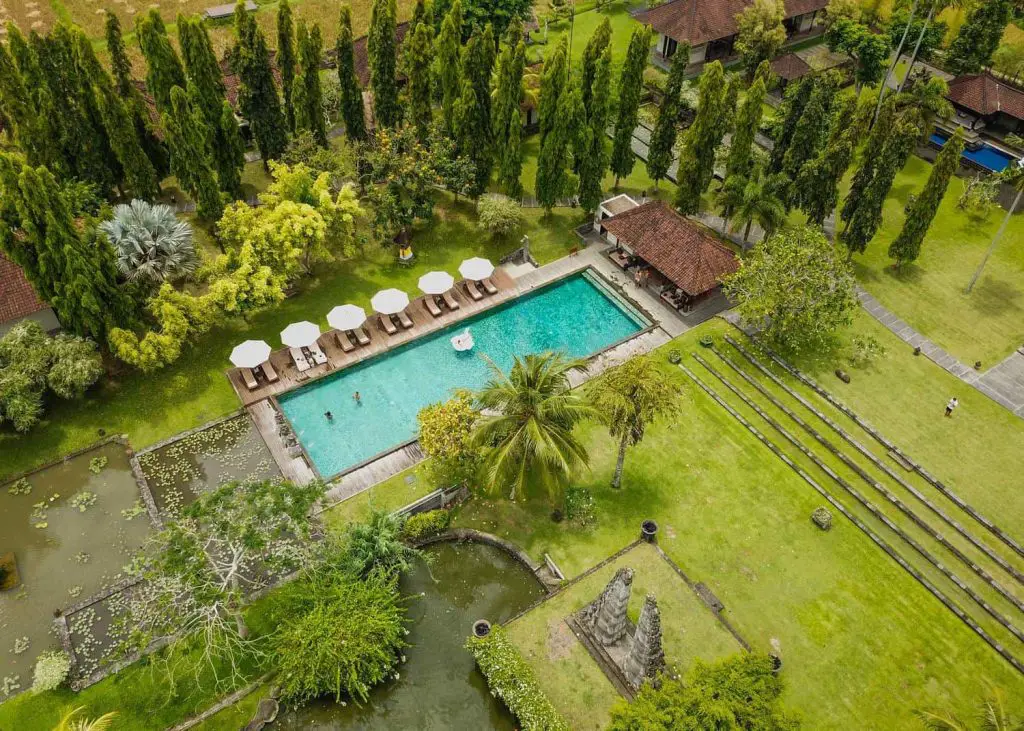 LUXURY EXPERIENCE
During our stay in Ubud we had the opportunity to stay at The Chedi Club Tanah Gajah and we loved every second of our stay.
The Chedi Club is a secret garden of sumptuous luxury private residences surrounded by working rice paddies. Resting in the exclusiveTanah Gajah estate, with a traditional Balinese architecture, local artefacts and contemporary design, this five-star boutique resort, has 20 individual villas dotted around its lush sprawling grounds. Nestled in the jungle just eight minutes outside of Ubud you can find stone statues greet you at every corner, huge sculptures regally wave you by and each private villa.
The Club Lounge and The Restaurant provide a unique venue for cocktails, afternoon tea and dinner overlooking the paddy fields. The Bird Lounge is a great place for drinks and in villa dining options are extensive as are romantic private dining venues around the estate. There is a 35 meter swimming pool, tennis court, yoga studio, state of the art gym and serene spa overlooking the verdant fields.
A complimentary limousine service can take you to and from Ubud when you feel like exploring the surroundings (galleries, shops, restaurants and cafes). Other activities include cooking classes, yoga and meditation, cycling tours, weekly cultural performances, trekking and rafting.
If you are seeking a peaceful and unique and exclusive experience in Ubud , The Chedi Club is by far the best option.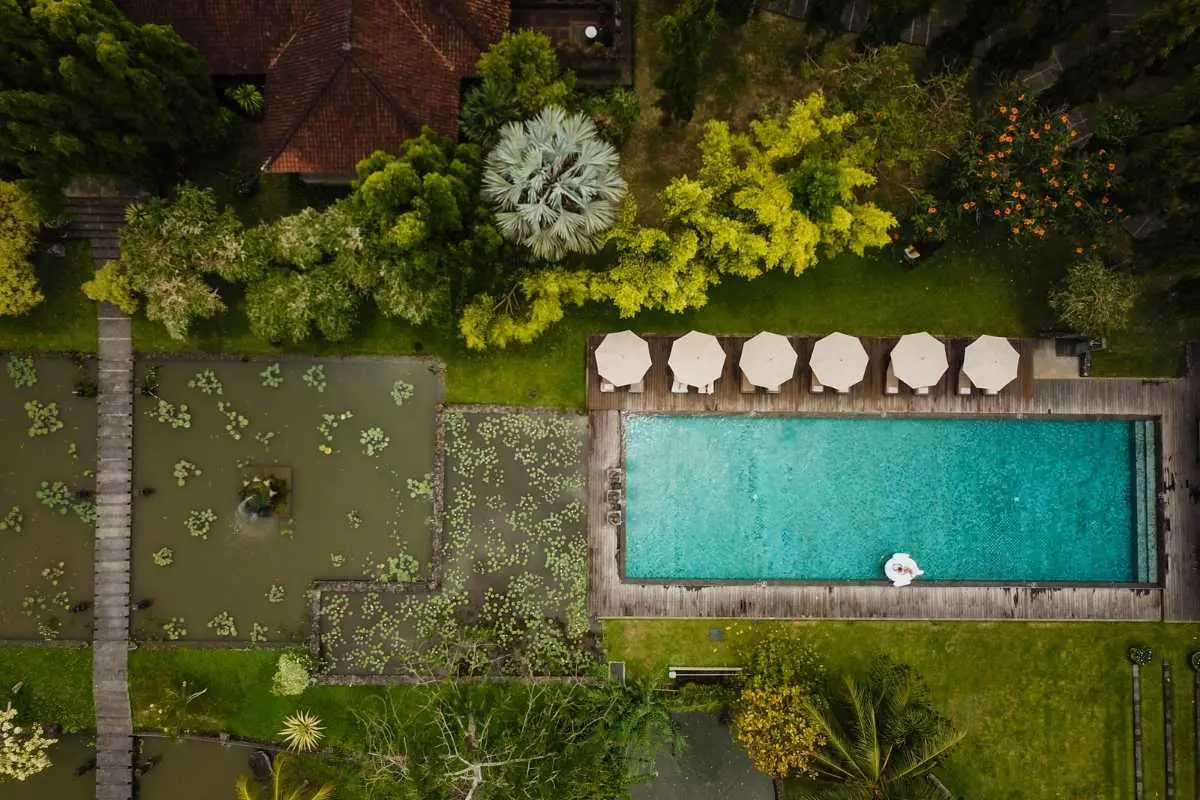 The Chedi Club Tanah Gajah, Ubud
Facebook // Instagram // Booking // Website
TIME FOR A MEAL
1. Roasted Babi Guling (suckling pig), the Number 1 Must Eat!
Address: Warung Babi Guling Bu Oka 3-Jalan Tegal Sari No. 2, Ubud MAP
During your stay in Bali you will quickly notice that the most iconic dish is spit-roasted suckling pig (babi guling). Strolling along the street close by the Ubud Royal Palace you will find many warung (local-style restaurant). Babi guling is not only a tasty Balinese dish, but it has origins in Hindu ceremonies. Ritually the suckling pigs are spit-roasted for hours over coconut shells and fire, creating a woody and smoky aroma. The recipe, especially the spices used, remains a secret. The skin of the pig is lavished with coconut and spiced oil. There are many ways of serving the pig; one of the most delicious is the banana-leaf plate. You can get roasted pork meat and crispy skin, pig-blood sausage, or a bit more hardcore, deep-fried intestines. You will not be the only one willing to get this excellent meat, so it is inevitable that warung gets packed with groups of both tourists and locals at lunchtime. First come, first served, so be sure to arrive early enough to get the best cuts.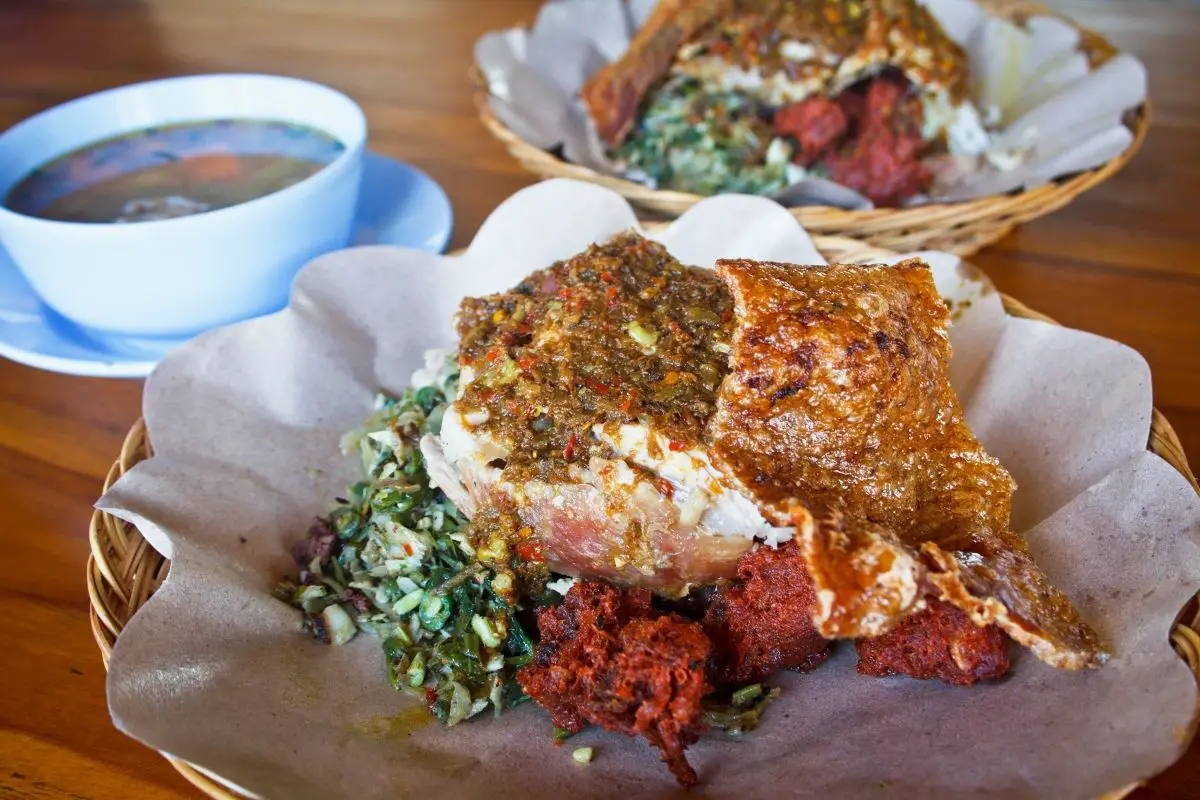 2. Think global, eat local! Modern European cuisine enhanced by local products.
Address: Restaurant Locavore – Jl. Dewisita No.10, Ubud MAP / FB / LINK
If you want to experience a unique, luxurious dining experience, Lacovore restaurant is a must try! Everything here is provided and prepared with passion. The products are locally grown by farmers, fisherman and food artisans of Indonesia. The restaurant accepts only fresh and seasonal products and the animals sourced for meat receive a good and ethical treatment. These practices ensure sustainability of local communities. Lacavore even has its own garden to provide herbs and some seasonal vegetables. The kitchen uses Kintamani coffee, hand-crafted sea salt from north Bali, spices from the mountains and fresh seafood from Eastern Indonesia. The waste is not wasted; all edible kitchen waste is used to feed the pigs or is composted for the vegetable garden. The marriage of fresh, local ingredients with inspiration and creativity makes this restaurant the prize-winning place it is. Lacavore is enormously popular among international diners who love both the concept and the food. Book at least two weeks in advance for a dinner table. The food itself is a mixture of European recipes with Indonesian tastes and is a most memorable dining experience!
3. Where nature meets sophisticated cuisine- the finest dinning in Ubud!
Address: Bridges Bali– Jl. Campuhan, Ubud MAP / FB / LINK
Would you like to merge natural beauty with a fancy dining experience? If you're looking for a fresh green surrounding to relax in then this may be the place. The Bridges Bali is a dining experience which can be summarized as "where the worlds meet". It is a blend of delicacies from Asia and the West. The name of the restaurant comes from its location, at the end of two suspension bridges, called Campuhan bridges, over the Ubud River. If you are a wine connoisseur this is a must visit place, because it is the only specialized wine bar in Ubud, offering a great choice of wine (over 180 different labels, and 20 varieties of grapes from more than 10 countries). You can enjoy your dining and wine but also a bistro terrace, coffee, tea and finally, fancy cocktails, in the lounge by the river. The food is cooked with care and love and you will really taste it. You can come for lunch, dinner or a unique Royal Fine Dining. Prepare yourself and your pocket for this unusual culinary experience allowing you to connect and share with the world.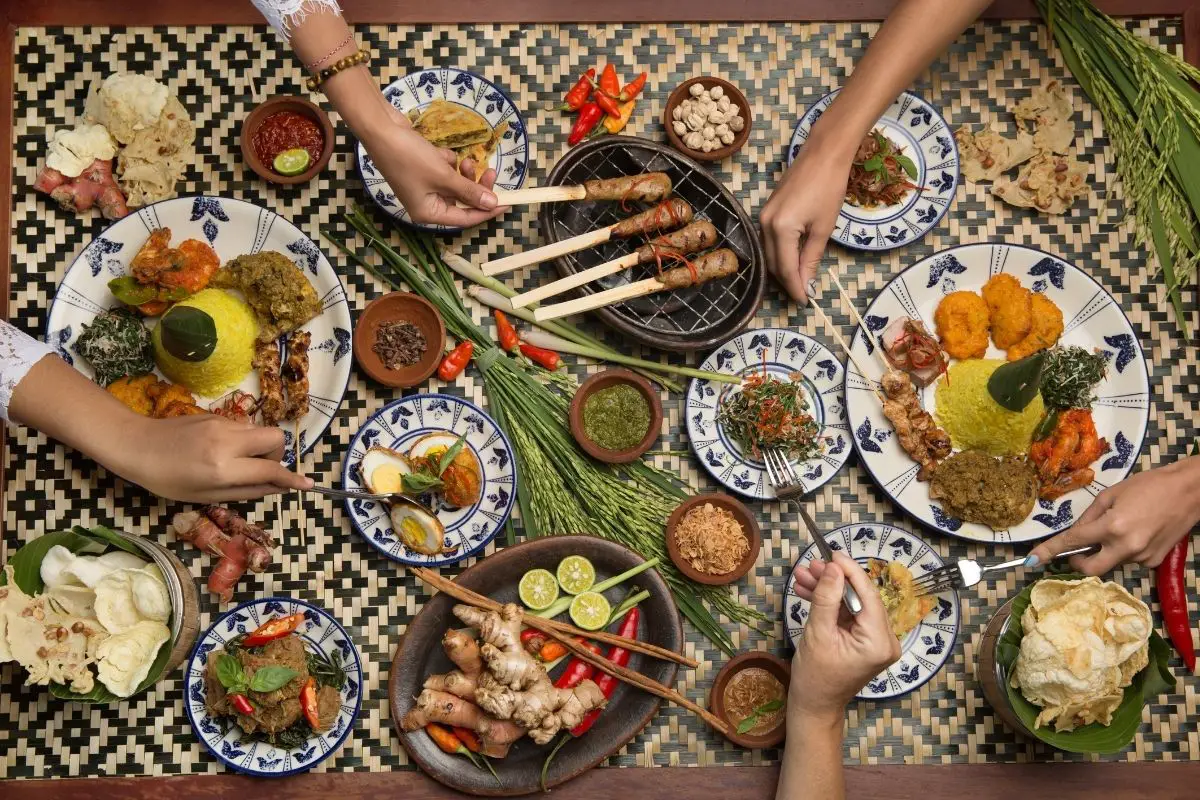 4. Indonesian delicacies on a budget
Address: Ayu's Warung– Jl. Monkey Forest No.62, Ubud MAP
After all the fine dining, you might be tired of luxurious restaurants and want to try more typical, local places. Your pocket might also have suffered a bit in the fancy places, so go ahead and try an excellent warung, where you will find delicious food for very good prices. The simple and authentic Balinese food (also the food eaten regularly by locals) will be found here at warungs, with a special recommendation for Ayu's Warung. The ingredients are bought from the market early in the morning, so you can be sure that everything is excellent quality and very fresh. You never know what you will be served, since the menu is not fixed, and depends on ingredient availability and simply the mood of Ayu. Most of the days, you will have a chance to try Nasi Campur, meaning "mixed", and has rice and everything else (usually meat or fish) inside. Try roasted green chilies, but be careful, as they are hot, so do not take too big a bite of food made with them!
5. Dining surrounded by Rice Fields
Address: Resto Bebek dan Ikan Bakar di Tengah Sawah Ubud– JL RAYA GOA GAJAH – PELIATAN UBUD MAP / LINK
Rice fields are an iconic landscape from Bali. In such an iconic place you can enjoy the classic Indonesian-style cooking, especially the most popular item which is Gurami Timbung. The restaurant has a very long and difficult name: Warung Ikan Bakar dan Bebek Resto Sawah Indah but it is also known as Sawah Indah. It is located on the east side of Ubud. If visiting here you may have to factor in the chance that there will be a wedding here when you arrive, as it's a popular venue, but lets hope you have better luck than that. The restaurant has around 30 tables, so sometimes it gets full. If you are not sure what to try, go for a hundred rupiahs dish per person to taste the specialties without restricting yourself (dish + rice + beverage). Altogether, the food with a calm atmosphere and breathtaking view guarantee you a great evening! The staff are mostly Balinese, but they are friendly and speak some English. The pictures in the menu will help you make a choice of food! The restaurant specialties are duck, fish, and dishes cooked in banana leaves and bamboo.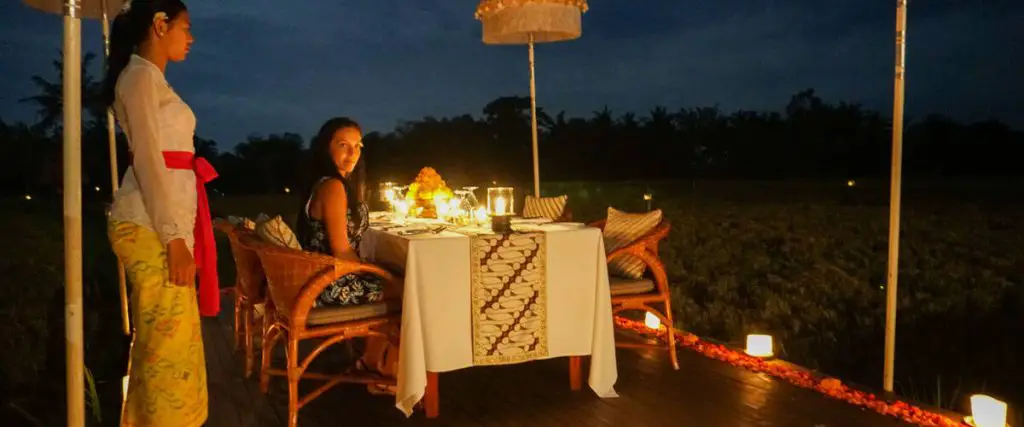 GRAB A DRINK
6. "The happy happening" bar
Address: Laughing Buddha Bar– Jl. Monkey Forest Kedewatan, Ubud MAP / FB / LINK
In the country where you cannot really consume alcohol the idea of bars and nightlife are not very obvious. The Laughing Buddha Bar is one of the liveliest spots, where you can enjoy regular live bands playing many different styles of music such as jazz, blues-rock, freestyle acoustic, fusion and world music. If you like dancing you should check to see if there are any organized salsa nights during your stay. Whenever you are hungry you can always pass by, for breakfast, lunch or dinner. You will see how much you will love the place, which is amazingly cozy, welcoming you to sit, eat and drink. It is a must-play place for many excellent jazz bands and there is a live band playing here almost every evening from 21:00 to 23:00. Food selections range from Southeast Asian delights to Tex Mex, such as phad thai, spicy chorizo quesadillas, wonton noodle soups. The specialty of the bar are the 'Buddhalicious' line of signature cocktails, get one (or more) and have a fun night out!
7. Sports, games and delicious food in one place
Address: The Melting Pot Game Room and Pub – Jl. Raya Pengosekan (Hanoman) No.22X, Ubud MAP / FB / LINK
Do you need some adrenaline, adventure and fun? The Melting Pot Game room is the perfect venue for game lovers. Even though it's located in Bali it embraces Western style well. If you're looking for a challenge this is the place to find any type of game you would like to play, such as at pool tables or ping-pong tables. You can also organize Bali premier league table football. The electronic dart fans will not be disappointed. However, the place is not only for games, they also serve good food such as pizzas and delicious Tex-Mex. You can drink a beer with people from any country here; there is a real international mix. The wall over the bar is fully covered with flags of every nation and you can leave your name on your country flag. There is also annual event, Ubud's Great Texas Chilli Cook-Offs, if you are lucky enough you can join the crowd enjoying the best Texas style spicy chilli. On regular evenings you can expect some old but still great classic American rock songs and sports showed on big TV screens. Gamer heaven!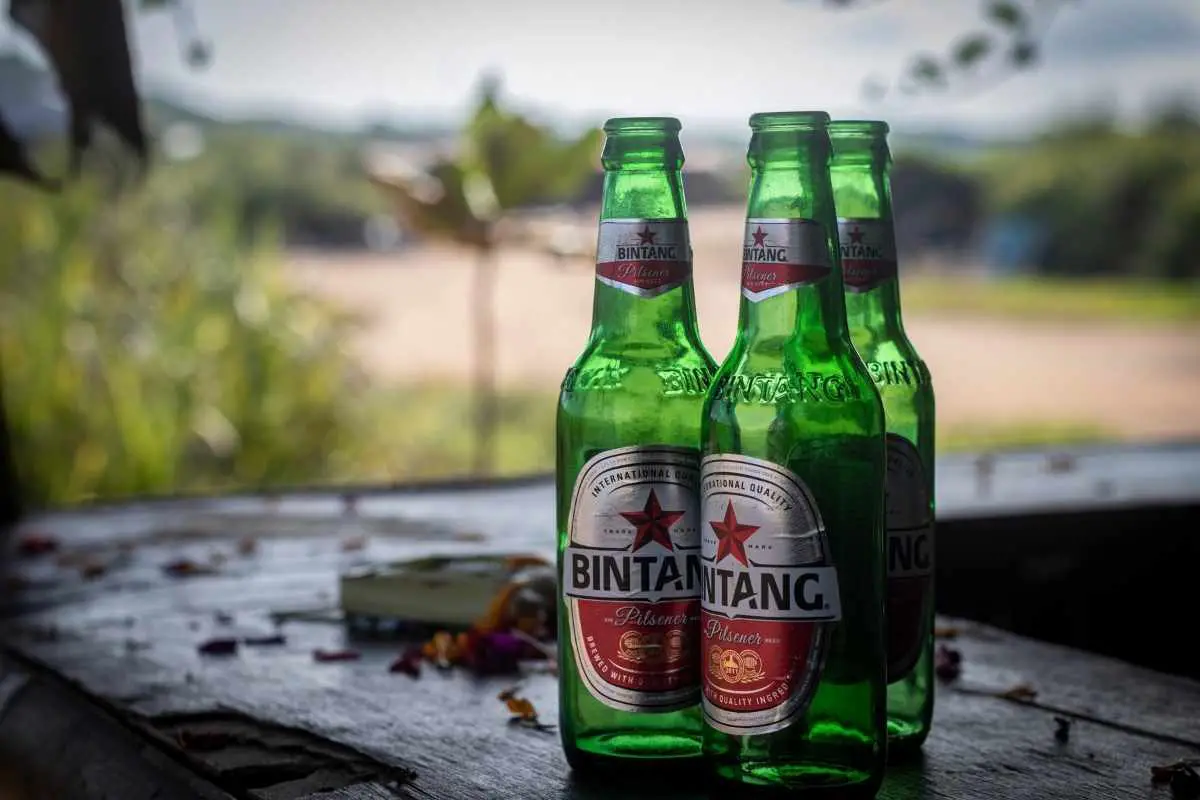 8. The best selection of Wines and Cocktails in a modern setting
Address: Ary's Warung– Jl. Raya Ubud, Kedewatan, Ubud MAP / LINK
Ubud is the Balinese capital of culture and art, so the artistic heart of the city has a lot to offer. Ary's Warung gives you amazing views (historical temples) and good food in a pleasant ambience with a friendly service – what else do you need? Ary's Warung is mostly about relaxing and enjoyment. They have amazing sofas, once you sit down you will be reluctant to stand up. Do not forget to go upstairs where you will find an amazing open-air terrace perfect to enjoy your unique dining experience. When you look around you will recognize Ubud's temples. Do you feel like drinking a glass of wine? Do not miss such opportunity; they have an excellent wine cellar. For hungry souls, you can fill up your stomach with Contemporary Asian Cuisine. It will be something different then tastes you know, because it is based on the vast variety of local flavors. As in a traditional Indonesian restaurant you will mainly find spicy dishes, a vegetarian selection and desserts that take you beyond any Bali experience.  You can also order a six course tasting menu.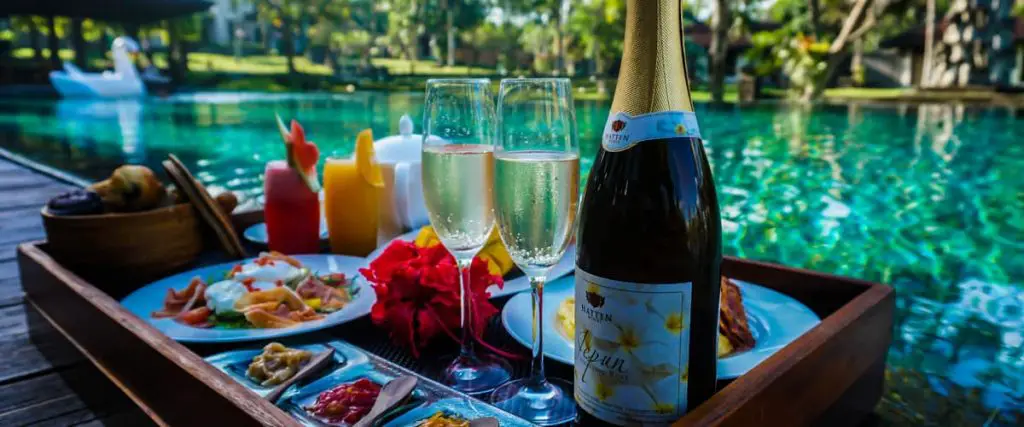 NIGHTIME FUN
9. Chill out in the vibrant Bedouin party tent
Address: XL Shisha Lounge– Jl. Monkey Forest No.129, Ubud, Bali 80571 MAP
Imagine a Bedouin tent with shisha and an oriental Middle Eastern décor. Yes, that's what you can expect going out to XL Shisha Lounge. Shisha pipes come from Dubai and Tabaco from Emirates as well. The vibe of the place feels like the Middle East. Try for yourself the most exotic water pipes available in the city. You can mix flavors yourself, since they are available in one to four hoses. Whilst enjoying shisha with your friends don't forget to look around to feel the spirit of Middle East. The decorations and silk-draped ceilings will help you feel the uniqueness of a Bedouin tent. If you get hungry it won't be a problem, rather a pleasure, to try an eclectic menu. The food served is a mix of Dutch cuisine, with American steaks and burgers and Indonesian taste tapas. Every evening there is also a live music event, making the place more cozy and enjoyable. This place is particularly recommended for reggae lovers because of the music and ambience. Chill out, let it be and take it easy, everything is gonna' be alright.
10. A Crazy Cuban Night in Indonesia
Address: Cafe Havana– Jalan Dewisita, Ubud MAP / FB / LINK
If you love Latin music and dancing you cannot get away from it. Cafe Havana in Ubud serves Cuban-Caribbean cuisine accompanied with an impressive selection of legendary cocktails. The café is usually crowded by salsa dancers but you, and your friends will find enough room to enjoy this cozy place. You can find a small Cuba here, this is a venue filled with Cuban memorabilia. The Cuban ambient is found in Cuban rhythms, making the air hot and dense. If you happen to get hungry, amazing tapas are waiting for you such as fried Camembert with guava chutney, just from reading the menu you can get hungry. The live music is performed by the band called La Bomba. Even in Ubud you can learn some basic salsa steps, in case the band inspires you to follow the Latin sounds and dance. Find your Latin soul in Ubud!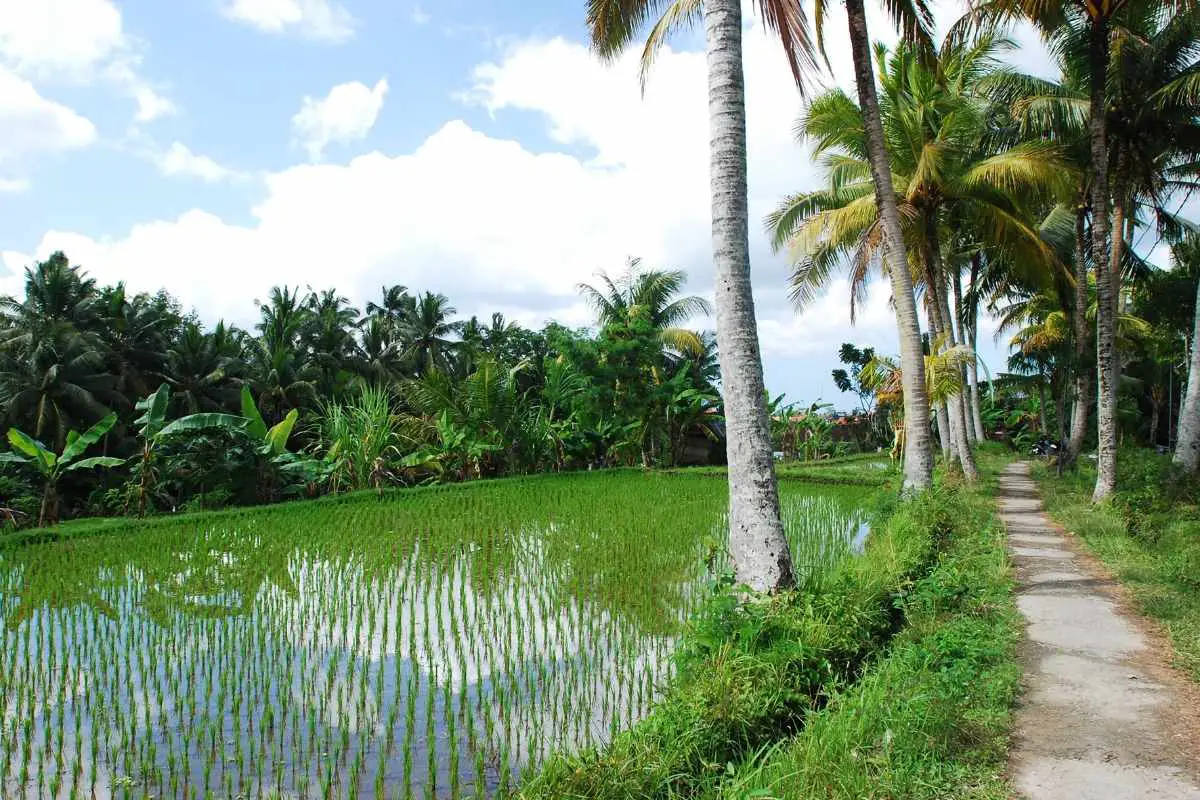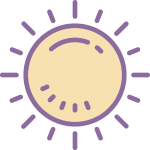 THAT'S A BEAUTIFUL SIGHT!
11. World famous Tegallalang Rice Terraces
Address: Tegallalang Rice Terrace– Kedisan, Tegallalang, Kec. Gianyar  MAP
Tegallalang Rice Terraces is a famous, picturesque place in Bali. The best views are during the sunset and sunrise but any time is always impressive. The subak is a traditional irrigation system, which was brought to Indonesia by the holy Rsi Markandeya in the eighth century. The whole region consisting of the villages of Pejeng, Campuhan and Ubud are famed for its splendid rice terraced landscapes, being a highlight of the Bali trip. Do not miss a view of Tegallang itself before you head to the slopes across the valley. The road is not busy so you can easily enjoy the views, make photo stops, and meet some other tourists on the way. Art lovers and makers also appreciate the place and there are enough places to take a break, drink coffee or buy something in the nearby art kiosks. You can get a nice shot capturing a local grandpa, a farmer, or meet a landowner willing to invite you and serve you a green coconut drink. If you are looking for a souvenir check out woven hats made from coconut leaves.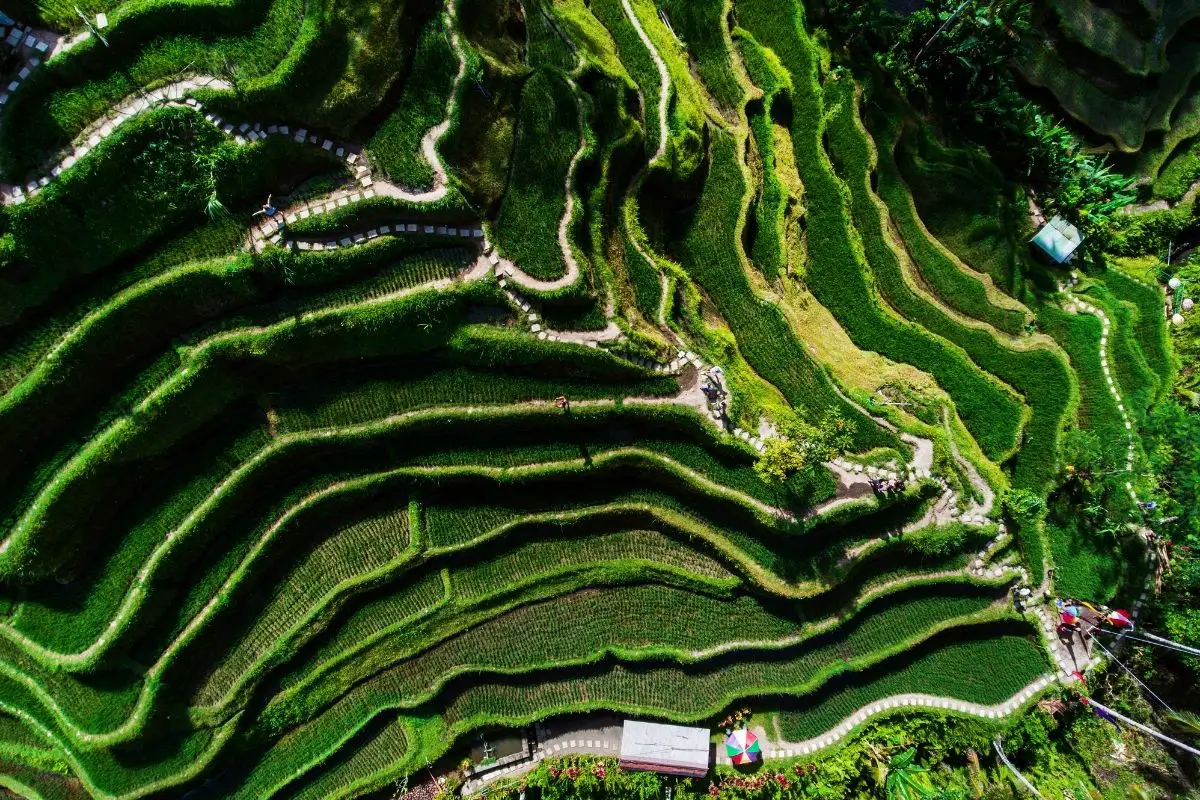 12. The Sacred Beauty of an Elephant Cave
Address: Goa Gajah– Ubud MAP
Goa Gajah is an archaeological site, with great historical value. The cave is impressive and only six kilometers away from downtown Ubud, so not very difficult to reach. For the visit, you need around one hour to descend to the relic-filled courtyard and admire the rock-wall carvings, meditate in the central cave, and have a look at the bathing pools and fountains. The history of the place goes back to the 11th century, serving as a spiritual place for meditation practices. The pool, excavated in 1954, features five out of supposedly seven statues of Hindu angels. Various motifs depicting the forest and animals are carved out of the outer rock face. The giant face was considered to be an elephant's face. Interestingly different religions mix here: the northern side of the complex is dominantly Buddhist while south across the river it's mostly Shivaite. You can enjoy breathtaking views, out looking on rice fields and streams joining later the Petanu River. Goa Gajah was built in the campuhan what means a 'river junction', which was considered sacred.

A LITTLE BIT OF NATURE
13. A close encounter with Turtles!
Address: Turtle Conservation And Education Center– Jl. Tukad Punggawa, Serangan, Denpasar Sel., Kota Denpasar MAP / LINK
Turtles are amazing animals still hiding many mysteries. Due to many threads, they need a good conservation program. The education of local people plays a crucial role. Turtle Conservation and Education Center is a last hope institution allowing turtles to survive in Bali. The Turtle Conservation And Education Center (TCEC) was opened officially in 2006 but still, illegal turtle trading is an important danger in Bali. The local community of Serangan is involved in fighting against illegal trade and in helping find alternatives for this business. The center is dedicated to education, tourism, conservation and research showing local people and tourists the beauty of nature and further perspectives. Hopefully this hard work will give endangered turtles one more chance on Serangan. TCEC is recognized internationally, but more importantly is recognized by the local community. The fundamental aspects for turtle conservation in Bali is to definitively end the turtle trade. Interestingly turtle products are consumed in Bali, mainly due to religious practices, so there is a lot of effort put into stopping these practices by encouraging rituals without killing animals.
14. Immerse yourself in the Sacred Waters of Breathtaking Waterfall
Address: Tegenungan Waterfall – Mengwi, Kabupaten Badung, MAP / LINK
After vising temples and enjoying the excellent food at the restaurants, you might need to take a break and enjoy beautiful Balinese nature. The Tegenungan Waterfall is the only one not hidden in the highlands and mountains, easily accessible by car and then hiking. You go down along the river to approach the waterfall. Tegenungan Waterfall is located at sacred river of Petanu River. It is close by Tegenungan Village south part of Kemenuh Village. The area around the waterfall is also very nice; you will be surrounded by spectacular, very green vegetation. The heavy water flow makes the waterfall perfect for swimming and enjoying the fresh water. But respect the local people as the waters are holy. There is a nearby temple and bathing spot, so the location is very popular among local people to escape from the city rush, recover with nature and meditation. It is not only perfect for city break for locals but also tourists!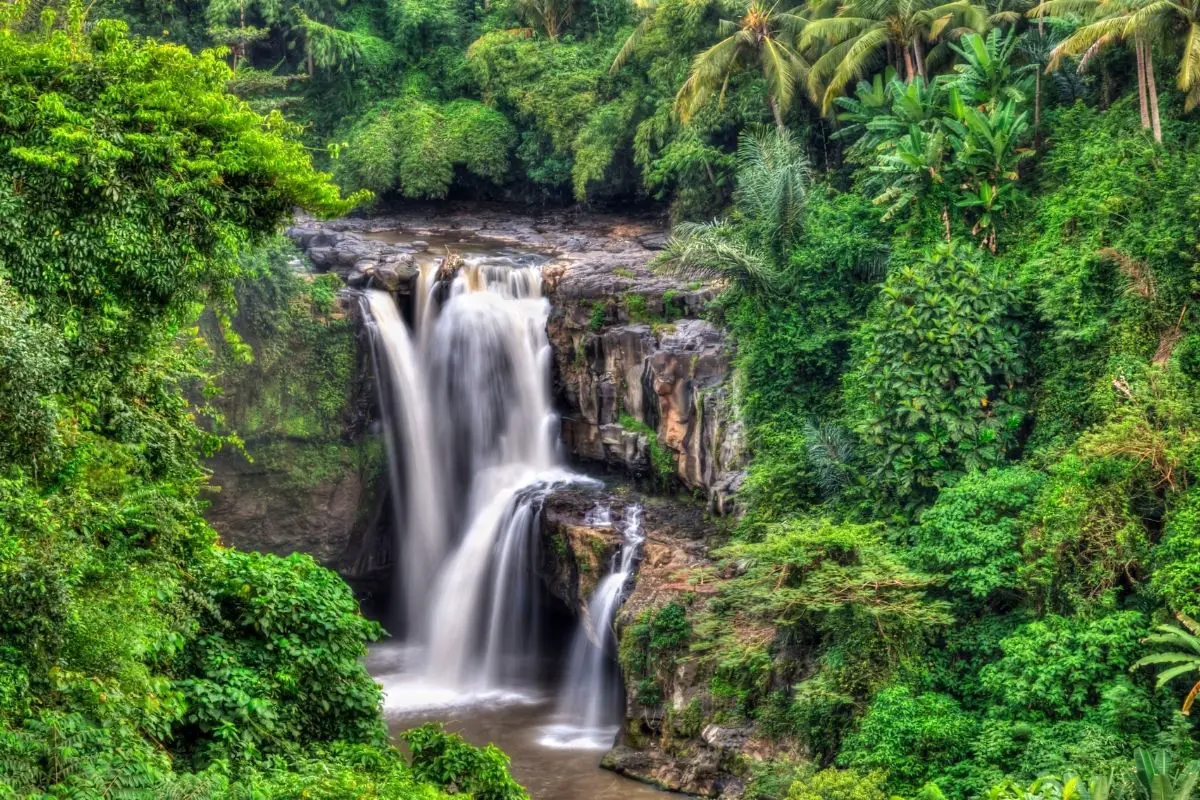 PARKS
15. Heron and Bird-watching Heaven
Address: Bird Village of Petulu – Jl. Raya Petulu No.3, Petulu, Ubud MAP
For a biologist, birdwatcher or nature lover the bird village of Petulu is a most memorable experience in Bali, and offers plenty for the average person too. Fortunately birds aggregate here in the evening (around 5:30) so you don't have to get up super early. The birds are called Kokokan  (herons) and they fly from all over the Bali island to form a massive flock here. The village is small, so there are not that many trees, so you can see over 100 birds camped out in each tree, testing the endurance of all branches. The birds are seen by people from the village as their supernatural guardians. The special rituals are performed once every six months to show them respect and gratitude of having them in Petula. Though you will have to visit during breeding season, otherwise they migrate. The herons are told to be the reincarnation of thousands of Balinese killed during the anticommunist massacre in Indonesia in 1965 and 1966. The birds carry the spirits of ancestors, coming back every year they bring good-luck and happiness.
16. Peace and Harmony, Education and Conservation
Address: Sacred Monkey Forest Sanctuary – Jl. Monkey Forest, Ubud  MAP / FB / LINK
The Sacred Monkey Forest Sanctuary (Monkey Forest Ubud) is a special place, where conservation meets philosophy. The concept is called Tri Hita Karana, which has roots in Hinduism. The etymology of the word can be put into English words as "Three ways to reach spiritual and physical well-being". The main idea of this doctrine is to maintain a harmony between humans and humans, humans and their environment, and humans with The Supreme God. The harmony between each element ensures your ideal relationship with yourself and others in life. This philosophy is not only practiced in the temples, but also outside in nature. There are some special rituals, related to animals, with pretty names Tumpek Kandang and Tumpek Uduh. The Sacred Monkey Forest Sanctuary is an international tourist destination providing peace and harmony to the visitors. It is not only the heart of the city but also takes care of conservation and education. The place is a critical component for the local community, enhancing the spiritual and economic life. Respect local people and do not access sacred and prohibited areas!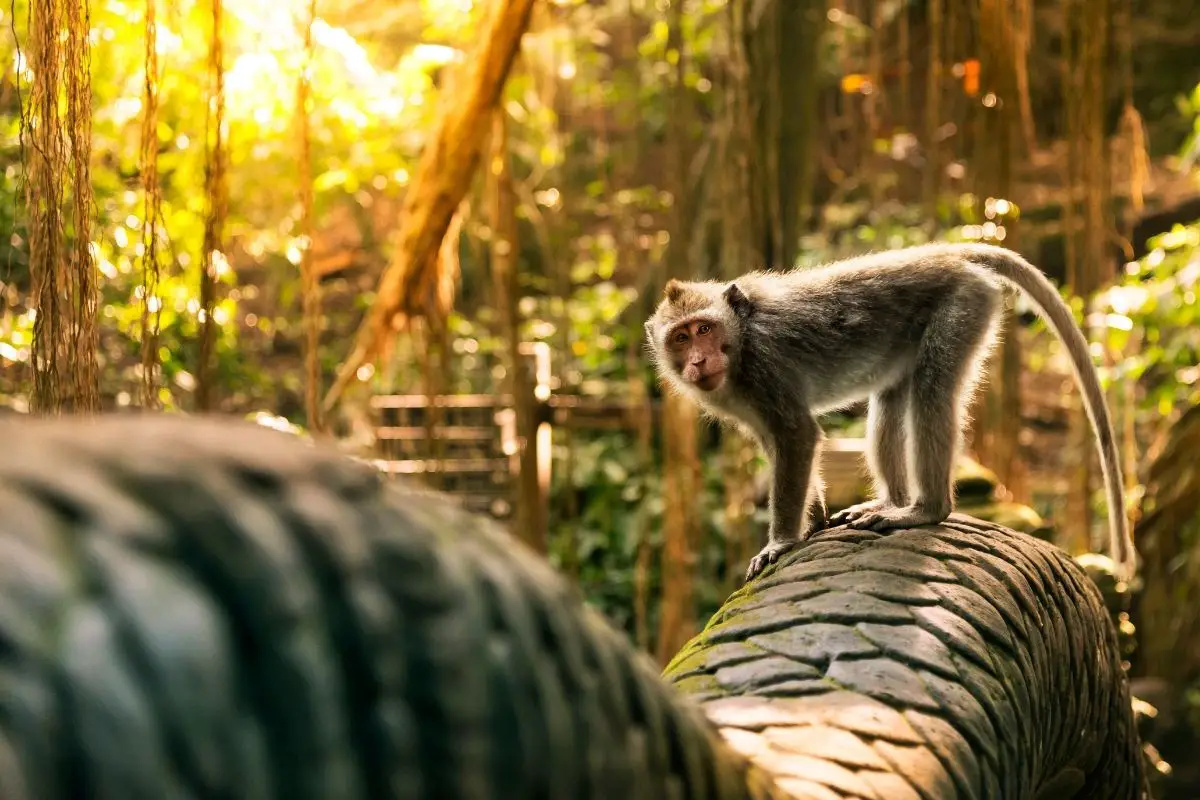 LET'S GET CULTURAL
17. A Hidden History inside the Palace
Address: Ubud Palace– Jalan Raya Ubud, Ubud, Gianyar, Ubud  MAP / FB / LINK
The Ubud Palace is the most important building in Ubud, and one of the most prominent in the whole of Bali. The Palace, officially called Puri Saren Agung, can show the present, past and future of Bali. The palace can be used as a focal landmark of the city. It was built in XIX century, during the lordship of the late Ida Tjokorda Putu Kandel. The palace is of course not to be missed in the Ubud area. You can learn more about Balinese architecture and unique gardening settings. The gardens are witnesses of full rituals and mysticism evening dance performances, must see's for the lovers of Balinese arts. Historically, the Balinese village of Ubud can trace its roots to as far back as the 8th century. An ancient palm leaf which preserved the ancient scripts, being proof of the Rsi Markaneya (holy man from India) who was a founder of the Hinduism traditions, after the spiritual journey across Java and the island of Bali.
      18. The finest selection of art, inspired by nature, culture and people in Bali
Address: Neka Art Museum– Jalan Raya Sanggingan Campuhan, Ubud MAP / LINK
To truly try to understand the people it is always essential to have a look at their habits and art. The Neka Art Museum has a great selection of works from many famous Balinese and expats, inspired by locals. The whole design of the museum is inspired by local architecture. The museum has permanent and temporal exhibitions. The works are ordered historically, which takes you through a small trip in time. The collection is still growing; it already has over three hundred pieces on display. The secret to the collection is that the pieces of art are inspired by the beauty of Bali, the people, culture and nature, which is an amazing blend. The museum is a valuable source of information about Bali, available for visitors and researchers, and made Neka an internationally recognized institution. The education is an important mission serving both locally and globally, spreading the fame of Bali. Hopefully, Balinese art and culture will be an inspiration for you too!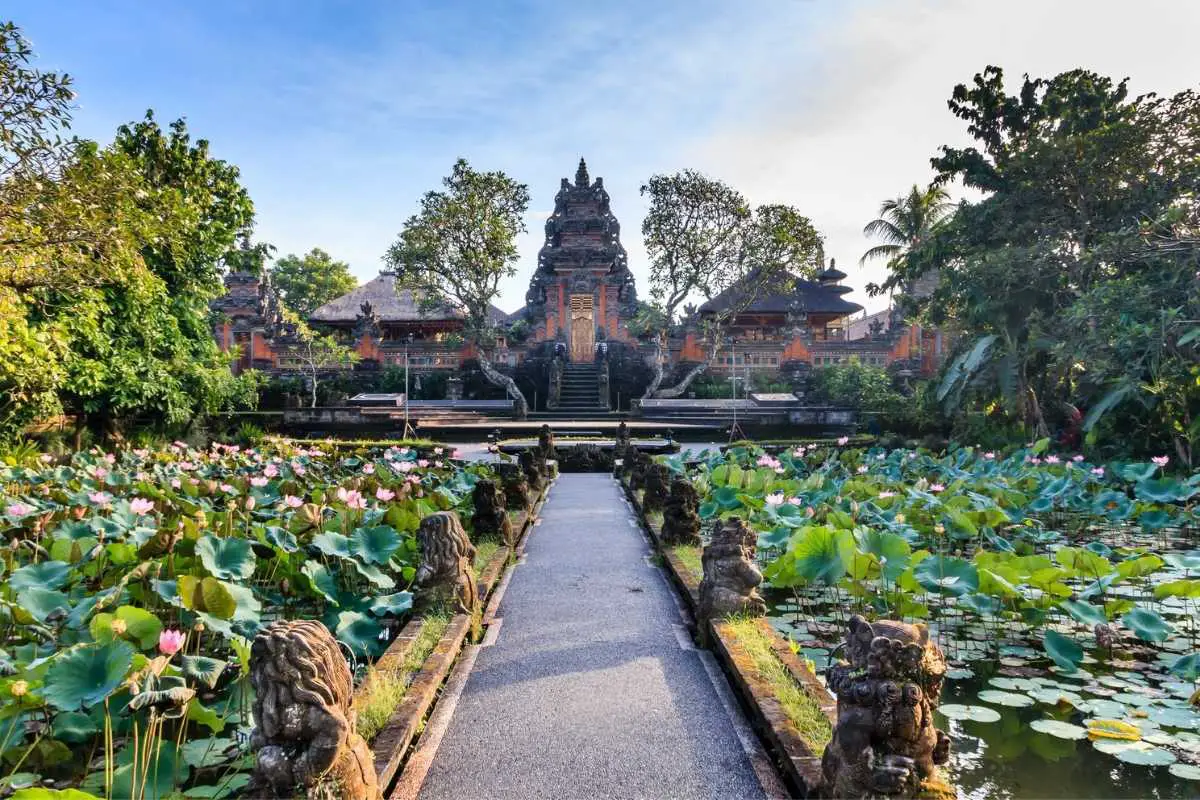 DON'T BE LAZY
19. Total retreat
Address: Yoga Barn– Jalan Raya Pengosekan, Ubud MAP / FB / LINK
Coming to Bali one of your goals was probably to get your body and mind in shape. Too much stress in modern day life is all too common. The atmosphere and spirit of Bali provides a special vibe for mindfulness. The Yoga Barn is like a sacred paradise, being a full service yoga studio and a holistic healing retreat center. The buildings are influenced by indigenous architecture. There is a great choice of treatment offered in the healing center. Not only nourishment is provided for your body but also mind and soul. Daily classes and workshops range from traditional yoga styles of Classical Hatha, Vinyasa Flow, Power, Pranayama, and Restorative yoga. Other modalities include Meditation, Sound Medicine, Kirtan and Ecstatic Dance. The Yoga Barn also contains an established Holistic Healing center that includes, Ayurvedic Rejuvenation, Cleansing & Detox retreats, Sound Medicine, Chinese Medicine, Acupuncture, Chiropractic, Naturopathy and more. The "Yogic Buffet" provides an opportunity for all people to experience Yoga – whether a complete beginner, an experienced practitioner, or somewhere in between. The Yoga Barn has something to offer for everyone!
  20. Rafting on Ubud's white waters
Address: Ubud Rafting– Jalan Raya Kedewatan No.37, Kedewatan, Ubud MAP / FB / LINK
Do you need an adventure, lots of adrenaline, great views and an unforgettable experience? All of this you can get at the white water rafting. The Ayung river is classified as grade II and III rapid class, so without trouble you can enjoy even as a beginner, or even with your kids. Ayung River offers an adventure suitable for everyone. The rafting is around 10 kilometers for which you will need around 2 hours to have fun. Of course you will be accompanied by a professional guide. Make sure you follow the instructions, then everything will be easy and enjoyable, and most importantly very safe. Bali has to offer not only the river, but also beautiful nature, hidden waterfalls and a natural pool you can jump in and swim. So just, forget about everything else and flow with the river current.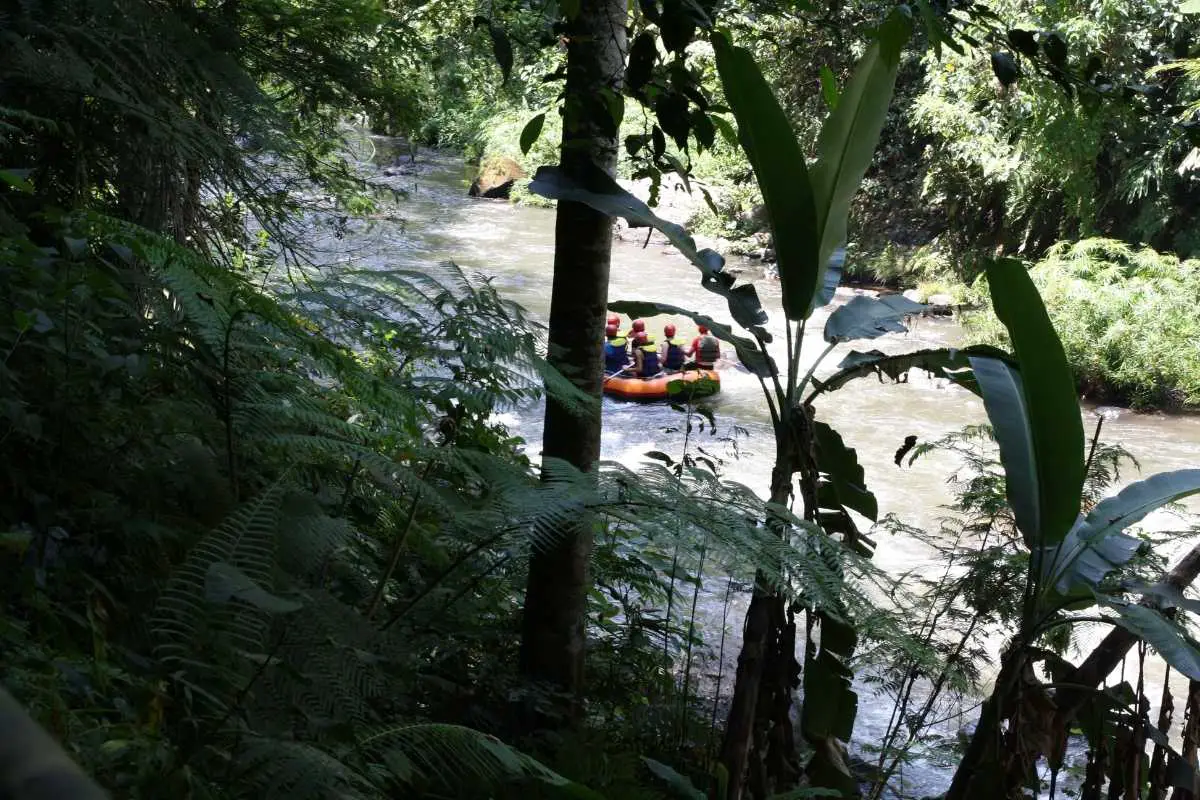 SHOPPING TIME
21. Bargain your souvenirs and gifts on the Craft market from the movie  "Eat Pray Love"
Address: Ubud Art Market -Jl. Raya Ubud No.35, Ubud MAP / LINK
The local market is best to get an insight into local traditions, crafts and gastronomy so don't forget to visit the Ubud Art market, known by local people as Pasar Seni Ubu. Feel like Julia Roberts strolling through the market in the movie "Eat Pray Love" and don't forget to peruse its stalls. You have to choose which side of the market you want to start from, the western side offering the main art market, or the eastern side which offers everyday necessities and groceries. If you want to cut the costs of your souvenirs and presents, this is the place to get the best bargains. The market is famous among Balinese and being located in the center of the village makes it a hot-shopping spot. The good quality, locally produced (in the nearby villages of Pengosekan, Tegallalang, Payangan and Peliatan) products are on offer. You can find many craft objects, perfect for souvenirs and gifts such as silk scarves, accessories, casual shirts, traditional kites, bags, and figurines. Walking around stalls will help you to sense the creativity and craftsmanship of the Balinese.
22. A Spiritual Experience visiting a Ganesha Bookshop
Address: Ganesha Bookshop -Jalan Raya, Ubud  MAP / FB / LINK
Ganesha bookshop is the place to be, not only is it a small family business but also an important point in cultural exploration in Bali. The founders are artists and they started collecting books in order to become a place of knowledge exchange between readers, collectors and researchers. They started from a small collection, changed it into a second hand outlet and now it is not only a bookshop but also a center of culture, literature and history. You can find books concerning any question you would like to ask about Bali. It is not a bad idea to hunt for some souvenirs like cookbooks or arts albums. Thinking about tourists they offer also a wide range of exotic gifts and cards. The main bookshop is located in downtown Ubud, close by the Ubud Police Office. There is also a second location, in the seaside area od Sanur. What's exciting is that they have a great range of books in both Indonesian and English. The have also a collection of scarce as hen's teeth books in the antiquarian collection.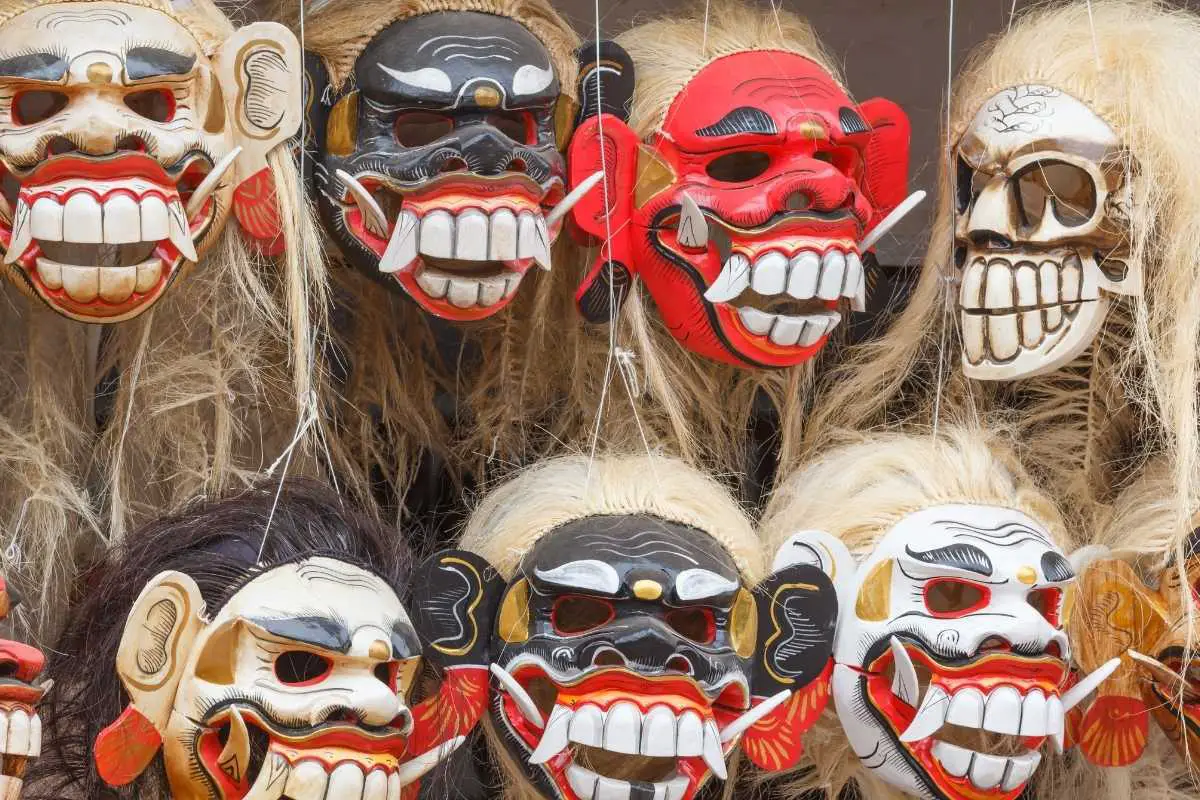 DAY TRIP
23. Romantic sunset with a volcano landscape
Address: Mount Batur's Volcanic Landscape, viewed from Pinggan village, MAP
Imagine a beautiful, colorful, picturesque sunset, with an impressive volcano. This experience is on the top of bucket Bali list, so make sure you don't get stuck in the crowd of people trying to get a nice picture too. Mount Batur (1917m) is not surprisingly the most visited volcano in Bali, so you better put some effort to do the trip in alternative way. The most touristic path will lead you with a chord of other tourists to Kintamani village in order to enjoy breathtaking views. Nevertheless, this is not the most spectacular viewpoint, so you would better head to the somewhat isolated village Pinggan for views of the majestic fire-breather. Enjoy the splendor of the active volcano in a meditative way. If you like photography, the most photogenic times are sunrise and sunset at Batur. Also night views are impressive, with the lights of Pinggan village spread out at the foot of the mountain, and a sky full of stars twinkling above the peak. From Ubud it is only an hour drive (45 km).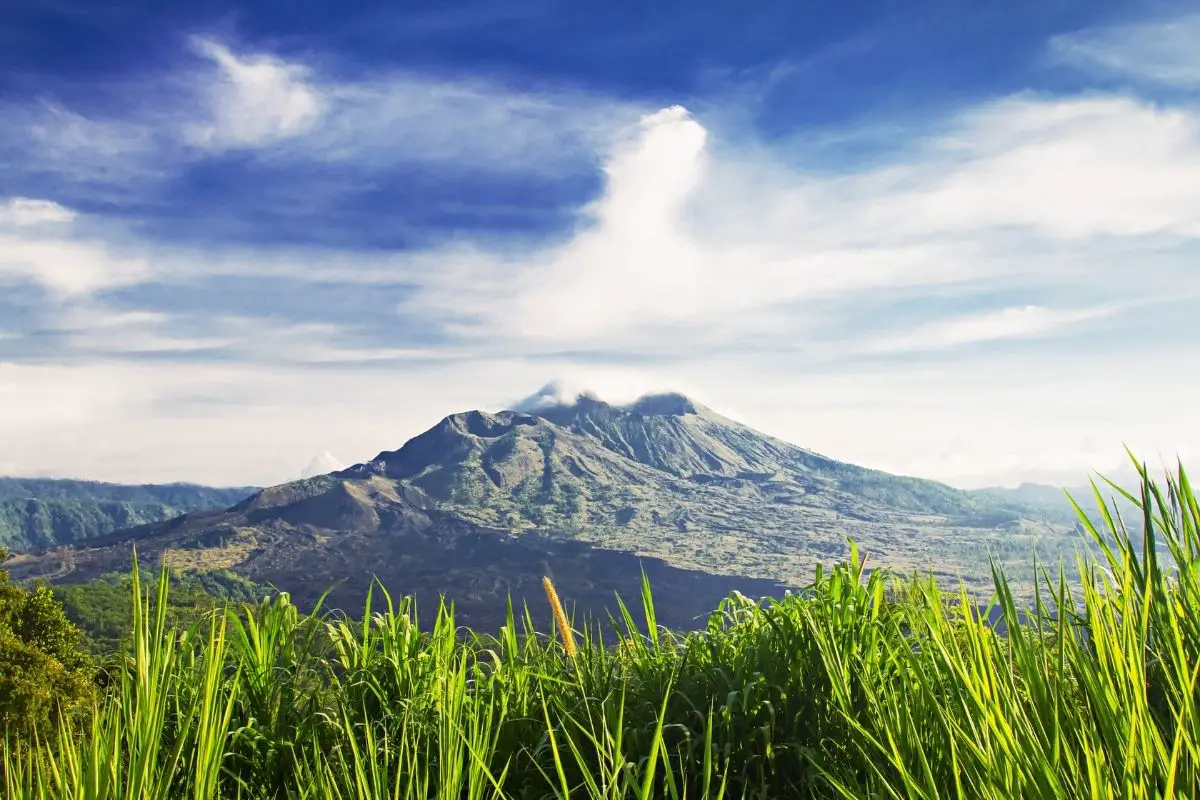 ENTERTAINMENT
24. Demons on fire: Kecak & Legong Dance Performance
Address: Arma (Agung Rai Museum of Art) Open Stage– Jl. Raya Pengosekan Ubud MAP / FB / LINK
Indonesia is a country where spirits, rituals and traditions play a crucial role, making Indonesian culture even more exciting for potential visitors. There are two most important dances in Bali: kecak and legong. Kecak impresses with its huge chorus of bare-chested male singers, making it a memorable experience. Kecak has almost 100 years of tradition and was created for the movie "Island of the Demons", which name corresponds well with this spiritual dance. The whole performance combines a story from the epic Ramayana and the chorus of Sanghyang trace dance. The other dance is called Legong. The legong is really different and requires great physical shape and dexterity so it is usually performed by young girls. The dance is a precise masterpiece, with everything choreographed in advance in great detail, allowing no room for improvisation. Watching the show is a great visual and spiritual experience, which will charge your cultural batteries for some time.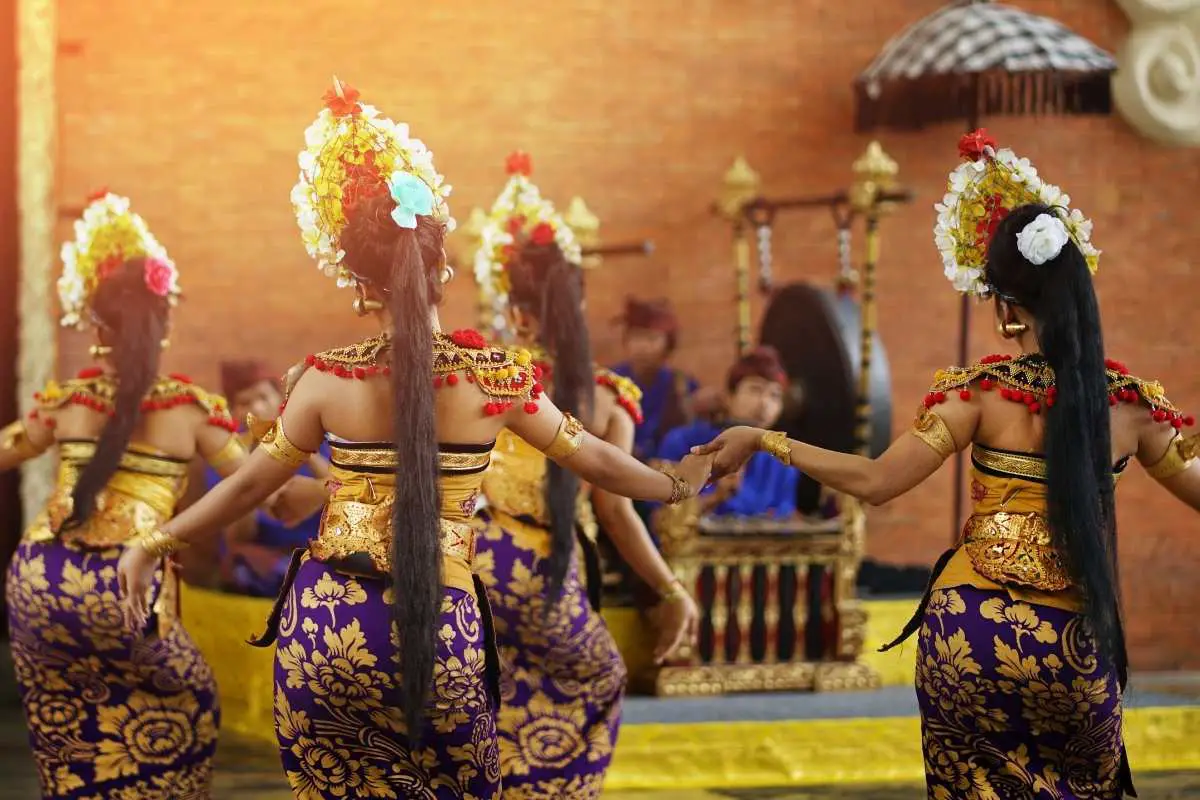 25. Traditional Indonesian Puppet Show
Address: Oka Kartini– Jl.Raya Ubud (In front of BCA Bank) MAP / LINK
Are you fan of Kermit and the puppet show? Do not miss a traditional shadow puppet show in Bali. They are known as Wayang kulit, meaning shadow. It is probably the same as the old Christian traditions, dated around the first century AD. It has some connotations with Hindu, based on Ramayana and Mahabharata epics. The shows consist of love, adventure and comedy, and are packed with fun! As you watch the shadows, notice how the puppets are intricately made and beautifully painted. Years of tradition, different history and legends influenced Bali puppetry, which became an integral part of Balinese culture. For the performance, only a translucent rice paper screen is used, back-lit by flickering candles or a coconut husk oil lamp. The usual time for puppets is at night but sometimes there are some shows with the daylight. Remember that staying in Ubud, you are in the best place to see a shadow puppet show as Ubud is considered the cultural and artistic capital of the island.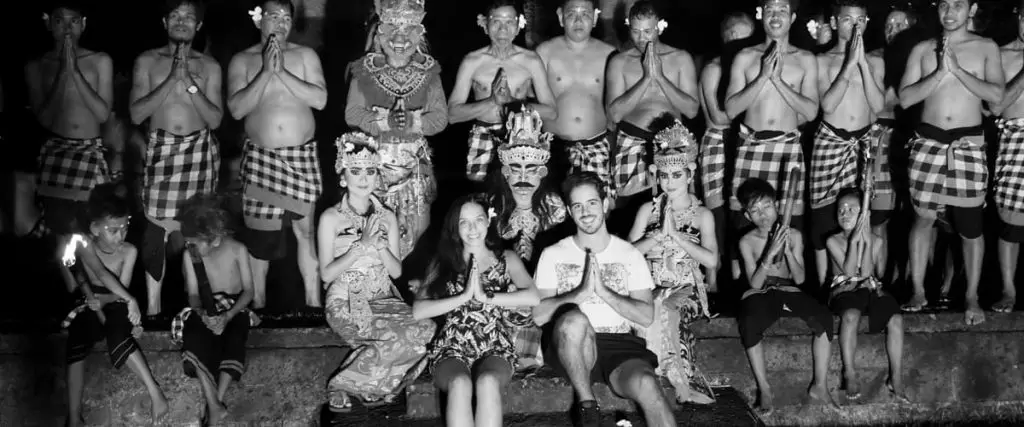 IN COLLABORATION WITH