25 Cool things to do in Athens in 2021
Ancient and modern, bustling Athens is a heady mix of history and edginess. Iconic monuments mingle with first-class museums, lively cafes and al fresco dining. There are lots of things to do in Athens and, together with our local friends we bring our exclusive list of cool things to do in Athens when you are in town.
Post-Olympic Athens, even in the face of current financial issues, is conspicuously more sophisticated and cosmopolitan than ever before. Stylish restaurants, shops, hip hotels, and artsy-industrial neighbourhoods and entertainment quarters such as Gazi, show Athens' modern face.
In this historic town, you'll walk in the footsteps of the great minds that created democracy, philosophy, theatre, and more…whilst dodging motorcycles on "pedestrianised" streets.
The contemporary art scene is thriving in Athens, with cheap rental rates prompting young artists from Greece and even other countries to set up their studios here.
Athens is home to Piraeus, the largest passenger port in Europe and a major node for the countless ferries, catamarans and hydrofoils that serve the Greek islands.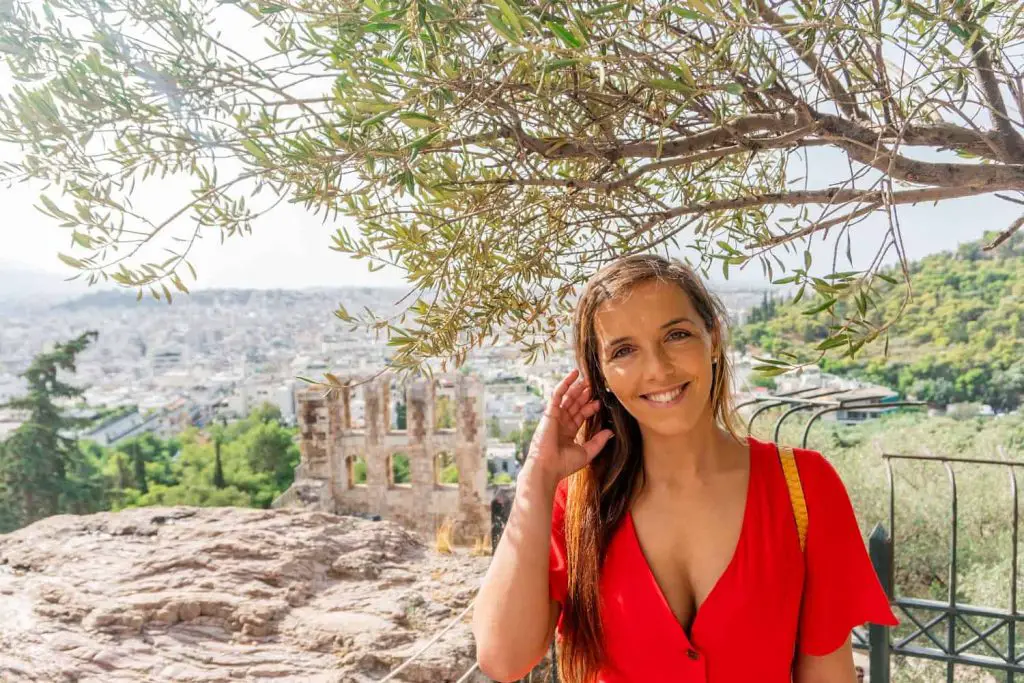 In this guide, you will gain an insight of the best places to visit here in Athens.  Seeing these sights will not only show you the beautiful scenes that Athens has to offer, but will also show you the ways of the locals and allow you to experience the warm nature of the Greek people.
The following places are some of the must visit areas whilst in Athens. Apart from sightseeing, the best places to eat are included along with some suggestions for experiencing the Greek nightlife.
We hope you enjoy your trip to Athens and that this guide will help you to see this unique city from the perspective of a local.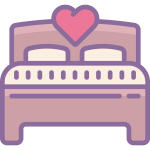 WHERE TO STAY IN ATHENS
Athens is a huge city so location is key. We love to explore a new city by walking around so staying close to the main sights if the most important factor when we are looking for accomodation.
If you are looking for a central, classy and  clean place to stay during your visit to Athens we highly recommend Urban Frame Hotel. We have stayed in this lovely hotel as a recommendation from one of our Greek friends and we had a really lovely stay. The hotel is located walking distance from Syntagma square where you can get a train/bus directly to and from the airport. As a bonus you can even get a room ith direct view to the Acropolis.If you would like to book with the lowest rate available online click here now.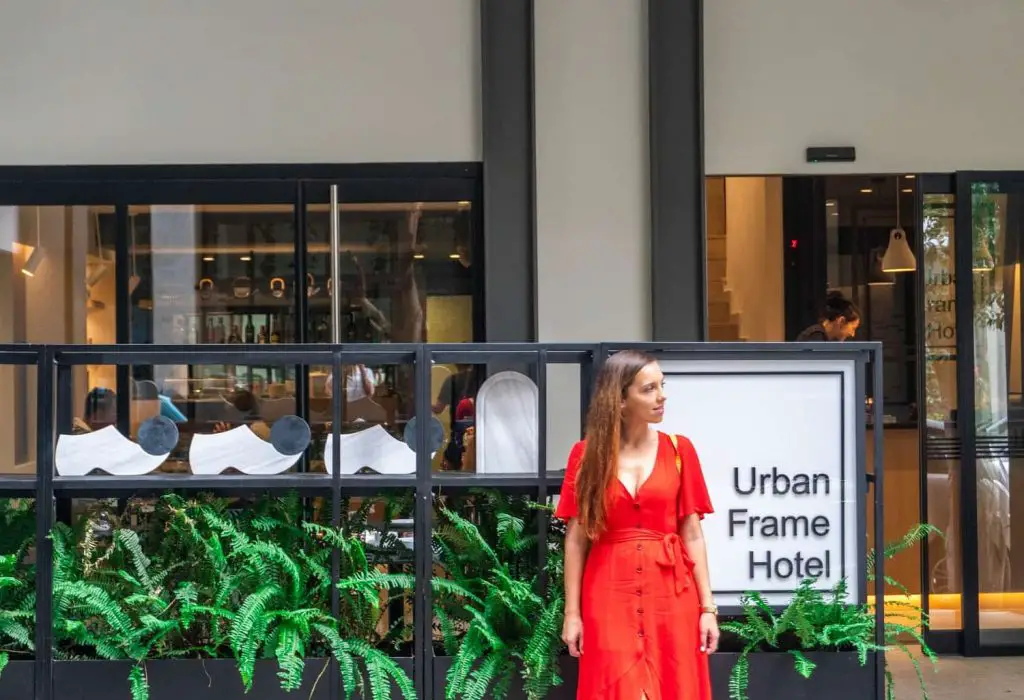 TIME FOR A MEAL
1. Try Greek Cuisine in the Centre of Athens
Address: Athinaikon restaurant – 34 Mitropoleos St, Athens MAP / FB / LINK
Just a short walk away from Sintagma square, one of the most buzzing squares of Athens, you will find Athinaikon restaurant – a cosy, simple restaurant – where you can try traditional Greek food; appetizers, salads, cheeses, pasta, fish, seafood and speciality meats. Some of the most popular are: tzatziki (yogurt mixed with garlic, cucumber, salt and olive oil), Greek salad (cucumber, tomatoes, olives, onion and feta cheese), feta cheese, moussaka (layered eggplant, tomato, béchamel white sauce and minced meal), politico (salted meat, fried kefalotiri cheese, soutzouki meat and eggs), lamb meat, many fish and even seafood dishes.
There are many desserts available for tasting too. Make sure you try the Greek coffee and the traditional Greek alcoholic drink, Ouzo. Furthermore, Greece specialises in wines (red and white) and beers! Most Greek people drink beer or wine when eating meat and Ouzo when eating fish or seafood. There are also many options for vegetarians.
2. The best grill/kebab restaurant in the city
Address: Thanasis kebab restaurant– 69 Mitropoleos St., Monastiraki, Athens , MAP / FB / LINK
Monastiraki square is another popular square found in Athens.  Located just below Acropolis, it has many cafes, bars, restaurants and shops. So, why not to go to Thanasis kebab restaurant and try the most popular Greek foods; giros, pitta or souvlaki.
Giros pitta is pork or chicken grilled – on a vertical rotisserie – and served wrapped in pitta bread, with onion, tomato and tzatziki sauce. Souvlaki, similarly, consists of small pieces of grilled chicken or pork. It is served in pitta bread with tomato, onion and tzatziki sauce or as a dish with fried potatoes and tomatoes. There are also other dishes such as kebab portions, giaourtlou (beef steak), giros (chicken or pork), Greek salad and tzatziki sauce. You can combine these tasty foods with a Greek beer or wine. Usually the weather is perfect for sitting outside the restaurant to enjoy the speciality giros or souvlaki since Greece has a very warm climate. However you may choose to take a break from the sun by sitting inside.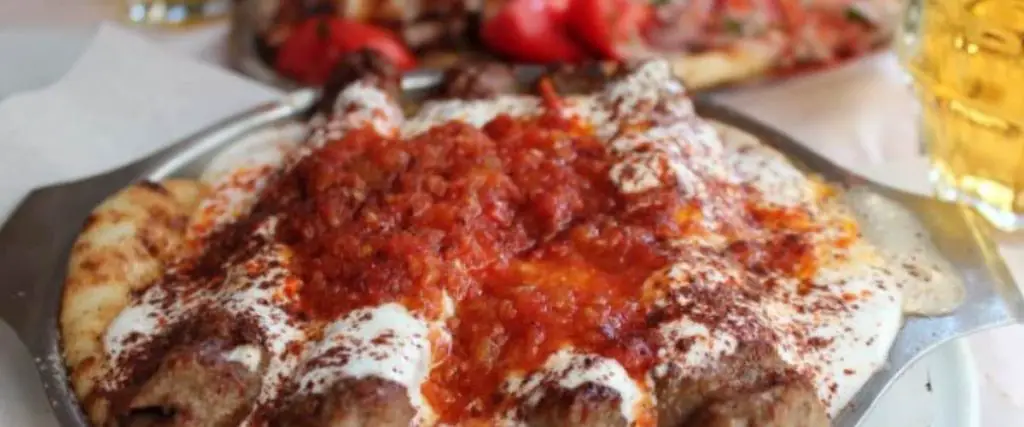 3. Cretan Cuisine: One of Greece's biggest Islands
Address: Ta romanakia , 366 Mesogion St., Agia Paraskevi, Athens MAP / FB / LINK
Creta is the biggest Greek island, located in the south, and there are many traditional Cretan dishes which are worth trying. Cretan cuisine can be found readily in Athens, but Ta Romanakia stands out as one of the best places to go because of the tasty food, the wide variety and the live traditional Cretan music nights that are often organised. The most popular Cretan dishes are: ntakos (cracker bread with tomato, feta cheese, oregano and oil), chochli (snails, cooked in various recipes), apaki (smoked pork with vinegar), ofto (grilled lamb), fava (split peas), kalitsunia (small soft cheese pies with cinnamon) and more. It is really worth trying sfakianopita, a traditional sweet cheese pie with honey, that is typical in Sfakia, a region in the south of Creta. Of course, along with the traditional food comes the traditional drink of Creta: raki – an alcoholic drink, unsweetened and sometimes aniseed flavoured. The restaurant is decorated with photos from Creta and many other traditional Cretan things, like musical instruments. If you go in the evening make sure you check for live, traditional Cretan music at this restaurant.
4. Try Greek Mezedes in a Traditional Neighbourhood
Address: Dioskouri – 13 Dioskouron St, Athens , MAP / FB / LINK
Mezedes are small portions of food that are served in Greek restaurants or sometimes in coffeehouses. Plaka is a neighborhood in Athens, just below the Acropolis and it has a lot of narrow streets with traditional looking homes, restaurants and cafes. If you go there, enjoy mezedes with a bottle of ouzo, the traditional Greek alcoholic aperitif or some Greek wine.
Dioskouri is a 30 year old coffeehouse/restaurant that specialises in these mezedes, and it's a nice choice for the spring or the summer as you can sit outside. The restaurant opens onto the narrow streets of Plaka and occasionally there will be Greek music playing in the streets. There are also some tables inside this restaurant if you fancy a break from outdoors. The menu has many choices: feta cheese, sausages, pork, beef, split peas, anchovies, tzatziki sauce (yogurt with garlic and cucumber), mushrooms, pumpkin croquettes, burgers, chicken, steak, pasta, octopus, squid, saganaki (fried cheese) and many salads. You can have a few of these small dishes and enjoy the sun just like the Greeks do!
5. Try Greek Fish and Seafood
Address: Trata – 8 Themistokleus St. and 9 Nikitara St., Athens , MAP / FB / LINK
Greece is surrounded by islands, so it's not surprising that fish and seafood are very popular. But you don't need to go to the islands to try fresh Greek fish and sea food! You can also do this in the centre of Athens, near Omonia square (there's a metro station with the same name). Trata restaurant specialises in sea food. There, you can try cod with garlic, shrimps, anchovies, crayfish, snapper, bream, grilled sardines, clams with peppers, squid, octopus and many more. Fish soup recipes (like kakavia) are also very typical, so why not give one of those a try? Of course, you can combine this with Greek salad and a bottle of ouzo (the traditional Greek alcoholic drink – an aniseed-flavoured aperitif) or raki (Greek alcoholic drink from Creta island). Or if you don't fancy that, you can try some Greek wine or beer. The restaurant is simple and quiet which is surprising considering it's in the very centre of Athens. Greece has a lot of beaches and coastal areas, so trying fish and seafood is a must during your stay in Athens!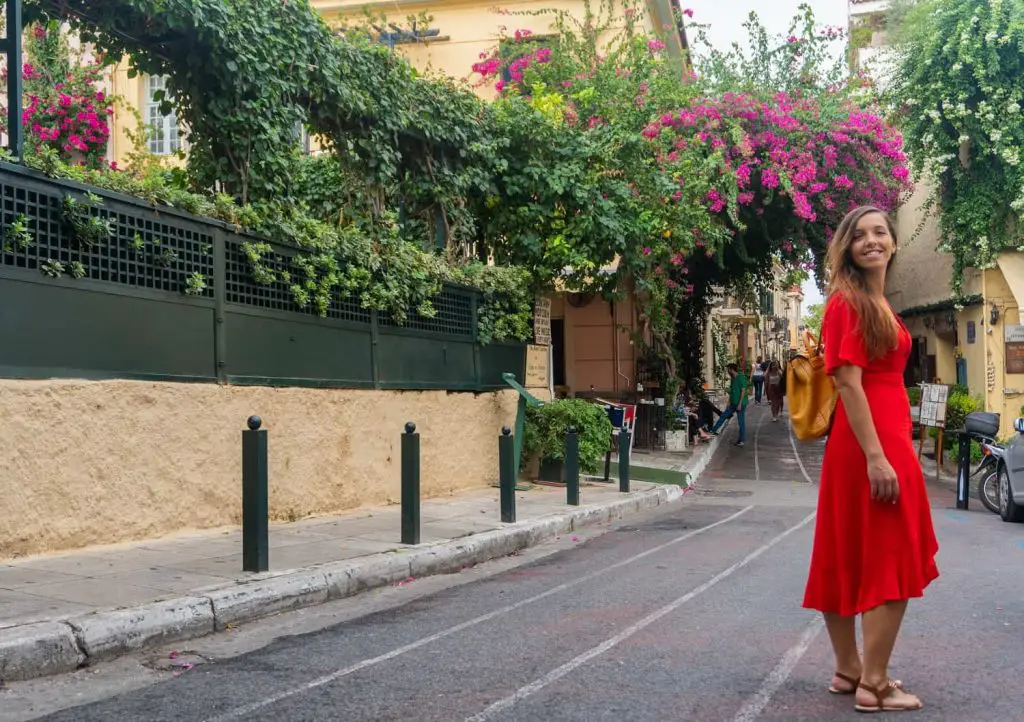 ARE YOU THIRSTY?
6. Grab a Beer and Enjoy Some Rock Music
Address: Tithora – 275 Ionias St, Ano Patisia, Athens , MAP / FB / LINK
In Athens, there are many rock music bars, spread around the city. Just a 5 minute walk from  Ano Patisia metro station (a 15 minute ride with the metro from the city centre), you can go for a beer and listen to some rock music – both Greek and international – at Tithora bar. The bar specialises in draft or bottled beers but other wines and drinks are available too.
The bar is also open in the morning and in the afternoon if you want to enjoy a coffee or a beer and listen to rock music. Usually Tithora has classic rock and heavy metal music most of the weekdays and on weekends it plays mostly Greek rock music. Often, there are events and DJs, which you can check from the web page or the Facebook group. There are also some tributes to international and Greek rock music bands and singers. So, if you are a rock music fan you should go to this bar and see the rock side of Greek nightlife in Athens!
7. Try a Warm Greek Aperitif
Address: Rakomelo – 9 Distomou St, Ilioupoli, Athens  MAP / FB
Rakomelo is warm raki with honey. Raki is a traditional Greek unsweetened alcoholic drink, popular mostly in the Greek islands. Rakomelo usually comes in small 100ml bottles that are called "karafakia" and it is served in shot glasses. Most people drink Rakomelo hot, but sometimes in the summer it is preferred cold. You've got try this aperitif, especially in the winter, like the local people do!
Rakomelo bar, as you can guess from the name, specialises in Rakomelo but also serves Greek cuisine. The bar is actually inside a 90-year-old stone house and sometimes has  Greek and international music playing. It's an artistic place, as Rakomelo organizes painting, sculpture, photography, jewellery exhibitions and theatrical performances. From time to time, DJs play Greek and international music there so you should check the events going on at Rakomelo bar on the Facebook page. It's up to you, come to Rakomelo just to chill out with some music or to visit the many exhibitions it has to offer; either way, you can combine it with a bottle of Rakomelo!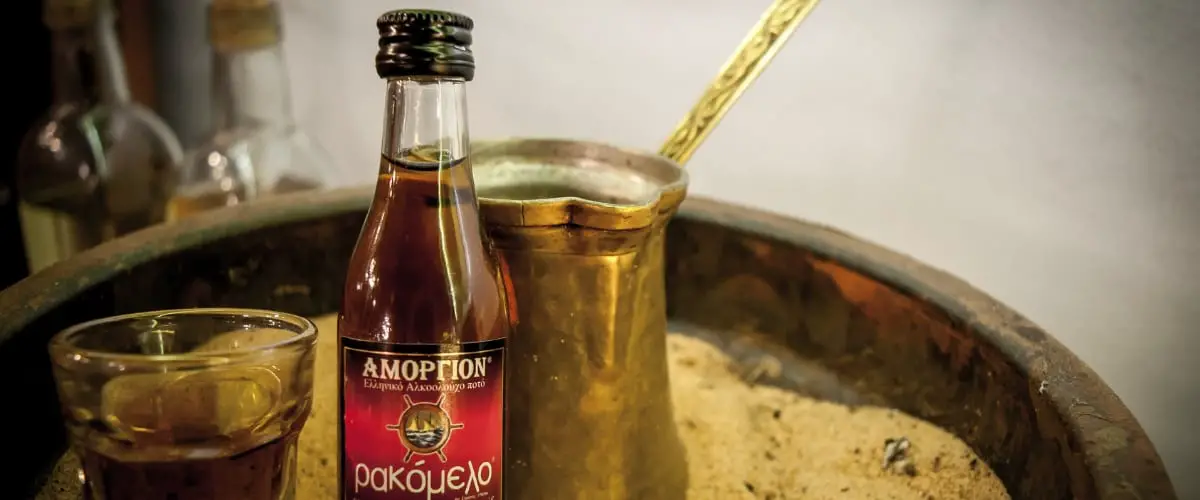 8. It's Cocktail Time with a Sea View
Address: Charlotte Wine Bar – 38 Akti Koumoundourou St, Pireas, Athens , MAP / FB
Pireas, the coastal area of Athens, is home to the biggest port of Greece. Mikrolimano is a neighbourhood found in Pireas, built in a small bay with lots of yachts and great sea views. It's definitely worth walking around Mikrolimano at sunset or in the early evening. In this area there are a lot of cafes, bars and restaurants. In particular, you should visit Charlotte Wine Bar where you can choose from a great variety of cocktails along with wines and beers. This bar also serves some speciality foods, including salads, cheese, cold cut dishes and some seafood dishes like pasta with salmon. You can even try a crepe here. If you're busy during the night, you can go to this place to sip on a hot coffee and enjoy the beautiful views. It's decorated like a French bistro; elegant with an industrial design combined with belle époque elements. The music which tends to be played here is jazz and funk, which is perfect for relaxing!

NIGHTIME FUN
9. Enjoy bouzoukia, the most popular Greek way of nightlife
Address: Astrofeggia – 296 Patision St, Athens MAP / FB
Mpouzoukia are places which have live Greek music, usually old fashioned songs, but occasionally recent songs. Bouzouki (singular of bouzoukia) is a traditional Greek instrument with four double strings. Almost everyone that comes to Athens, even for a few days, goes to experience bouzoukia and leaves Greece with great memories of the music.
Astrofeggia is located close to Athens city centre and there you can enjoy live old-fashioned Greek music performed on the bouzouki. On Fridays and Saturdays this bar is open until 5am so be prepared for a long night! They serve normal drinks; wine, whiskey or vodka but there is also a set-menu available. It costs 15 euros and it includes a salad dish, fries, traditional cheese pie, a sausage dish, dessert and wine. For an additional 5 euros the menu also includes one of the following: steak, chicken fillet or pork chops.
Do you love to dance? You should try to dance to this kind of music! Most Greek people really like to dance. There are many styles of Greek dancing, but sirtaki, chasapiko and zeimpekiko are the ones which are normally danced to this style of music.
10. Party Until the Sunrise with Great Music
Address: Socialista club – 33 Triptolemou St, Athens MAP / FB / LINK
Just a 10 minute metro ride from Sintagma square is the "gazi" area, near keramikos metro station. It surrounds the old Athens gasworks and is well known by local people for the nightlife. There are many bars and nightclubs in this area, but also lots of fast food or kebab restaurants open until the morning. Socialista club is designed quite industrially and is very popular with the local people. It has a capacity of eight hundred people and on weekends it's completely full! There's the option to enjoy your cocktails (handmade by the bar's many specialised bartenders) outside if you need a break from the dancefloor. It's guaranteed you'll meet plenty of interesting people who you can party with until the morning to the Greek and international music. Occasionally there are special events going on, such as international DJs, which you can find on the Facebook page. These events are not to be missed and the famous artists often keep going until the sunrise!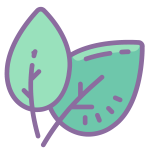 WHAT A BEAUTIFUL SIGHT!
11. The Views of Acropolis and Central Athens
Address: 360 Cocktail bar – 2 Ifaistou St, Athens MAP / FB / LINK
In the centre of Athens, at Monastiraki square, you can go to a bar with an amazing view out across the entire city! 360 Cocktail Bar is the best place to enjoy a drink whilst glancing over the ancient citadel of Athens, built on a rocky hill. The place is open all day until late in the evening (on weekdays until 3am and weekends it's open until 4am). You can go there to enjoy the sunset over the capital of Greece, you can grab a cocktail during the night – and see Acropolis illuminated – or why not enjoy a coffee in the morning! The place offers lots of different cocktails, coffees and other beverages and there's even also a restaurant. 360 Cocktail bar has a rooftop garden, a bar on the third floor and also a restaurant on the second floor. So let's enjoy the warm spring and summer nights on the rooftop garden and in the elegant restaurant during the winter. 360 Cocktail bar definitely has one of the best views over Athens!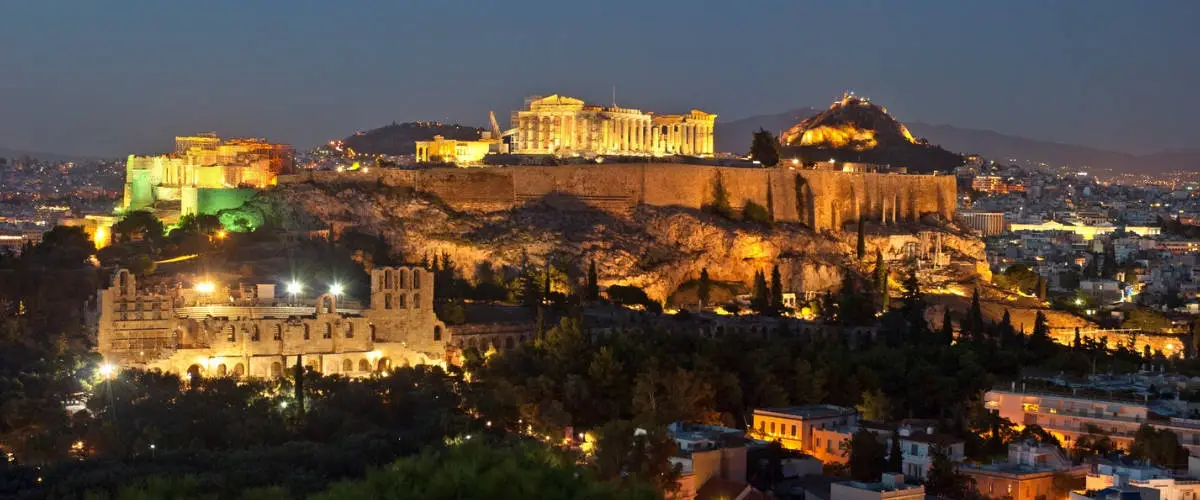 12. A Panoramic View of the Whole City of Athens
Address: Zafiro cafe – Tourkovounia, Attiko Alsos, Athens  MAP / FB
If you take the metro on the green line to Ano Patisia station and then catch the bus 623 or 624 you'll arrive at Attiko Alsos park, on top of a hill, not very far from the city centre. There's a great view from the top across over Athens, and it's a bit different to the normal places that tourists tend to go! It's a great place to enjoy a coffee and it's perfect to watch the sun setting over Greece. You can go to Zafiro café, located in the park, and sit below the trees to take a break from the warm Athens sun. They serve many different coffees; espresso, cappuccino, strong Greek coffee, hot chocolate and even beer and wine. If you want to enjoy the evening view of Athens you can also stay there for dinner to try their great restaurant. It's lined with comfortable sofas so it's perfect for all year round.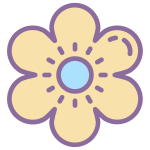 A LITTLE BIT OF NATURE
13. The Great Hills of Athens
Address: Mount Lycabettus – AdressOfThePlace , MAP / FB / LINK
Lycabettus mountain, not very far from the city centre of Athens, is 300 meters high and it is covered in pine trees. It's perfect for an afternoon walk, up the hill, to take in Greece's nature. There are a lot of pathways and routes to take around the hill and it provides a break from the noisy city centre of Athens. Why not sit on the benches under the trees and avoid the sun for a while? You could pack a picnic and enjoy the view of the Greek capital. There's a funicular railway from the terminal of Kolonaki area, at Aristippou street too! On top of the hill there is a restaurant, the church of St. George and an amphitheatre. The view from the top is amazing, especially during the sunset. According to Greek mythology the hill was dedicated to the ancient Greek goddess, Athena. So if you can, it's a must to watch a concert in the amphitheatre of Lycabettus where a lot of Greek and international singers and bands have performed.
14. Chill out in a large Green area very close to Acropolis
Address: Filopappou hill– Filopappou, Athens MAP / FB
An interesting route to see the city centre and the ancient ruins of Athens is to walk from Sintagma square to Monastiraki, then to Thisio and follow the footpath to Apostolou Pavlou. From there you can turn right and go up Filopappou hill, which features a large grassy area with some pathways that lead to the top of the hill. Along these pathways, you can relax under the trees, before you reach the top of the hill where there's another great view of Acropolis from a different perspective. More specifically, you can see the traditional neighbourhoods of Koukaki and Petralona from the top. At the top of the hill there's the Filopappou monument which dates back to the Roman era. On your return, you should walk along the east side of the hill to see the caves; Socrates prison. These are named so because Socrates, a Greek philosopher, was rumoured to have been imprisoned there, but it was recently discovered out that this wasn't the prison.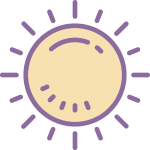 PARKS
15. Central Green Spaces
Address: National garden – 1, Amalias St, Athens  MAP / FB / LINK
Right next to the Greek parliament and Sintagma square, the heart of the Greek capital, you can find the national garden, a big park with many trees, historical figurines and ponds. As you enter the park, you're surrounded by palm trees. If you walk around the park, you can relax in the many gardens inside, have a picnic and get away from the noisy city centre. The main entrance to the park is from Amalias St, near the Greek parliament but there are three more gates around the garden. The park is open from the sunrise until the sunset. Furthermore, there is a duck pond, a children's library and a playground which makes the national gardens a perfect choice for children, too. In the garden, you can also have a coffee at the small café there or visit the botanical museum. Behind the national garden, you can also visit Zappeion garden, which features a grand 19th century building, a monument of Zappeion and other ancient monuments from the era of the Olympic games.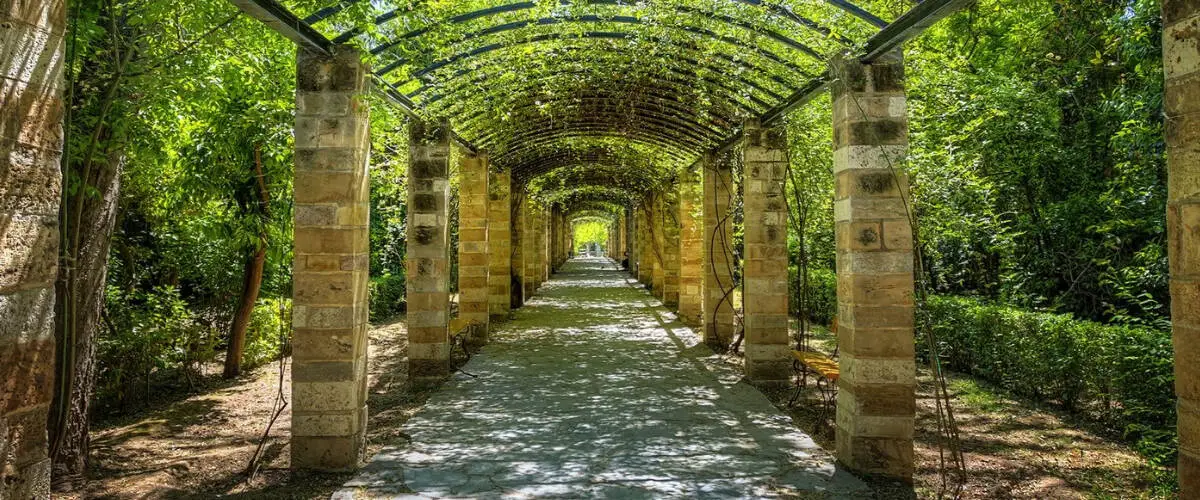 16. Largest Public Park in the Greek Capital
Address: Pedion tou areos – AdressOfThePlace , MAP / FB / LINK
If you walk 15 minutes from Omonoia square, one of the main central square of Athens, or catch the green metro line to Victoria station, you'll reach a vast green space in the city centre, Pedion Tou Areos. This translates to the Field of Mars (Mars was the ancient Greek God of war). The main entrance is found at the start of Alexandras avenue. You can walk through the park and reach the central square where you will find a fountain surrounded by different types of plants and trees. There are two churches, an open theatre and a playground inside the park, too. Pedion tou areos is dedicated to the heroes of the Greek Revolutionary war of 1821, and some marble busts of them are found around the park. It is really worth visiting the park during the spring, when a lot of flowers are blooming and the park is transformed in a feast of vivid colours.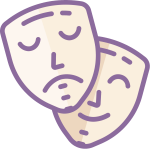 LET'S GET CULTURAL
17. Discover the History of Greece
Address: Acropolis museum – 15, Dionisiou Areopagitou St , Athens MAP / FB / LINK
Acropolis museum is an archaeological one and features mainly items found in the Acropolis area of Athens. It has permanent and temporary exhibitions. Just after the museum entrance a glass-floored gallery is shown, looking out to the archaeological excavation ground found at the slope of Acropolis. In the gallery of the Acropolis you can see objects found in the ancient sanctuaries around Acropolis. Next, you should visit the archaic Acropolis gallery and enjoy its exhibits in three dimensions. Make sure you view them from all sides because when the natural light is changing you can select a different point of view to observe the surface variations of the sculptures. Of course, the exhibition would not be complete without main attraction of the Acropolis: the Parthenon temple. In Parthenon gallery, there are ancient marble inscriptions on which records of the construction of the temple are written. Finally, on the first floor some sculptures from Acropolis are exhibited, like the famous Caryatids (female figures that were used as pillars at the construction of ancient Greek buildings).
18. Discover the History of Greece; The Palaeolithic age
Address: Benaki museum – 1, Koumpari St, Athens MAP / FB / LINK
Greek history starts from the Palaeolithic age and has spanned a lot of different eras: ancient, Roman, Byzantine, post-Byzantine, Ottoman Occupation, the formation of modern state of Greece and the recent years. If you want to see works from those eras you can visit Benaki museum, in the centre of Athens, close to Sintagma square. The museum has three floors full of exhibitions offering information about Greek history. There are some works of Asian and Coptic art and if you are a photography fan it's really worth visiting the photography exhibitions of the museum, with photos of monuments of the various eras of Greek history. There are many photos of famous Greek photographers. You can also check the website or the Facebook page for the temporary art exhibitions or the events that the museum is organising, such as guided tours of specific exhibitions.  Finally, you could also visit the other branches of the museum, in Piraeus Street, like the museum of Islamic Art or the modern architecture archives.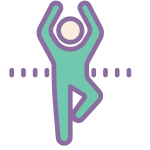 DON'T BE LAZY
19. Cycle Around Acropolis
Address: Syntagma to Thiseio cycling  – National Garden – Dionisiou Areopagitou St -Thiseio, MAP
Cycling is popular in the parks and some streets of Athens because the weather is generally nice and warm. A great way to see many sights at the centre of Athens is by bike. There are many bike rental shops in the centre of Athens, so you should rent a bike and start your route from Sintagma square. From there, you should cycle through the national garden, Zappio, go to temple of Olympian Zeus and reach the Arch of Hadrian. From there you should continue to Dionisiou Areopagitou street which is bordered by trees, and enjoy the ride to Acropolis. Stop and see Irodeio theatre, one of the most important theatres in ancient Athens. Then carry on to Apostolou Pavlou street and pass by Filopappou hill. Finally, you'll reach Thiseio, a neighbourhood with lots of cafes, were you can rest with a coffee or a beer after your busy day of cycling! There are also some restaurants where you can have lunch or dinner. The route is about five kilometres in total.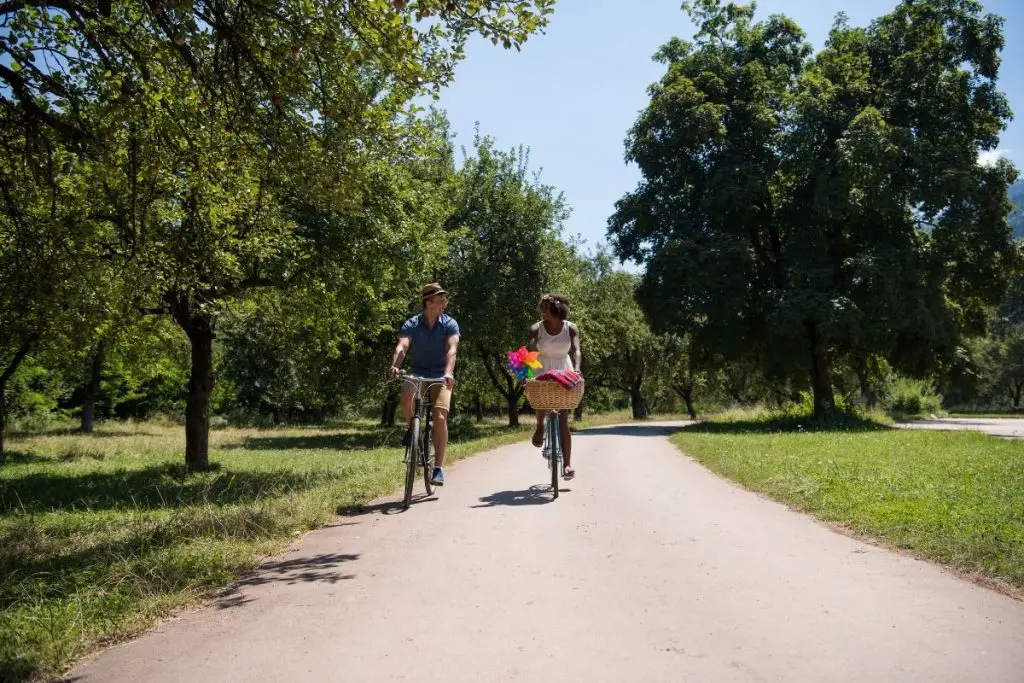 20. Go Jogging Near the Sea
Address: Flisvos – Paleo Faliro, Athens , MAP
If you catch the Number 4 Tram from Sintagma square, after a scenic half an hour trip through some traditional neighbourhoods of Athens, you'll reach Trokantero stop and there is Flisvos Marina, a place with cafes and restaurants and a small port. In this area many Greeks go jogging along the tram lines and practice gymnastics near the sea. So why not to try to go there and enjoy jogging in the morning or the afternoon with the cool sea breeze? Actually, you can run for about 3 kilometres, until Edem stop, or continue for about 15 kilometres, on the pavement, until Vouliagmeni, a neighbourhood southwest of Athens. You can also jog to the other side of Flisvos until you reach the basketball stadium, Stadio Eirinis kai filias. On both routes there are many cafes and kiosks that sell refreshments or cold water, so you can stop to grab a quick drink while jogging.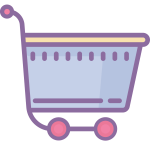 SHOP 'TIL YOU DROP
21. Athens' Biggest Flea Market
Address: Monastiraki market – Ifaistou St, Athens  MAP
If you walk ten minutes from Sintagma square through Ermou street or catch the blue metro line for one stop to Monastiraki, you can visit the Monastiraki market. It's the most popular market for local people in the centre of Athens. You can find shops with everything you could ever imagine: shoes, clothes, books, magazines, souvenirs, accessories, CDs, mobile phones, computers, electrical equipment, food, drinks, vintage and much more! The market spans many streets so you can spend a few hours there exploring the many stalls of this market. The vintage stalls are very interesting as you can find many antiques at good prices and it's worth buying old fashioned souvenirs to take home with you! For vinyl fans, there are two vinyl record shops at the start of ifaisou st, where you can buy Greek and foreign records at good prices. There are also stalls with used magazines and books, most of them are in Greek, but you can also find many international books and magazines.
22. Underground Shopping
Address: Eksarxeia neighborhood shops – Stournari St, Athens MAP
From the very central Omonoia square of Athens, if you walk 10 minutes along 28is Oktovriou (also known as Patision street), you'll reach Stournari street. At the top of this street begins Eksarxeia neighbourhood, an underground neighbourhood in Athens. The streets are covered in street art and there are many different and underground cafes and bars there. If you explore Stournari and the surrounding streets, you will find bookshops with new and used books and magazines. Most of the books and magazines are Greek but there are also many and interesting international books. The prices for the used books and magazines are very reasonable. There are also many shops with clothes, food, electronics and vintage things. Furthermore, you can shop for CDs and posters. There's a huge a variety in those small shops and you can find almost every CD there! There are also many restaurants, street food stands, cafes and bars, especially in the central square of this neighbourhood, plateia eksarxeiwn.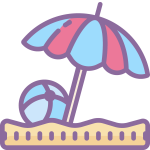 DAY TRIP
23. Visit a Picturesque Greek Island
Address: Hydra island  MAP / FB / LINK
Greece is famous for its islands found in two surrounding seas, the Aegean and the Ionian. Of the many bordering islands of Athens the most graphic of them all is the small island of Hydra. To travel there, you have to catch the green line metro to Pireaus port and from there, catch a boat. There are many boats each day, so it's possible to go to Hydra in the early morning and come back later the same day, in the evening. The trip lasts around 2 hours. In Hydra's main village there are only pedestrianised footpaths and no motorways so it's very safe to walk around! The village's narrow streets are picturesque and feature traditional houses adorned with flowers. So walk around and get lost in those unique alleys! In the streets of Hydra there are many cafes, restaurants and bars. You can also chill out at one of the many beaches of the island like Spilia or Kaminia. Finally, a must see is the port of Hydra where you can see the historic fort remains with cannons and also the Natural History Museum.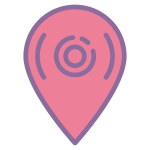 ENTERTAINMENT
24. The Biggest Amusement Park in Greece
Address: Allou fan park – Kifissos Av and Petrou Ralli St, Athens MAP / FB / LINK
If you catch bus number 21 from Omonoia square and head to Kan Kan station, you can catch a train there to Allou fan park, the biggest amusement park in Greece. It's found in the Rentis neighbourhood of Athens. There are a lot of things to do there for kids and for adults so be prepared, thrill seekers! It features two huge roller coasters; "shock and drop" which is 40 meters tall and "star flyer" that rotates 72 metres in the air! From the top of the rollercoasters the view is great! There's also a panoramic Ferris wheel, "La Isla" rafting, "Move it" (you're swung and held hovering in the air), bumper cars, a haunted house, the forest of mirrors (try to escape this tricky maze!) and much more. There's a children's play area inside, with activities suitable for the younger ages, e.g. carousels. Finally, if you need a break for lunch there are some reasonably priced restaurants and cafes!
25. Enjoy the beach under the Greek sun
Address: Grand beach Lagonisi – 40th km Athens Sounion Av, Lagonissi, Athens , MAP / FB / LINK
From May until the end of September the water in the beaches of Greece is very warm, so Greek people head straight to the beach, especially in July and August. The safe swimming beaches in Athens start from Alimos and continue down the south coast. If you catch the metro, on the red line, from Sintagma square, and then bus number 122 you'll arrive at Lagonisi Grand beach. It's about an hour and a half away from the city centre of Athens, but it's definitely worth going. The water is incredibly clean and crystal blue. However, you do have to pay to enter onto this this beach, but there's plenty to do! Why not try some water sports to keep you entertained? Or relax on a sunbed under the umbrellas before you take a quick dip in the sea. There's also a swimming pool next to the ocean! A great beach restaurant is Poseidon restaurant, serving a lot of Greek cuisine and there's also a bar on the water's edge where you can grab a coffee or a beer! The resort also has showers, toilets and dressing rooms.
We know this complete list of 25 cool things to do in Athens are all you need for a pleasant stay in the Greek Capital.