5 Things to do in Mykonos island
Famous for its beaches and nightlife Mykonos is one of the famous Greek islands.  We have seen so many photos and read so many articles about Mykonos that we couldn't wait for more to visit this place. And let's be honest the pictures don't make justice to the beauty of this island! We stayed in this slice of paradise for five days and here is our list of the best things to do in Mykonos.
Where to Stay in Mykonos?
During our trip to Mykonos we stayed at Ostraco Suites. This beautiful Luxury Hotel was the perfect pick for our stay. Each room is unique and the facilities are just everything you need to relax and as a base to explore the island. We spent a lot of our time relaxing by the pool or in our private jacuzzi after spending the days discoring Mykonos.
You can book your stay at Ostraco Suites, with the best rate, by clicking here
Walk around Mykonos town
Find yourself in a different world, strolling around the little white streets of Mykonos and fall in love with the cute white houses with blue doors and windows. It seems like you're in maize and you don't want to get out! Every corner is a surprise where flowers emerge from the most unexpected places.  Visit the Matogiania area, and you'll find a lot of shops and trendy bars, especially during the night.
Visit the Windmills
These windmills were used in the past to refine grain, but today they are used as private houses and museums. They are considered one of the landmarks of the island, and it's not difficult to understand why. Nowadays only seven of them are preserved, and it's worth a visit for the incredible view over the sea.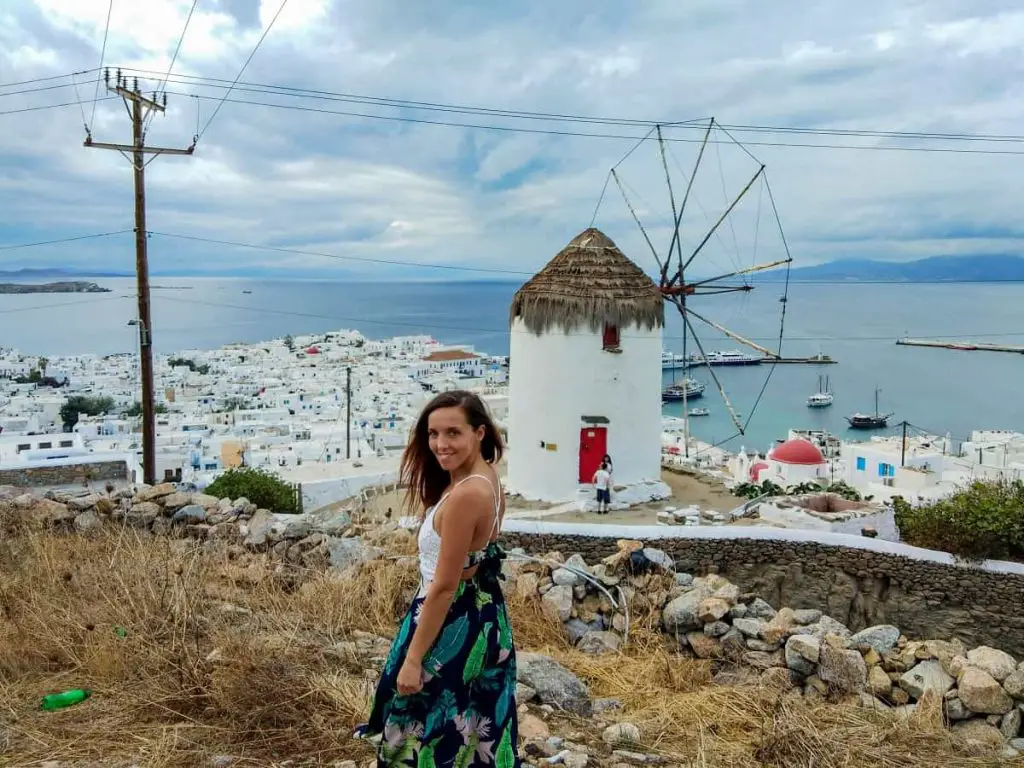 Have a drink at little Venice
Have you been to Venice? Well, this neighbourhood got this name due to its similarity with Venice! These cute houses built on the edge of the sea are nowadays restaurants and bars, a perfect location to watch the sunset while enjoying a cocktail.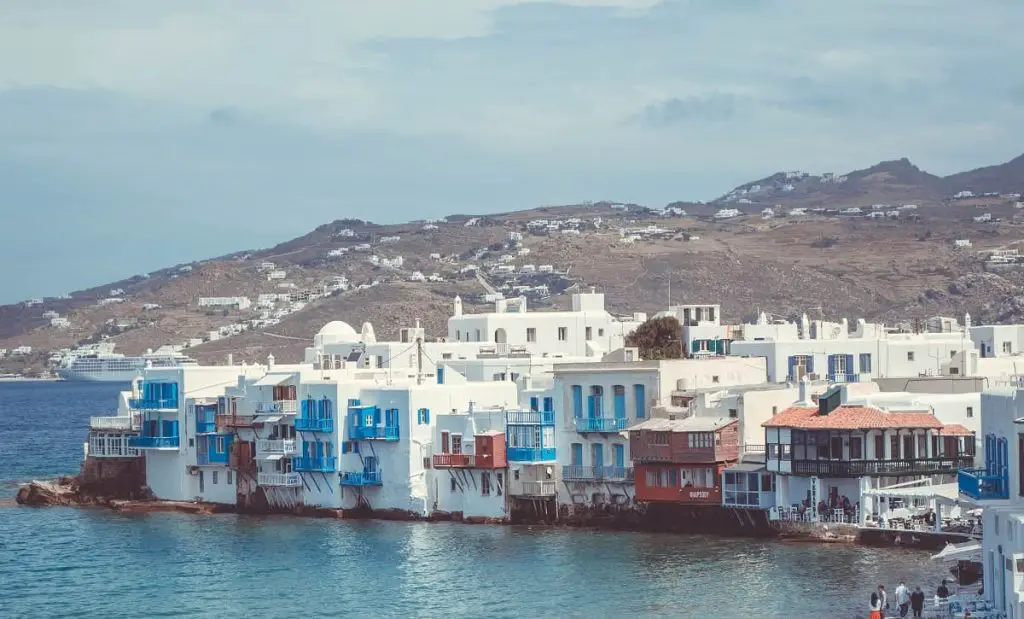 Stroll around the Old Port
Here you can find lots of restaurants and bars overlooking the sea. This area is fantastic to walk around, especially at night, and it's home for one unusual animal: The Pelikan of Mykonos. Legend has it that more than 40 years ago, a Mikonian fisherman took care of a wounded Pelican providing him with all the medication and care. When he decided to set him free, the pelican chose to stay and made Mykonos his home for more than 30 years becoming the mascot of the island.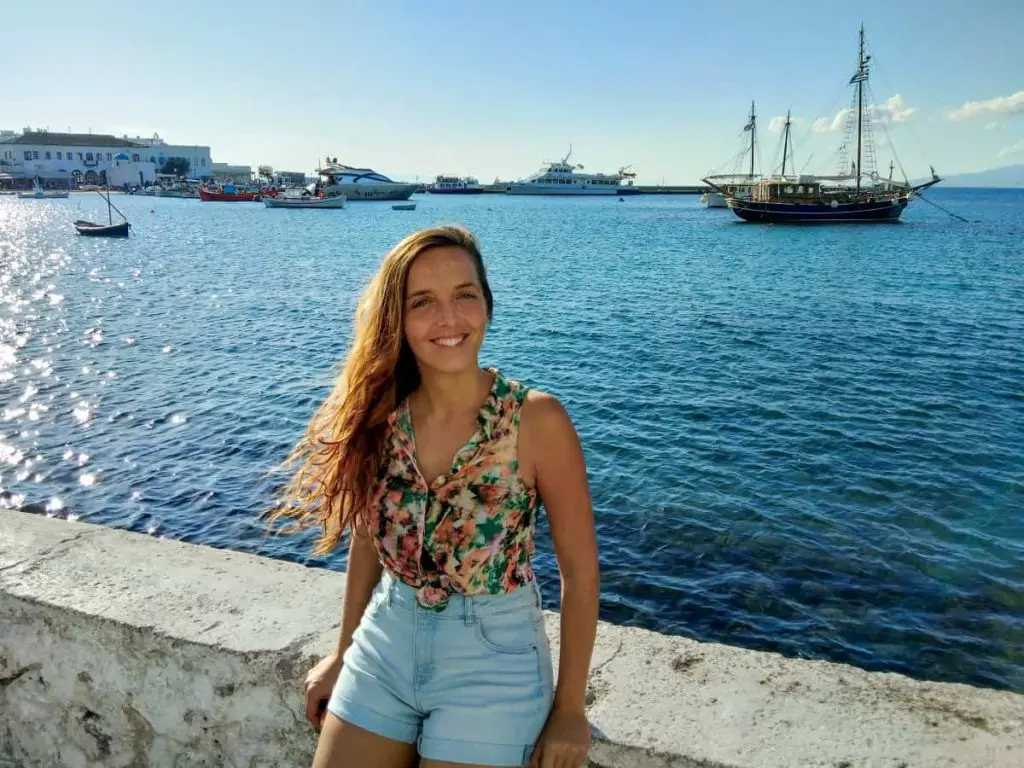 Explore the wonderful beaches
The beaches of Mykonos are acclaimed for their soft sand and clear waters. There is a beach for each taste. Looking for a party? Then Paradise beach and Super Paradise beach is for you. Looking for the family beach?  Then Kalo Livadi, Elia, Ornos, and Lia are the best options for you
If you're looking for an isolated beach, head to Kapari or Agios Sostis beach. Now if you are looking for a trendy beach, you should definitely go to Psarou where you can find one of the best bars: Nammos.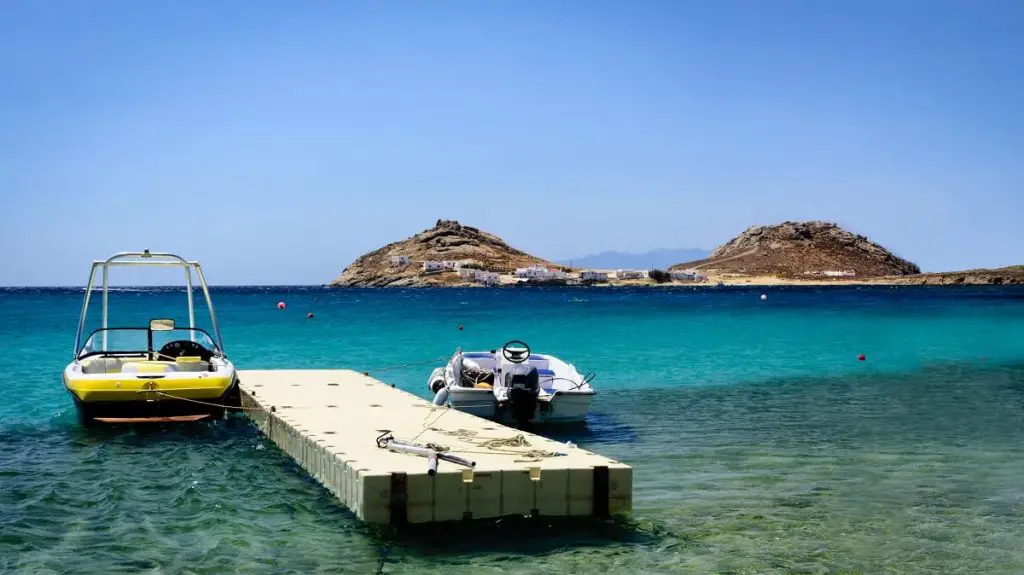 And once you are done exploring the island, get back to Ostracos Suites and chill by the pool or on your own Jacuzzi!

Enjoy Mykonos