7 Great Things to do in Mumbai
With its lovely chaotic streets, surprising contrasts, impressive colonial buildings and colourful atmosphere, Mumbai, the gem of western India, is definitely something you should see with your own eyes. With all its striking contrast of the wealthy and the poor, slums and the most expensive residence in the world, Aamchi Mumbai is a charming story, and somehow a different world picturing India.
From the tiny fishing village to the city that it is today, Mumbai has experienced a rampant evolution, and so has its food. The humble Vada Pav remains its most iconic staple. Based mainly on rice, vegetables, fish, coconut, curies and home-made sweets, the food in Mumbai is varied, spicy and delicious, especially when you try it on the street, not in a fancy restaurant.
The following places are some of the essential areas to visit while in Mumbai. Apart from sightseeing, the best places to visit for meals and nightlife are also included. These include: nightclubs, bars, and restaurants.
1) Street Surprise: Vada-Pavs
INFO: Ashok Vada Pav, Kashinath Dhuru Road, Dadar. FB / MAP
                      Gajanan Vada Pav, Sambhaji Path, Near Vishnu Nagar, Thane (West). FB / MAP
                      Anand Vada Pav, Gulmohar Road No.1., Vile Parle West. FB  / site / MAP
There are over 50,000 vada pav stalls in the city, and the locals and foreigners love this so called 'poor man's burger'. This popular street food among the rich and the poor is a potato ball filled with spicy masala sandwiched between two slices of a bun (pav).
The humble vada-pav is authentic to Mumbai and here are some of our favorite stalls:
Ashok Vada Pav near the Kirti College has been in business for more than 35 years. It only serves one kind of vada-pav, but customers are absolutely loving it.
Gajanan Vada Pav is the most famous eatery in west part of the city. The vada-pav served here is traditional, but served with a special chutney sauce.
Anand Vada Pav opposite Mithibai College is frequented with college students as well as Bollywood celebrities, as their hot and spicy vada-pavs are finger licking good.
2) Watch the dance of a million fireflies: Purushwadi
INFO: Purushwadi, near Igatpuri, Ahmednagar District, Maharashtra, FB/ Site / MAP
About 180 kms from Mumbai, beond Igatpuri, in Ahmednagar district  lies a tiny village called Purushwadi. A tribal village with a simple life, Purushwadi has been adopted by Grassroutes India, an organization that promotes village eco tourism. One can sow paddy, chop wood and grind wheat. However, what the village is known for are the fireflies. Just before the rains in May and June, the swarm of fireflies come out in pitch darkness.
3) Colonial Charm Meets Fine Dining
INFO: Indigo Restaurant, 4 Mandlik Rd, Colaba, Mumbai, FB / LINK / MAP
This exquisite restaurant was first opened in 1999 in a lovely restored colonial bungalow. It is located in a quiet street in Colaba and many say it is the best eatery in Mumbai.
Indigo is a fine-dining restaurant that prides in combination of warm old-world atmosphere and gourmet food with great selection of fine wines with the service being superior.
The ever-changing menu offers a unique combination of Asian and European cuisine and is popular with local 'big shots' as well as international celebrities (such as The Rolling Stones and Angelina Jolie). The food is modern with fresh seasonal ingredients. The menu evolves constantly and you will never be disappointed, as this famous restaurant won many local and international awards.
The original restaurant has two stories, but the demand has always exceeded the supply, and that is why the restaurant has expanded to six new locations in the city. But one can still wait up to 40 minutes to get a table, so plan ahead and book it.
4) Feel the Burmese influence in town
 INFO: Burma Burma, Allana Centre, MG Road, Fort. FB / Site / MAP
The Burma Burma restaurant is the only specialty cuisine restaurant in the city that serves regional Burmese delicacies. Their vegetarian versions, to be accurate.
The restaurant itself is beautifully decorated with attention to detail; minimalist walls with prayer wheels give the restaurant a Myanmar tea room-like feel. The owner's mother actually originates from Myanmar and helped decorate the place as well as develop the recipes and menu.
If you aren't sure what to order, allow the friendly staff to help you make a decision. Try the sticky rice with coconut cream, tamarind sauce, peanut chutney, tomato curry or any of the fried-food items. Yes, it is all as delicious as it sounds. The original tea leaf salad tasted exactly like the one we had in Mandalay.
5) Luxury and Shopping in more than just a mall
 INFO: Phoenix Market City, L.B.S. Marg, Kurla West. FB / Site / MAP
                       Palladium Mall, 462, High Street Phoenix, Senapati Bapat Marg. FB / Site / MAP
Phoenix Market City is more than just a mall. Besides shopping for domestic and international fashion brands they offer entertainment, various music and sport events and amazing food. Here you can go bowling with your friends, play laser tag, go see a 5D movie or enjoy a walk through the Snow World. There is plenty for you to do here if you get tired of the hot and humid outdoors.
The Palladium Mall has about 1.5 million square feet of retail space with everything from local brands to high-end international clothing and accessories, such as Gucci, Michael Kors, Emporio Armani and many others. All the shopping and having fun will very likely make you hungry, and there are plenty of cuisines to choose from. Restaurants here are so diverse, we can guarantee they will suit your every mood; you can get anything from Indian fast food, vegetarian, traditional, Chinese, Western, fusion cuisine and there's also a British pub.
6)Be amazed at the 'Slumdog Millionaire' Dharavi Slums for its many industries
INFO: Dharavi Slums – Mumbai, Maharashtra, FB / MAP
Well known as being the largest in slum in all of Asia, the Dharavi Slums are home to a lot of industries. The Dharavi slums were a much talked about topic in the Oscar winning 'Slumdog Millionaire'.
The Dharavi slums are very different from the rest of Mumbai. A walk down its narrow streets will give you a peek into the other side of Mumbai. Industries include pottery, soap making, baking, leather goods to recycling and embroidery amongst others.
The Dharavi slums are a must-see for all travellers who want an authentic trip to Mumbai.
7) ROFL: Time to have a laugh
INFO: Canvas Laugh Club – 3rd Floor, Palladium Mall, Phoenix Mills, Senapati Bapat Marg, FB / Site / MAP
As Mumbai's stand-up scene got going, this place became known for being one of the best places to see stand-up comedy in the city. In fact, it is the foremost comedy venue in India, working with top talent to provide shows for everyone to enjoy.
The venue hosts not only stand-up shows, but also other events and performances – even a festival!
Make sure to attend to laugh until your sides hurt in the city of Mumbai. If you aren't sold yet, we haven't even mentioned trying some of Canvas Laugh Club's tasty finger food. This, alongside a beer or two (or more!) won't hurt while you're rolling on the floor laughing!
Watching them do their dance is beyond exemplary. A sight to behold and one no camera can capture. Grassroutes organises the visit every year specifically for this experience.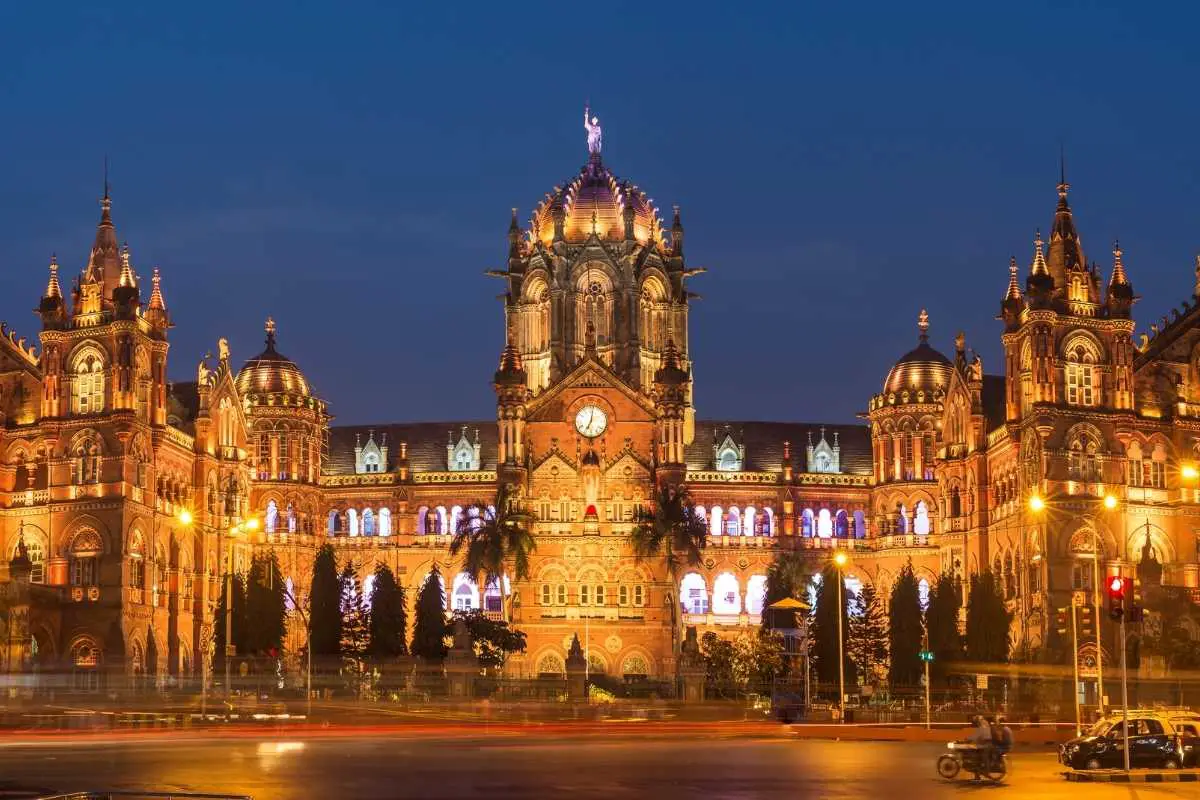 If you are heading to Mumbai get your Local Travel Guide here.
We selected 55 places we consider that are some of the essential areas to visit while in Mumbai. Aside from sightseeing, the best places to visit for meals and nightlife are also included.
We hope you enjoy your trip to Mumbai and that this book will help you see this unique destination from the eyes and perspective of a local.