Austin Free Travel Guide
7 Cool things to do in Austin Texas
Austin is a boom town of culture and creativity. It has been one of the fastest growing cities in the U.S. and the tech boom continues to turn the city into Texas's answer to Silicon Valley. But despite all of its recent the changes, Austin is still an extraordinarily open and welcoming place .
The old adage goes that everything is bigger in Texas. I know a whole bunch of Texans that would argue that everything is also better in the Lone Star state.  Everyone who visits Austin these days leaves with something great to say. They can't stop talking about the legendary live music, mouthwatering restaurant scene and unique culture. You just have to experience for yourself to truly understand what makes Austin so appealing.
The following places are some of the essential areas to visit while in town.  Aside from sightseeing, the best places to visit for meals and nightlife are also included.
We hope you enjoy your trip to Austin and that this book will help you see this unique destination from the eyes and perspective of a local.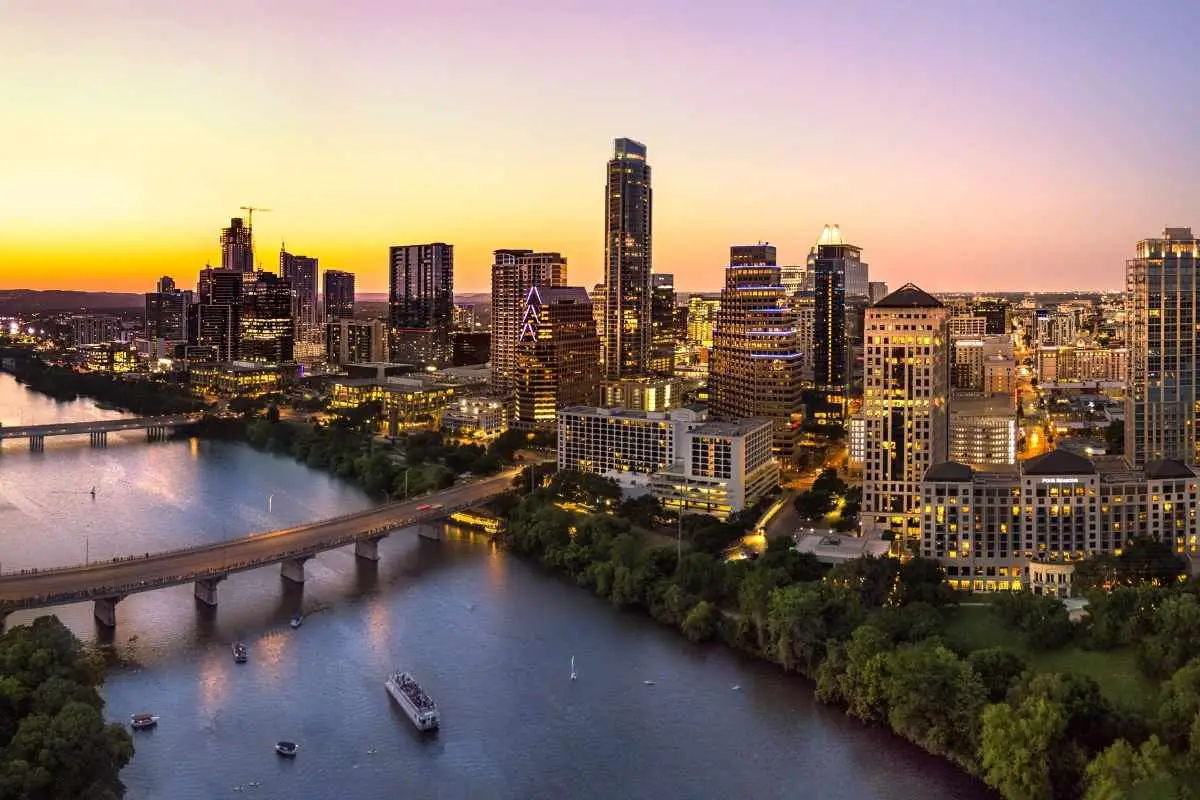 1) Stuff yourself on authentic food for your soul
Address: Nubian Queen Lola's Cajun Soul Food Café  – 1815 Rosewood Avenue. MAP / FB / LINK
If you are in the mood for some original Cajun food, Nubian Queen Lola's is the place for you to go. This is a small stylish restaurant with one long communal table in the middle. They serve the most amazing Cajun-spiced hamburgers, you will not find anywhere else in Texas. Plus, they are basically free – US $2 single and US $ 3 double.
Restaurant is uniquely decorated with Mardi Gras beads hanging from the ceiling to the coolest James Brown figure standing in the corner.
The owner is a true humanitarian, she feeds the homeless in the café's back yard on Sundays, and raises four teenaged girls, three of whom she adopted. So come and show some support to this amazing woman and her cool restaurant.
2) B

ack in time for some drinks
Address: Firehouse Pub – 605 Brazos Street. MAP / FB / LINK
This craft cocktail lounge is located in downtown Austin, in the city's oldest fire station, which was built in 1885. The atmosphere is cozy and inviting, truly great for some evening drinks with friends.
At the Fire House Lounge they have a wide selection of modern cocktails and prohibition-era drinks which will make you feel you went back in time. The interior is simply charming and shines with old world prestige. You can sit and relax in the leather chairs while you listen to some of the best local blues and jazz musicians.
The upstairs of the former firehouse is renovated into a modern hostel with dorms, Euro Rooms and suites.
3) Watch cute old people two-steppin'
Address: Broken Spoke – 3201 South Lamar Boulevard. MAP / FB / LINK
The Broken Spoke used to be a roadhouse on the outskirts of Austin, now it is an authentic dancehall among the trendy condos in the downtown. The Spoke dancehall inside the rustic red building celebrated its 50th anniversary in 2014 and it still makes you feel you are in the 70's.
The owners have remained the same since the beginning and they never change a thing. Why would they, they are always packed, as the live country music and chicken-fried steak is one of the best in town.
You do not need to be experienced two-step dancer, you can get cheap lessons from Wednesdays through Saturdays, both for couples and single people. If you like country, waltz and polka, cold beer and hot stake, you should definitely come to the Broken Spoke.
4) Watch the sun set at the Lake
Address: The Oasis on Lake Travis – 6550 Comanche Trail. MAP / FB / LINK
Mexican restaurant The Oasis on Lake Travis has been the so called 'Sunset Capital of Texas' for the past two decades. It is the largest outdoor restaurant in Texas, located 450 feet above the lake. The restaurant was built in 1982 and is the place for enjoying the amazing sunsets over Lake Travis while having a delicious dinner.
They have events with live music and also offer catering. You can even get married on the terrace overlooking the beautiful lake.
Even though the restaurant gets crowded during the lunch and dinner hours, it is unlikely you will be left without a seat as the Oasis seats 2800 people. Get some fresh seafood, burger or the pulled chicken green enchiladas.
5) Pack a picnic and head to gorgeous natural swimming
Address: Hamilton Pool – 24300 Hamilton Pool Rd, Dripping Springs. MAP / FB / LINK
The Hamilton Pool Preserve was formed thousands of years ago, when the roof of an underground river collapsed. It is located 23 miles west of Austin and has been a popular summer swimming spot since the 1960s.
Pool is a beautiful jade green color, and there is even a nice waterfall. It is opened for public but the swimming can occasionally be restricted due to pollution, since the water is not chemically treated. There is a large parking lot, chemical toilets, and you are allowed to have a picnic or swim, and the near trails make a great hiking trip.
There is a possibility you can get turned away due to overcrowding. So come early and enjoy a nice sunny day in this amazing natural swimming pool.
6) Step back in Texas History
Address: Bob Bullock Texas State History Museum – 1800 Congress Avenue. MAP / FB / LINK
Go for some history lessons about Texas in the Bob Bullock Texas State History Museum, named after a Texas Lieutenant Governor, who made it happen. They offer exhibits, films, presentations and lectures that tell the story of Texas.
There are interactive exhibits on display in three floors, themed Land, Identity and Opportunity. It also has a special effect theater where they broadcast a presentation that takes the visitors on an amazing journey through Texas' history.
The building itself is a sight to see; it was finished in 2001and construction cost US $80 million. It also features an IMAX Theater with 3D and 4D blockbuster movie projections.
Museum is opened daily and offers free admission every first Sunday of the month.
7) Witness the insanity of a University football Game
Address: UT Darrell K Royal-Texas Memorial Stadium – 2100 San Jacinto Blvd, Austin MAP / FB / LINK
Literally every single person in Texas loves football. Every Friday evening the crowds go wild watching any Austin high school games. But if you want to experience something really crazy, go see the famous Longhorns football team of University of Texas play in their home field here in Austin.
The Darrell K Royal-Texas Memorial Stadium is the best college football stadium in the entire county, only a few places can match it, including the amazing atmosphere. Almost every football game attracts more than 100,000 fans. Check on-line for the next game and get yourself a ticket!
You can also head to any pub, restaurant or café when the game is on and you will experience people cheering, yelling and cursing.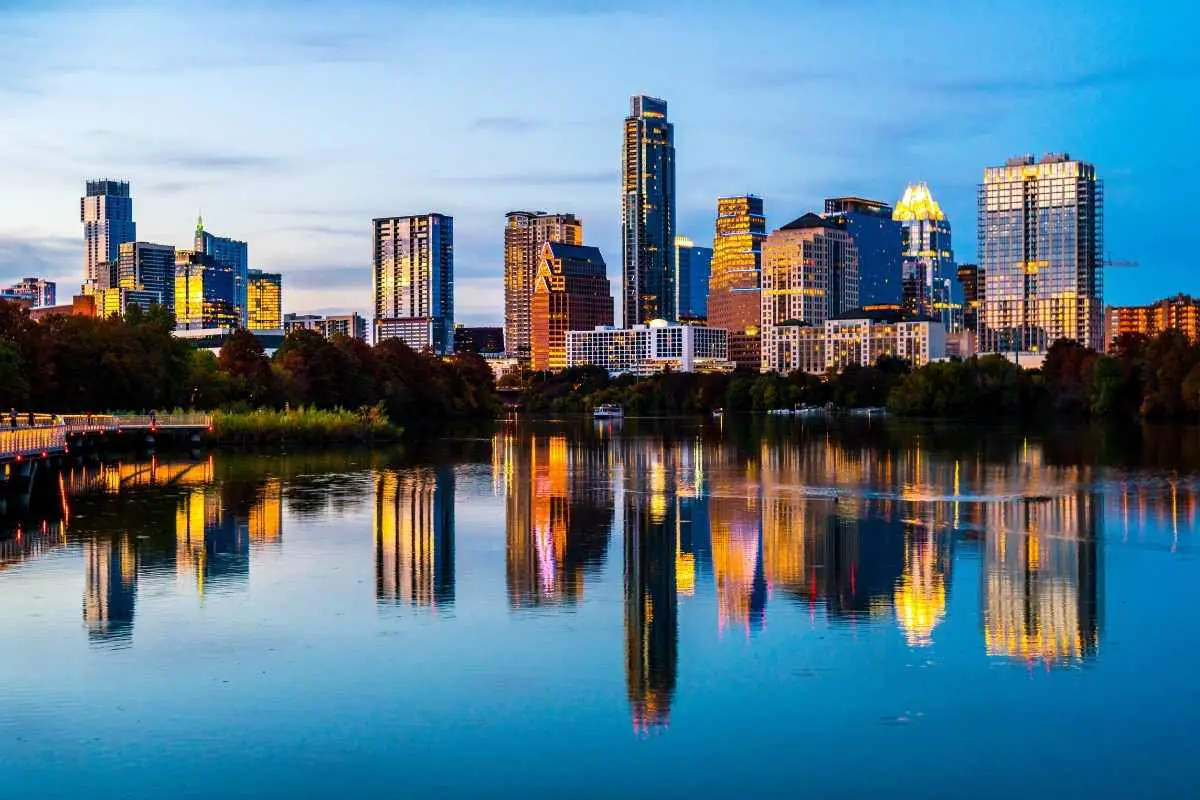 If you are heading to Austin get your local travel guide here.
We selected 55 places we consider that are some of the essential areas to visit while in Austin. Aside from sightseeing, the best places to visit for meals and nightlife are also included.
We hope you enjoy your trip to Austin ( Texas)  and that this book will help you see this unique destination from the eyes and perspective of a local.