Amidlife Traveler Podcast begins Season 2 on Ireland
Are you wondering what there is to see and do in Ireland? And prefer to listen to a story than read it? Good news. The Amidlife Traveler podcast has just started season 2. This time, they focus on Ireland from travel tips, to culture, history and fun things to do. You can listen to the Ireland season preview in the short 10 minute podcast titled, "10 Minute Ireland with 25+ Irish Storytellers."
Will you learn everything about Ireland in 10 minutes? No.
But will you get a taste of it? Absolutely yes.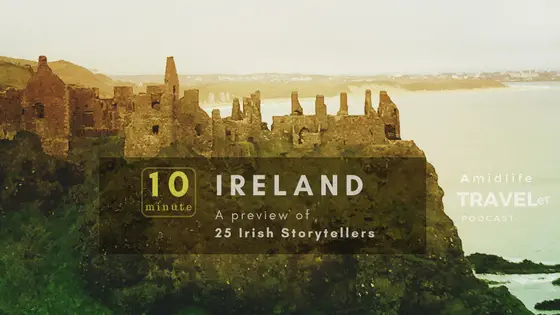 One of the Best New Travel Podcasts of 2017
As a new travel podcast with a unique format, Amidlife Traveler just might be one the best new travel podcasts of 2017. Already recognized as a Top Podcast in Apple Podcasts/iTunes in the category of Places and Travel, the first season of Amidlife Traveler focused on Scotland through a series of short stories told through the voice, opinions, and stories of a Scotsman named James. The Amidlife Traveler Scotland series podcast episodes cover a blend of modern culture, Scottish history, fashion, and of course Scottish whiskey. Topics include; men in kilts, modern kilt fashion, Scottish whiskey, Vikings, and interesting places to explore.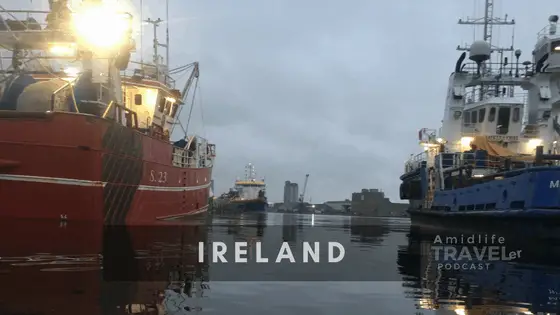 New Season 2 Amidlife Traveler Begins: Preview of 25+ Irish Storytellers
As the Scotland short stories continue to roll out new short story, just recently the Amidlife Traveler announced a new series on Ireland. Insights from 25+ different Irish storytellers will be shared in the months ahead through weekly podcast episodes. Some Irish storytellers are tour guides, some are people who work in local businesses, some are taxi drivers, street musicians, and other locals and travelers that we met while traveling in Ireland. These welcoming and friendly Irish locals will share their history, stories, and recommendations for things to see, eat, drink and do while you are visiting Ireland. Here is a sneak preview of the AmidlifeTraveler podcast stories to be told…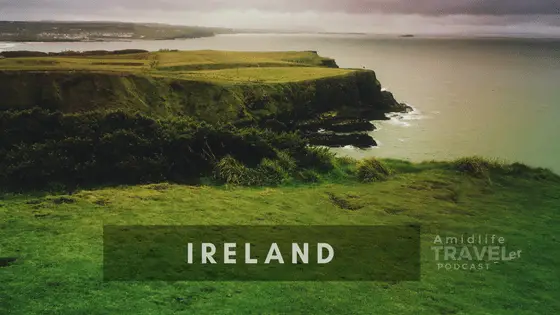 Interested in Ireland? 4 Irish Cities, 12+ Things to Do, Plus Culture, Music, Food & Drink!
IRELAND CITIES TO BE FEATURED IN AMIDLIFE TRAVELER PODCAST
Belfast
Cork
Dublin
Killarney
IRELAND PLACES & THINGS TO DO – TO BE FEATURED IN AMIDLIFE TRAVELER PODCAST
Dingle Peninsula
Killarney National Park
The Gap of Dunloe
Ross Castle
Giants Causeway
The Jameson Experience in Midleton, Cork
The last departure point of the Titanic,
Hill of Tara
Loughcrew Cairns
EPIC Irish Immigration Museum
Irish Family Heritage Center
Belfast political black cab tour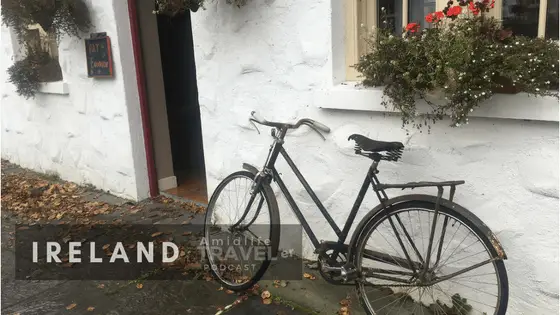 What's unique and interesting about the Amidlife Traveler podcast?
Unlike typical travel podcasts, Amidlife Traveler podcast does not skip from destination to destination. And listening to one episode won't eat up an hour of your time. Instead, the Amidlife Traveler podcast is a short story format with most episodes being around 7 minutes. Learn about travel destinations through the voices and stories of locals who live there and sometimes travelers who have been there. Each country series will have 20+ shot stories so you get to really learn about and feel connected to a travel destination… and told through the voices of locals so you'll hear about Scotland from a Scotsman and Ireland from the Irish.
Where to find and subscribe to one of the best travel podcasts, Amidlife Traveler
What we I hope that you do is take the time to find this podcast in your favorite podcast player and subscribe.
Interested in Scotland or Ireland? And enjoy podcasts? Then you just might want to look for Amidlife Traveler in your favorite podcast app and subscribe (iTunes/Apple Podcasts, Stitcher Radio, and Google Play) or go to their website at AmidlifeTraveler.com.